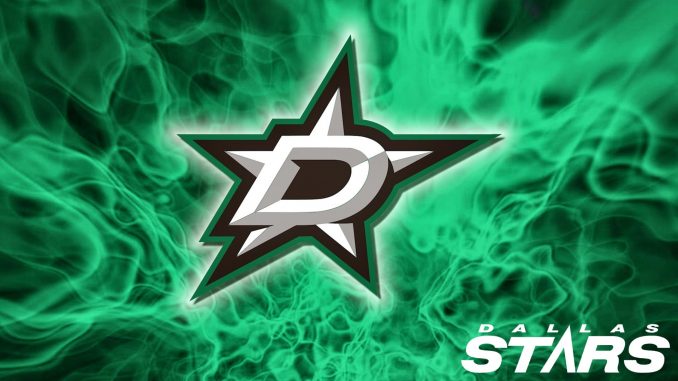 Dallas Stars thrash Toronto Maple Leafs 6-3. Here is the game summary and highlights from the game played on Tuesday, January 31, 2017
| | | | | | |
| --- | --- | --- | --- | --- | --- |
| | 1 | 2 | 3 | OT | FINAL |
| TORONTO | 1 | 2 | 0 | 0 | 3 |
| DALLAS | 5 | 1 | 0 | 0 | 6 |
GAME SUMMARY | EVENT SUMMARY | FACEOFF SUMMARY

ON THE SCORESHEET
Tyler Bozak put the Maple Leafs on the board at 13:46 of the first period on the power play. Bozak has seven points (3 goals, 4 assists) in seven games against Central Division opponents this season.
Nikita Soshnikov scored the second Maple Leaf goal of the night at 4:19 of the second period. Soshnikov has two goals in his last three games.
Mitch Marner scored the third Toronto goal of the night and had the secondary assist on Bozak's first period goal. Marner leads the Maple Leafs with 12 multi-point games this season.
James van Riemsdyk had an assist in the first period to give him 11 assists in 13 games during the month of January.
Matt Martin
picked up the lone assist on Soshnikov's second period goal. Martin is now five points from the 100 career NHL point milestone.
Nazem Kadri registered the primary assist on Marner's second period goal. Kadri has points (8-8-16) in 12 of his last 14 games.
Nikita Zaitsev also recorded an assist on Marner's second period goal. Zaitsev leads Toronto defencemen in assists (20).
Frederik Andersen and Curtis McElhinney combined to stop 14 Dallas shots.
SHOTS FIRED
The Maple Leafs outshot the Stars by a 43-20 margin in all situations and by a 39-19 edge at 5-on-5.
Toronto had an 81-47 lead in shot attempts in all situations and a 71-45 lead in shot attempts at 5-on-5.
Mitch Marner led all skaters with six shots on goal.
Nikita Zaitsev led all skaters with nine shot attempts.
ON THE ROAD AGAIN
The Maple Leafs are 11-8-6 on the road this season.
Toronto's all-time record is 92-90-28-1 in 211 games against the Stars franchise and 39-53-11-1 in games played on the road vs. the Stars.
Toronto is 7-7-5 against the Western Conference this season and 2-4-2 against the Central Division.
The Maple Leafs continue their road trip on Feb. 2 at St. Louis.
MAPLE LEAFS LEADERS
| | |
| --- | --- |
| Faceoff Wins | 15 (Bozak) |
| Faceoff Win Percentage | 71% (Bozak) |
| Hits | 3 (Kadri) |
| Blocked Shots | 4 (Zaitsev) |
| Takeaways | 1 (Four players tied) |
| TOI | 25:24 (Gardiner) |
| Power Play TOI | 1:46 (Four players tied) |
| Shorthanded TOI | 0:44 (Hunwick, Polak) |
| Shifts | 28 (Gardiner) |
| 5-on-5 Shot Attempt Percentage | 76.0% (Brown – 19 for, 6 against) |
OF NOTE…
Matt Hunwick played in his 100th game as a Maple Leaf tonight.
At 11:17 of the third period in the tonight's game, the Situation Room initiated a video review to further examine a play at the Dallas net. Video review determined that
Nikita Soshnikov
kicked the stick of Dallas goaltender Kari Lehtonen, which caused the puck to enter the Dallas net. No goal Toronto.
The Maple Leafs allowed five goals in the first period of tonight's game, which is a new season-high for goals-against in a period.
The Maple Leafs allowed one Dallas shot-against in the third period of tonight's game, which is the fewest registered by a Toronto opponent in a period this season.
Toronto is 4-12-4 when their opponent scores first this season.
The Maple Leafs are now 1-11-2 when trailing after one period and 2-13-1 when trailing after two periods.
Toronto has an 8-10-6 record when outshooting their opponent.
Maple Leafs rookies combined for four points tonight (2 goals, 2 assists) and have amassed 183 points (69 goals, 114 assists) in 48 games this season.
Tyler Bozak won 71 percent (15 won, 6 lost) of his faceoffs tonight and has won 70 percent or more of his faceoffs in six games this season.
Matt Martin started 80 percent of his shifts in the defensive or neutral zone.
UPCOMING GAMES:
Thursday, Feb. 2 at St. Louis Blues, 8:00 p.m. (TSN 4, FAN 590)
Saturday, Feb. 4 at Boston Bruins, 7:00 p.m. (Hockey Night in Canada, FAN 590)
Monday, Feb. 6 at New York Islanders, 7:00 p.m. (Sportsnet, TSN 1050)
Tuesday, Feb. 7 vs. Dallas Stars, 7:30 p.m. (TSN 4, FAN 590)
Thursday, Feb. 9 vs. St. Louis Blues, 8:00 p.m. (Sportsnet Ontario, TSN 1050)
POSTGAME QUOTES:
HEAD COACH MIKE BABCOCK
On tonight's performance:
It's disappointing, obviously. I thought we had a good practice yesterday, a good skate and we didn't compete hard enough as a group here tonight to have any kind of success whatsoever. I don't think it's an indication at all of how we play or have played, so it's disappointing. Actually, it's surprising. You can't be very proud of the way you walk out of the rink tonight.
On taking blame for tonight's performance:
I'm happy to take the blame, but make sure 22 guys or 23 guys in there do too. It's no problem. Obviously we didn't have our team ready. As a coach I didn't have the guys ready, but, come on, let's all own up a little bit.
On if he wants the team to forget the game or remember it:
We'll just see how I feel in the morning. That's the beauty thing about not talking. The only people I talk to is you guys, so that gives me an opportunity to see how I feel in the morning after I've watched the game.
On switching Brown and Marner in the lineup:
I didn't move Brown off that line to help Brown – there was nobody else working. I tried to put Brown to help out guys that weren't working.
On pulling Andersen:
He was in there right with us. We're all – coaches, players, goalies, everybody, we were bad. Let's get on the flight, let's get regrouped. We play a good St. Louis team next. That right there had to be a humbling experience for the crew.
TYLER BOZAK (1 GOAL, 71% FACEOFF PERCENTAGE)
On the slow start:
We should have been ready and rested and we weren't. If you give them grade-A scoring chances, they've got a really high-powered offence and they're going to make the most of it. When you get down that early in the game and you get down 5-1 after one, it's hard to get back in it.
On trying to mount a comeback after the first:
There's lots of time left but we dug ourselves a pretty big hole. I think you might say they didn't have too many shots, but the shots we gave them were way too grade-A scoring chance. I think we turned the puck over too much, gave them breakaways, 2-on-1s and kind of left our goalies out to dry there.
On working past tonight's result:
We've got to move on, we've got to take it one game at a time. We'll focus on St. Louis now. The points are super important now, it's the second half of the season and this is when it gets the toughest. We've got to be better at the start next game.
JAKE GARDINER (25:24 TOI, 5 SHOT ATTEMPTS)
On trailing early in the game:
Everyone wasn't ready to go and they took advantage of it. We knew they were going to be a run-and-gun team, obviously a lot of offensive weapons. You let a team like that have space and get behind you, they're going to make you pay.
On how to ensure better starts:
The first five minutes has got to be simple hockey. To go down early like that, it's always tough to come back.
On the first Dallas goal:
I was obviously upset. He beat me wide, I didn't know he had that much speed and it was just one of those plays where I wasn't ready to play.
On the goaltenders not getting support:
To start the game I think [Andersen] made a few other good saves too so it wasn't on him at all. Like I said earlier, we hung them out to dry tonight.
MATT HUNWICK (17:25 TOI, 5 SHOT ATTEMPTS)
On the slow start:
It was a brutal start for us. We were down 3-0, I think, five minutes into the game. It shows we weren't ready to play and they came out strong and took it to us early. You can never really recover after that.
On takeaways from tonight's game:
It's disappointing. Before the break we had a pretty good thing going. Obviously we lost in Philly, but still felt good about our game. To come out and start the way we did, it's disappointing. We've got a long trip here so we'll get refocused and get ready to play a lot harder at the start of the next game.
On if you try to remember tonight's performance or try to forget it:
Both. You've got to remember so you're prepared for the next time but you can't let it weigh you down and drag you down. One bad game is one bad game; you can't let things like that snowball. You've got to go out, get prepared tomorrow and have a good practice and get things started better in St. Louis.
On Dallas finding their legs early:
They had good speed. You saw that first goal down the wing, cut around our D. It's uncharacteristic play from us. I think for the most part we compete hard every night and it wasn't there to start the game. Once we got our feet under us I thought we skated a lot better, but it turned into a bit of a wide open game and that's not necessarily our style.
LEO KOMAROV (17:10 TOI, 2 HITS)
On tonight's game:
It was a bad game. They got some bounces in the first period and it's 5-1. It's tough, I think we tried hard from then but it's not enough. We just need to get better.
On how he felt about the performance tonight:
A little bit disappointed, but they played good too. They score a lot of goals, it was tough. There's nothing we can do now.
On moving past tonight's loss:
It's a new day tomorrow. We need to prepare ourselves. We know it was a bad game so we just need to get better.