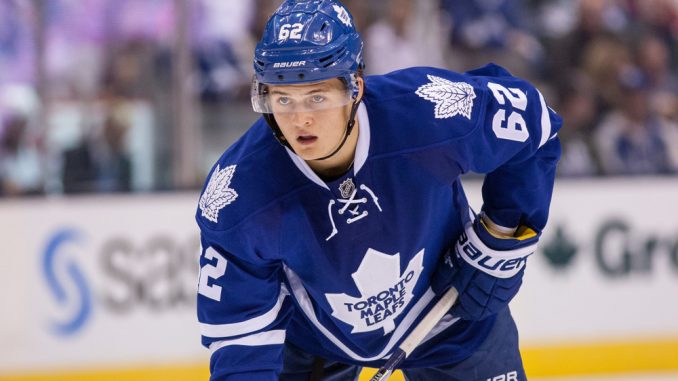 Toronto Maple Leafs blank Carolina Hurricanes 4-0. Here is the game summary and highlights from the game played on Sunday, February 19, 2017
| | | | | | |
| --- | --- | --- | --- | --- | --- |
| | 1 | 2 | 3 | OT | FINAL |
| TORONTO | 0 | 2 | 2 | 0 | 4 |
| CAROLINA | 0 | 0 | 0 | 0 | 0 |
GAME SUMMARY | EVENT SUMMARY | FACEOFF SUMMARY

ON THE SCORESHEET
Connor Brown picked up his 13th goal of the season at 1:07 of the second period and added his 14th goal of the season at 8:09 of the third period. He has registered 10 of his 14 goals on the road this season.
Auston Matthews scored his 28th goal of the season at 9:53 of the second period. With the goal, Matthews moved into the Maple Leafs scoring lead with 49 points (28 goals, 21 assists).
Jake Gardiner
scored his 8
th
goal of the season at 6:10 of the third period and registered assists on Matthews' second period goal and Brown's third period goal. Tonight's game is Gardiner's first three-point game of the season and fourth multi-point game of 2016-17.
James van Riemsdyk registered the primary assists on Brown's second and third period goals. He now has 11 assists this season against Metropolitan Division opponents, which is the most he has recorded against any division this season.
Tyler Bozak had the secondary assist on Brown's goal in the second period. Bozak's assist was his sixth in the month of February. His high for assists in a month this season is nine (November).
Nazem Kadri had the primary assist on Jake Gardiner's third period goal. Kadri now has points (4-2-6) in four consecutive games.
Leo Komarov also registered an assist on Gardiner's third period goal. Komarov has assists (4) in four consecutive games.
Curtis McElhinney stopped 37 shots to earn his first shutout since Jan 2., 2014 at Phoenix while playing as a member of the Columbus Blue Jackets.
SHOTS FIRED
The Maple Leafs were outshot by the Hurricanes by a 37-31 margin in all situations. Toronto led Carolina in 5-on-5 shots by a 30-27 margin.
Carolina had a 70-57 lead in shot attempts in all situations and a 54-52 lead in shot attempts at 5-on-5.
Connor Brown and Auston Matthews each registered five shots on goal.
Auston Matthews led the Maple Leafs with eight shot attempts.
ON THE ROAD AGAIN
The Maple Leafs are 13-10-7 on the road this season and 5-8-1 in the second leg of back-to-backs.
Toronto's all-time record 42-55-11-7 in 115 games against the Hurricanes and 21-26-5-5 in games played on the road.
Toronto is 19-12-5 against the Eastern Conference this season and 7-6-3 against the Metropolitan Division.
The Maple Leafs return to action at Air Canada Centre on Feb. 21 vs. Winnipeg.
MAPLE LEAFS LEADERS
| | |
| --- | --- |
| Faceoff Wins | 10 (Kadri) |
| Faceoff Win Percentage | 56% (Kadri) |
| Hits | 5 (Martin) |
| Blocked Shots | 6 (Zaitsev) |
| Takeaways | 3 (Leivo) |
| TOI | 22:53 (Rielly) |
| Power Play TOI | 2:08 (Gardiner) |
| Shorthanded TOI | 2:48 (Hyman) |
| Shifts | 33 (Rielly, Zaitsev) |
| 5-on-5 Shot Attempt Percentage | 73.1% (Nylander – 19 for, 7 against) |
OF NOTE…
At 11:10 of the third period in tonight's game, the Situation Room initiated a video review to further examine if the puck crossed the Carolina goal line at 10:45. Video review determined that the puck completely crossed the Carolina goal line in a legal fashion. However, the referee informed the Situation Room that Zach Hyman made incidental contact with Carolina goaltender Eddie Lack before the puck crossed the goal line. This is not a reviewable play and therefore the referee's call on the ice stands – no goal Toronto
The Maple Leafs were 3-for-3 on the penalty kill tonight and 1-for-4 on the power play. Toronto is 12-10-3 when not scoring a power play goal this season and 20-7-4 when not allowing a power play goal.
Toronto is 22-5-5 when scoring first.
The Maple Leafs are now 8-5-3 when tied after a period and 22-1-7 when leading after two periods this season
Toronto has a 17-9-5 record when outshot by their opponent.
UPCOMING GAMES:
Tuesday, Feb. 21 vs. Winnipeg Jets, 7:30 p.m. (TSN 4, FAN 590)
Thursday, Feb. 23 vs. New York Rangers, 7:30 p.m. (Sportsnet Ontario, TSN 1050)
Saturday, Feb. 25 vs. Montreal Canadiens, 7:00 p.m. (Hockey Night in Canada, TSN 1050)
Tuesday, Feb. 28 at San Jose Sharks, 10:30 p.m. (Sportsnet Ontario, FAN 590)
Thursday, March 2 at Los Angeles Kings, 10:30 p.m. (Sportsnet Ontario, TSN 1050)
POSTGAME QUOTES:

HEAD COACH MIKE BABCOCK
On McElhinney's performance:
Obviously he was real good and gave us an opportunity. Good goaltending is real important and he gave us an opportunity to get our legs. Obviously we scored some nice goals here tonight. It was a big win for us, a big bounce back after last night. We didn't like the way we lost F3 and gave up too much on the rush last night. Tonight we gave up none of that, so that was positive. It's not like they didn't have good chances, they did, but… we found a way to win the game.
On the role of the backup goaltender:
I think it's very important. Number one is you're pushing the starting goalie and he does it with his work habits and his leadership anyway so that's real positive. You want to win every game and when he's in there you want to have the opportunity. I thought it was real important points for us because when things go bad you want to stop them as fast as you possibly can. We lost a big game at home last night that we could have won. It was an emotional game and they were able to respond today. I thought the guys did a good job. I thought Bozak and van Riemsdyk and Brown were really good. Bozak was really competitive and van Riemsdyk I thought skated great with the puck. I also thought [Rielly] and Zaitsev had a bounce back from last night and Gardiner was plus-4 or something and had three points. Those are guys that maybe weren't as good last night who were really good tonight.
On Auston Matthews:
It's good to have him obviously and he's just going to get better and better and better. He has a chance to be a dominant player in this league. What I like is his drivetrain is such that he wants to do that and he's a young kid getting better every day in a real hard league. He's an important player for us.
On if Tuesday's game will be more exciting with attention paid to Matthews and Laine:
I think they'll be writing about that for 20 years, won't they? I think it's always good to compete. I think the competitive guys want to compete every night and want to compete against the best. Laine is a heck of a player and Winnipeg has got a real good team. It should be fun.
On if it really is just another game when a player says it is:
I think it is just another game in a lot of ways so I don't think that's a wrong statement, but I just that any game – I'm coaching against Bill Peters tonight. It makes it a little bit different. Anything with something different – there's 82 of them. It's great to have something different.
On scoring three goals off the rush:
I just think the way it worked is we were able to get through the middle of the ice and it doesn't happen very often, but it was effective here tonight.
CONNOR BROWN (2 GOALS, 5 SHOTS)
On tonight's performance as a rebound from last night:
I think we needed a good start and a good first and even though we didn't get any [goals] we felt like we played good and really continued to build off of it. I thought we had a full 60 minutes tonight.
On scoring two identical goals off feeds from van Riemsdyk:
He's a really good passer off the wing so I just tried to build my speed and get to the middle as quick as possible and he put two on my tape.
On playing against a defensively strong Carolina team:
I think we played quick and we wore them down in their end. With that they had less energy to slow us down in the neutral zone. I thought we did a good job of having enough three tonight and playing in their zone.
On McElhinney's performance:
Huge. I think when you get big stops like that to start the game or at key times like he made, especially on the penalty kill, we really got our legs under us and we were able to get the ball rolling.
JAKE GARDINER (1 GOAL, 2 ASSISTS)
On tonight's win:
That was great. Just a good team win starting with our goalie who played a heck of a game. Back-to-backs haven't been our strong suit and we proved ourselves wrong and went out there and won.
On getting a good start:
That was huge for us, especially after last night. It was such a big game on the line and a huge redemption game for us.
On Matthews' goal:
That was impressive. Just the strength while he was falling to score that goal was pretty impressive.
On what he saw to spring Matthews on his goal:
I just saw a line change from them and when you see Auston Matthews breaking down the ice you try to get him the puck.
On if it's a surprise to score three goals off the rush vs. Carolina:
Yeah, for sure. Coming into the game we thought it would be not really a track meet or anything like that. We just got a few breaks tonight.
AUSTON MATTHEWS (1 GOAL, 8 SHOT ATTEMPTS)
On if it was a surprise to score goals off the rush tonight:
No, I think the game plan – both teams play a really similar style so there's obviously not a lot of space in the neutral zone. The only time you get those odd-man breaks is turning pucks over just quick counters. I think tonight we did a really good job of that.
On McElhinney's performance in goal:
It was huge, he played unbelievable tonight. He made a lot of big saves. When the momentum switched to them he stood tall. He was huge for us tonight, this was a big two points for us.
On tonight's game as a must-win:
Absolutely. I think all of these games now heading into this part of the season are must-win. It's a really tight race in our division and our conference. All of these games are very important.
On what he's trying to do while being hooked prior to his goal:
You're just trying to make the best play you can. I had a good amount of speed going into it to carry me to the net and I just tried to sneak it in there. It was a pretty lucky play I guess.
CURTIS McELHINNEY (37 SAVES, SHUTOUT)
On trying to provide a boost as a backup goaltender:
It's pretty clearly laid out for me. The last one was a little bit difficult in Columbus so this was a nice way to bounce back.
On getting his fifth career shutout:
It feels good. I've been spreading them out a little bit but it feels nice either way.
On if it's tough to wait for another opportunity after losing a start:
Yeah, the Columbus game was an emotional game for me going back there too. That was an especially difficult one. To come in here tonight and help the team get a win feels great.
On if he's still trying to prove himself to his new team:
I think so. Obviously every opportunity is an opportunity to prove it. Right now I felt pretty good in net and for the most part I think we've gotten results. That's the most important thing.
On Auston Matthews as a teammate:
He's just a big-time player and off the ice he's a great kid too. He's fun to be around. The whole team in general is great to be around but Auston is a pretty special player. It's fun to watch him.
On playing vs. Matthews in practice:
I don't know, he makes me feel pretty bad about myself some days. I'd say it's frustrating.