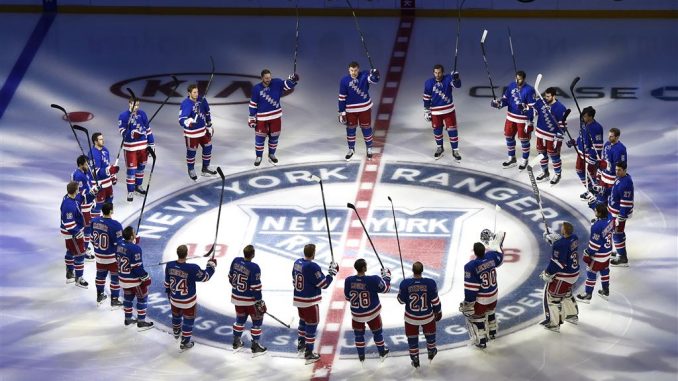 New York Rangers beat Toronto Maple Leafs in shootout 2-1. Here is the summary and highlights from the game played on Thursday, February 23, 2017
| | | | | | | |
| --- | --- | --- | --- | --- | --- | --- |
| | 1 | 2 | 3 | OT | SO | FINAL |
| NEW YORK | 0 | 0 | 1 | 0 | 1 | 2 |
| TORONTO | 1 | 0 | 0 | 0 | 0 | 1 |
GAME SUMMARY | EVENT SUMMARY | FACEOFF SUMMARY

ON THE SCORESHEET
Connor Brown put the Maple Leafs on the board with his 15th goal of the season at 10:56 of the first period. He has scored 13 of his 15 goals at even-strength.
Tyler Bozak picked up the primary assist on Brown's first period goal. Bozak now has four points (1 goal, 3 assists) in three games vs. the Rangers this season.
Jake Gardiner
recorded the secondary assist on Brown's goal. With his assist Gardiner has tied his career-high for points in a season (31), which he has previously reached in 2013-14 and 2015-16.
Frederik Andersen stopped 37 shots in the shootout loss.
IN THE SHOOTOUT
William Nylander.- Stopped (2016-17: 0/1)
Auston Matthews – Goal (2016-17: 2/7)
Nazem Kadri – Stopped (2016-17: 0/2)
Frederik Andersen – 0/2 (2016-17: 10/20)
SHOTS FIRED
The Maple Leafs were outshot by the Rangers by a 38-33 margin in all situations. Toronto had a 29-27 lead in shots at 5-on-5.
New York had an 88-58 lead in shot attempts in all situations and a 68-49 lead in shot attempts at 5-on-5.
Nazem Kadri led the Maple Leafs with six shots on goal.
Nazem Kadri and Auston Matthews each registered nine shot attempts.
HOME AGAIN
The Maple Leafs are 15-10-5 at home this season.
Toronto's all-time record 283-221-95-9 in 608 games against the Rangers and 166-94-39-4 in games in Toronto.
Toronto is 19-12-6 against the Eastern Conference this season and 7-6-4 against the Metropolitan Division.
Tonight's attendance was 19,175.
MAPLE LEAFS LEADERS
| | |
| --- | --- |
| Faceoff Wins | 9 (Bozak) |
| Faceoff Win Percentage | 43% (Bozak) |
| Hits | 5 (Komarov) |
| Blocked Shots | 4 (Marchenko, Zaitsev) |
| Takeaways | 2 (Nylander, Rielly) |
| TOI | 25:37 (Rielly) |
| Power Play TOI | 3:29 (Gardiner) |
| Shorthanded TOI | 3:02 (Hyman) |
| Shifts | 34 (Zaitsev) |
| 5-on-5 Shot Attempt Percentage | 51.9% (van Riemsdyk – 14 for, 13 against) |
OF NOTE…
Alexey Marchenko played 13:52 and recorded four blocked shots in his Maple Leaf debut.
The Maple Leafs were 2-for-2 on the penalty kill tonight and 0-for-3 on the power play. Toronto is 12-10-4 when not scoring a power play goal this season and 20-7-5 when not allowing a power play goal.
Toronto is 23-5-6 when scoring first.
The Maple Leafs are now 18-1-6 when leading after a period and 22-1-8 when leading after two periods this season
Toronto has a 17-9-6 record when outshot by their opponent.
UPCOMING GAMES:
Saturday, Feb. 25 vs. Montreal Canadiens, 7:00 p.m. (Hockey Night in Canada, TSN 1050)
Tuesday, Feb. 28 at San Jose Sharks, 10:30 p.m. (Sportsnet Ontario, FAN 590)
Thursday, March 2 at Los Angeles Kings, 10:30 p.m. (Sportsnet Ontario, TSN 1050)
Friday, March 3 at Anaheim Ducks, 10:00 p.m. (TSN 4, FAN 590)
Tuesday, March 7 vs. Detroit Red Wings, 7:30 p.m. (TSN 4, TSN 1050)
POSTGAME QUOTES:
HEAD COACH MIKE BABCOCK
On Marchenko's debut:
I thought [Marchenko] made a real good play on our goal. I thought he had another one get to the net and he turned the puck over one time on a D-zone faceoff coming around. Obviously he's got skill and he's smart and he's a big man out there so that was a positive as well.
On the team wanting to avoid the shootout:
That was the plan but they wouldn't let us have the puck. We hit the bar in overtime and it's not like we're not trying to win, we're trying to win the shootout too and today would have been a good one to win for [Andersen]. Freddy had done everything for us, it would have been nice if we scored some goals for him.
On if he'd like 3-on-3 extended:
No, because we play again the next day and you play again the next day and you play again the next day. So, they're not going to extend the season and we play enough games as it is, so, no.
FREDERIK ANDERSEN (37 SAVES)
On a cross-crease save on Grabner in the first period:
I saw he tried to pass it back and I don't think he put it where he wanted to. I didn't get very far over but he put it right on my pad.
On if he prefers to get tested with shots early in a game:
Yeah, it depends on what kind of shots it is obviously but it's nice to feel engaged in the game.
On tonight's game:
I felt good. We gave it up a couple of times but they didn't get any scoring chances out of it or they didn't score anyways. It was a tough one.
On the number of blocked shots tonight:
That was great. We take pride in that and the more the winger can help block shots the better for the D-men, they don't have to eat it chest-high.
On if the team wants to avoid shootouts:
I think pretty much everyone in hockey wanted this to keep going. It was a good overtime but we haven't had much success [in the shootout].
CONNOR BROWN (1 GOAL)
On the team showing resilience in the third period:
Absolutely. They get one on the power play late in the third, I thought before that in the third period we were holding on to the lead well, we were playing in their end. There are some things we can do better but it wasn't a terrible effort and real good one by [Andersen].
On the pace of overtime:
It was fast. Two fast teams, a lot of fast players – especially the last two minutes back and forth there. It's exciting.
On New York's ability to play in possession:
They've got some big guys like Nash and Kreider and guys that can hold on to it – really strong. They did a good job of that in the O-zone especially to create some O-zone time and some chances. You've got to give it to them, they played well.
On the shootout as a challenge this season:
It's a tough way to lose a game. I think we'll find our way in the shootout the more we get comfortable with it, these young guys. It's a tough way to lose a hockey game for sure, especially when you battle hard for 65.
AUSTON MATTHEWS (20:31 TOI)
On his mindset in overtime:
Just trying to score. Usually it's a tough time – the ice was pretty bad then and obviously you get into the 23, 24-minute mark of the period and it's very bad. I was thinking shoot the whole way and he got a good stick on it and we weren't able to capitalize on it. I don't think we played exceptionally well tonight. I think we were kind of slow and they were coming at us. We relied on [Andersen] to make a couple of big saves for us and that's not how we want to win games.
On Andersen's performance:
He was unbelievable. The save on Grabner and numerous saves that kept us in the game. We didn't create enough offence, they were good countering us in the neutral zone and turning the puck over. They've got a lot of speed so I don't think tonight was our best game.
On how to improve shootout results:
It's just scoring, you've got to score. That's how shootouts work.
On his shootout attempt:
I think I was going to come in and shoot. I just saw a pretty good opening, fired and I was able to sneak it through. He moves laterally really well. Obviously he's not the biggest goalie but he can move and he never quits on pucks. I just saw an opening and shot it.
On scoring chances in overtime:
I thought Leo – he opened him up but his paddle was there and he was able to nick it. Mine as well, I thought I got him open but he's got a pretty strong stick. I think at that point in the game you just go off instinct.