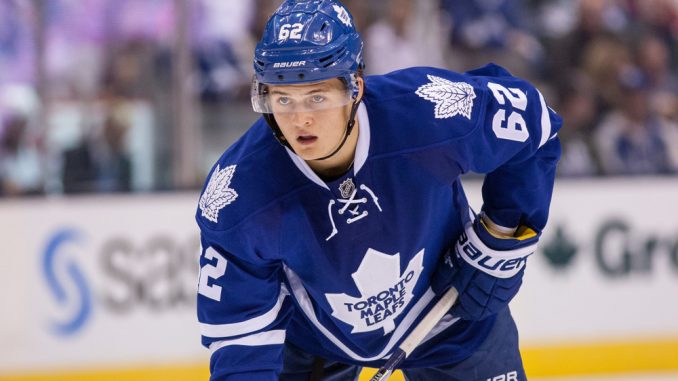 Toronto Maple Leafs edge out Philadelphia Flyers 4-2. Here is the game summary and highlights from the gamet played on Thursday, March 9, 2017
| | | | | | |
| --- | --- | --- | --- | --- | --- |
| | 1 | 2 | 3 | OT | FINAL |
| PHILADELPHIA | 1 | 0 | 1 | 0 | 2 |
| TORONTO | 1 | 1 | 1 | 0 | 4 |
GAME SUMMARY | EVENT SUMMARY | FACEOFF SUMMARY

ON THE SCORESHEET
William Nylander put the Maple Leafs on the board with a power play goal at 13:57 of the first period. With the goal, Nylander tied the Maple Leafs rookie record (Dan Daoust – 1982-83, Walt Poddubny – 1982-83, Alexander Steen – 2005-06) for power play goals in a season (9).
Tyler Bozak
scored the second Toronto goal of the night at 9:30 of the second period and later had the secondary assist on Mitch Marner's third period goal. Bozak has points (2-4-6) in four consecutive games.
Mitch Marner scored Toronto's second power play goal of the game at 13:44 of the third period. Marner has points (1-4-5) in four consecutive games.
Nazem Kadri added an empty-net goal, his 28th goal of the season, at 19:00 of the third period. Kadri's goal was Toronto's second empty-net goal of the 2016-17 season.
Jake Gardiner registered the primary assist on Nylander's power play goal. Gardiner leads Toronto defencemen with 10 power play points.
Connor Brown also registered an assist on Nylander's goal. Brown has registered nine of his 13 assists on home ice this season.
Morgan Rielly registered the primary assist on Marner's third period goal. Rielly has recorded 13 of his 20 assists on home ice this season.
Frederik Andersen stopped 36 shots in the win. The Maple Leafs are 13-3-4 in games when Andersen makes 30-39 saves.
SHOTS FIRED
The Maple Leafs were outshot by the Flyers by a 38-33 margin in all situations. Toronto had a 29-28 lead in shots at 5-on-5.
Philadelphia had a 68-58 lead in shot attempts in all situations. The teams were tied 53-53 in shot attempts at 5-on-5.
Leo Komarov led the Maple Leafs with six shots on goal.
Matt Hunwick and Leo Komarov each registered seven shot attempts.
HOME SWEET HOME
The Maple Leafs are 17-10-6 at home this season.
Toronto's all-time record is 61-90-22-4 in 177 games against the Flyers and 35-37-14-3 in games played in Toronto.
Toronto is 21-12-7 against the Eastern Conference this season and 8-6-4 against the Metropolitan Division.
Tonight's attendance was 18,894.
The Maple Leafs return to action in Carolina on Feb. 11.
MAPLE LEAFS LEADERS
| | |
| --- | --- |
| Faceoff Wins | 8 (Kadri, Matthews) |
| Faceoff Win Percentage | 57% (Kadri) |
| Hits | 2 (Boyle, Hunwick, Polak) |
| Blocked Shots | 4 (Gardiner) |
| Takeaways | 4 (Boyle) |
| TOI | 22:33 (Zaitsev) |
| Power Play TOI | 1:22 (van Riemsdyk) |
| Shorthanded TOI | 2:42 (Hunwick, Polak) |
| Shifts | 34 (Zaitsev) |
| 5-on-5 Shot Attempt Percentage | 76.5% (Martin – 13 for, 4 against) |
RECORD WHEN…
The Maple Leafs were 2-for-3 on the penalty kill tonight and 2-for-2 on the power play. Toronto is 6-1-2 when scoring multiple power play goals this season and 8-9-8 when allowing a power play goal.
Toronto is 6-16-6 when their opponent scores first.
The Maple Leafs are 9-7-3 when tied through a period and 24-1-9 when leading through two periods.
Toronto has a 18-10-7 record when outshot by their opponent.
OF NOTE…
Jake Gardiner played 20:23 in tonight's game, 8:12 of which was at even-strength in the second period.
Matt Hunwick played 8:08 of his 21:25 in ice time during the third period of tonight's game.
Nazem Kadri had a 5-on-5 shot attempt percentage of 57.6 percent (19 for, 14 against) while starting 18.8 percent of his shifts in the offensive zone. Kadri won 8 of his 13 faceoffs (62%) when matched up against Philadelphia's Claude Giroux.
Morgan Rielly (58.5%) and Nikita Zaitsev (55.8%) were each on the ice for 24 Maple Leafs shot attempts at 5-on-5, which led all Toronto skaters.
UPCOMING GAMES:
Saturday, March 11 at Carolina Hurricanes, 7:00 p.m. (Hockey Night in Canada, TSN 1050)
Tuesday, March 14 at Florida Panthers, 7:30 p.m. (TSN 4, FAN 590)
Thursday, March 16 at Tampa Bay Lightning, 7:30 p.m. (Sportsnet Ontario, TSN 1050)
Saturday, March 18 vs. Chicago Blackhawks, 7:00 p.m. (Hockey Night in Canada, FAN 590)
Monday, March 20 vs. Boston Bruins, 7:30 p.m. (TSN 4, TSN 1050)
POSTGAME QUOTES:
HEAD COACH MIKE BABCOCK
On tonight's game:
I thought we were a little bit tight early for the first six or seven minutes. [Andersen] was good. Then I thought we got skating real good and took the game over, but we obviously needed him for sure and on the penalty kills with their good power play. When we were 5-on-6, I didn't think we executed very good there and I thought he had to be very good. Good for him and obviously good for us.
On if tonight's third period was one of the best of the season:
I don't know about that. What I liked about it was we were ahead and we were assertive and kept playing pretty good. I didn't like the 5-on-6 goal because of the way – they had just called a timeout; we were prepared and we didn't do what we said we were going to do. To me that makes no sense. Other than that, I liked a lot of things for us.
On tonight's game showing Boyle's value to the team:
I don't think we needed this night to see the value. If you're around him every day and in the room, I think he makes a huge difference. Fehr's the same way that way. They say the right things at the right time and they prepare the right way. Someone is watching and if they want to watch they're seeing it.
On Bozak's performance despite being a gametime decision:
I thought that was really impressive, to tell you the truth. We didn't know until the last second if he was going [to play] or not. Obviously he was able to fight through and tomorrow will be another good day for him. He should be ready to go after that. It was, I thought, a real big effort by him tonight.
On Andersen giving the team a confidence boost early:
I think it's like anything – confidence comes when your guy picks you up. I thought it was a good thing for our team. Like I said, I thought he was good early and I didn't think he had to be that great for quite a chunk of time because I didn't think we gave up that much. Then, on their power play and right at the end there, he was excellent. He made a save on a bang-bang play where we got caught during the second period too. Hell of a save. We scored right away.
On Nylander's power play scoring this season:
I think Willy, early in the year, wasn't competitive enough to score 5-on-5. I actually think Willy has done a fantastic job lately. I think he's getting better and better and better. I mean, he has an absolute cannon so that helps you, but he's got a good skillset for packing the puck into the crease. He's a good player that way. I think Willy, to me, his 5-on-5 play is the biggest improvement – not his power play – his 5-on-5.
On when he decides to flip Brown and Nylander in the lineup:
I don't like what I see. It's not even that I'm reading this or I have a reason, I just don't like how we're playing, we didn't look like we had juice. I flipped them around, but it wasn't that one was good and one wasn't. It was just do something different because what we were doing wasn't very good.
FREDERIK ANDERSEN (36 SAVES, WIN)
On tonight's game:
It was huge points for us. It was awesome to see everyone play hard and wanting to win this game. They came at us a little bit in the end but we stuck with it and scored some big goals.
On the defensive play in front of him:
They were unreal today, they boxed them out pretty well and that makes my job a lot easier. Obviously that was great. I think we can keep doing that down the stretch – be tougher and tougher and harder to get in front of at the net – and the better we're going to like the results.
On the importance of the win:
These are huge points. Both of us want to be in the playoffs and every game now down the road, we've just got to want it more. I think we did today and the other night.
On earning consecutive wins:
It's great, winning is fun.
On tonight's game as a playoff atmosphere:
Yeah, they go hard at the net and it was a battle to get position in front. I think we did well most of the night and once we did that I could see the puck easily and make the save better. We had some huge goals.
TYLER BOZAK (1 GOAL, 1 ASSIST)
On being a gametime decision to play:
I wasn't sure, just a little banged up, but that happens this time of year. Getting older every year, your body's not as nice to you as it is when you're younger. We've got a really good training staff here and I spent a lot of time trying to get ready. I still wasn't sure come warmups but felt good enough to go. It's a pretty important game for us so it's not one you want to miss. I was happy I was able to play.
On tonight's game:
It was a tough game, they're a great team. They're in the same position as us, they're fighting to get in and they're just out of it. It was a huge game for both of us and they did a good job of getting that one back after we scored and made it a close game. It was nice. There's going to be a lot of games like that throughout the end of the year. It was nice to be able to hang on.
On Andersen's play sparking scoring chances:
We're so confident with him back there – with both of our goalies back there. Just the calm presence he has when he's making those scrambling, big saves, he makes it look so easy. We feed off of that. He played unreal for us tonight and gave us a chance to win. It was nice we were able to get it done.
On where his goal ranks among his nicest goals this season:
I don't know, everything kind of worked out at the time. It was just nice to get that one and get a lead. At the end, I was happy we were able to hang on to it and win. It was a big win for our team.
MITCH MARNER (1 GOAL)
On tonight's win:
I thought we played the way we wanted to the whole 60. When we do that, good things happen.
On the team's execution on the power play:
I think we were moving the puck well, we had good speed coming into the zone and that just makes it easier for guys on the wall. It helps the whole power play to get in and get set up. I think we've just got to keep doing that and there will be success.
On Andersen's performance:
It's great. He's made a lot of big saves for us and a couple more tonight. We've got to stop relying on him so much, we've got to be better in our own zone sometimes but he's there for us for sure and that's nice to know.
On tonight as a playoff style game:
It felt like that. Not a lot of space, hard to move through the neutral zone and it was hard getting the puck in. It definitely felt like a playoff game and I thought our team played well in that kind of zone.
On Nylander's shooting ability:
He's got a great shot. I think he fools a lot of guys who really don't know how hard his shot is. He's got a lot of deception in it and he showed it again tonight.
MORGAN RIELLY (1 ASSIST)
On the win:
It was a big one for us. We knew that coming in and the guys responded. Big points to take against a team that's right there in the playoff hunt with us. We know what we had to do and we came out and did it. It's a good feeling.
On Bozak's performance after being a gametime decision:
He battled hard. You get bumps and bruises over the course of a season and he was battling tonight. He had a big goal and played well for us. It just goes to show what kind of player he is.
On tonight's game as one of the team's better third periods this season:
It's probably up there – I'd have to watch it again to be honest. We're just happy that we were able to pull out a win and play well. We move on to Carolina.
On closing out consecutive wins as a sign of maturity:
That's all part of the learning process. You kind of learn on the go and we've been in that situation a lot this year. We're certainly used to it, it's just a matter of making sure we can pull those wins out.
On what led to success in the third period:
We didn't really change the way we were playing. I think we continued to go after them, continued to play offence and not sit back, execute plays and just continue to work hard.