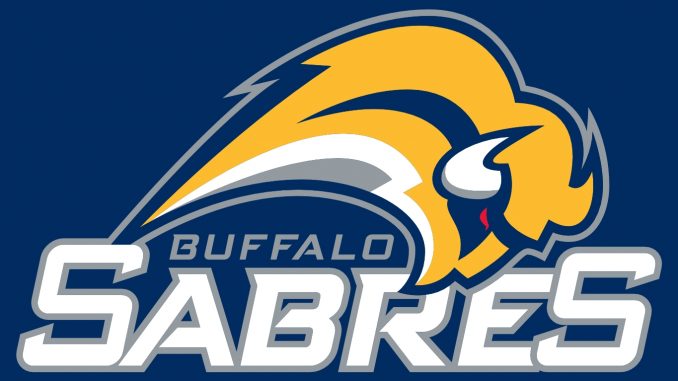 Buffalo Sabres thrash Toronto Maple Leafs 5-2. Here are the highlights from the game played on Saturday, March 25, 2017
| | | | | |
| --- | --- | --- | --- | --- |
| | 1 | 2 | 3 | FINAL |
| TORONTO | 1 | 1 | 0 | 2 |
| BUFFALO | 2 | 3 | 0 | 5 |
GAME SUMMARY | EVENT SUMMARY | FACEOFF SUMMARY

ON THE SCORESHEET
Connor Brown put the Maple Leafs on the board at 9:30 of the first period with his 18th goal of the season. Brown now has a goal in back-to-back games and four points (three goals, one assist) in his last six games.
Auston Matthews notched the second Toronto goal at 2:22 of the second period. The goal was his 34th this season tying him with Wendel Clark for most goals scored by a Maple Leaf rookie in a single season.
William Nylander collected the secondary assist on Matthews' second period tally. The assist extended Nylander's record-setting point streak to 11 games. He now has four goals and nine assists for 13 points over that span.
Matt Hunwick
collected the primary assist on Toronto's second goal. The assist gives the Warren, Michigan native 15 points (one goal, 14 assists) on the season.
Ben Smith returned to the lineup for the first time since February 25 vs. Montreal. Smith played 10:31 and won 7-of-9 faceoffs (78%) tonight.
Frederik Andersen made 14 saves on 16 shots before leaving the game after the first period due to an upper body injury.
Curtis McElhinney made 19 saves on 22 shots in relief of Andersen over the course of the last 40 minutes.
SHOTS FIRED
The Sabres outshot the Maple Leafs by a 38-34 margin in all situations and by a 33-26 margin at 5-on-5.
Toronto had a 63-61 lead in shot attempts in all situations. Buffalo led the 5v5 shot attempts by a count of 51-49.
Auston Matthews led the Maple Leafs with six shots on goal and 11 shot attempts in all situations.
ROAD SCHOLARS
The Maple Leafs are 16-14-8 on the road this season.
Toronto's all-time record is 74-102-18-11 in 205 games against the Sabres and 28-63-6-6 in games played in Buffalo.
Toronto is 26-14-7 against the Eastern Conference this season and 15-8-3 against the Atlantic Division.
The Maple Leafs return home for a game against the Florida Panthers on March 28 at Air Canada Centre.
MAPLE LEAFS LEADERS
| | |
| --- | --- |
| Faceoff Wins | 9 (Matthews) |
| Faceoff Win Percentage | 78% (Smith) |
| Hits | 3 (Martin) |
| Blocked Shots | 3 (Rielly) |
| Takeaways | 2 (Three players tied) |
| TOI | 22:56 (Gardiner) |
| Power Play TOI | 3:55 (Matthews) |
| Shorthanded TOI | 0:59 (Three players tied) |
| Shifts | 29 (Rielly) |
| 5-on-5 Shot Attempt Percentage | 65.4% (Brown, Kadri – 17 for, 9 against) |
RECORD WHEN…
The Maple Leafs were 0-for-2 on the penalty kill and 0-for-3 on the power play tonight. Toronto is 1-5-0 when allowing multiple power play goals and 13-11-7 when not scoring on the power play this season.
Toronto is 8-18-6 when their opponent scores first.
The Maple Leafs are 2-16-3 when trailing after one period and 3-19-2 when trailing after two periods.
Toronto has a 23-12-8 record when being outshot by their opponent.
The Maple Leafs are 8-7-5 on Saturday nights.
OF NOTE…
Toronto suffered their first regulation loss since March 14 at Florida, a streak halted at five games.
The Maple Leafs have scored a first period goal in 12 consecutive games and in 15 of their last 16 games.
Toronto trailed after the first period for the first time over their last six games.
The Maple Leafs allowed two power play goals in tonight's game (Eichel, Kulikov). The last time Toronto allowed two or more power play goals in a game was February 4 at Boston (Krug, Bergeron).
Toronto's power play failed to score for the first time in four games.
Nazem Kadri skated in his 400th career NHL regular season game tonight. Kadri played 17:30 and registered three shots on goal.
Matt Hunwick was on the ice for a team-high 26 Toronto shot attempts at 5-on-5 (26 for, 17 against).
UPCOMING GAMES:
Tuesday, March 28 vs. Florida Panthers, 7:30 p.m. (TSN 4, TSN 1050)
Thursday, March 30 at Nashville Predators, 8:00 p.m. (TSN 4, FAN 590)
Saturday, April 1 at Detroit Red Wings, 7:00 p.m. (Hockey Night in Canada, FAN 590)
Monday, April 3 at Buffalo Sabres, 7:00 p.m. (Sportsnet Ontario, FAN 590)
Tuesday, April 4 vs. Washington Capitals, 7:30 p.m. (TSN 4, TSN 1050)
POSTGAME QUOTES:
HEAD COACH MIKE BABCOCK
On the injury to Frederik Andersen tonight:
"Obviously the other team's doctor thought he should come out of the game, so he came out of the game. So once our doctor has seen him tomorrow then I'll have a better handle on what's going on and I'll be able to tell you."
On if losing Frederik Andersen after one period affected the team tonight:
"It didn't affect us in the first, did it? No. This is all on us. They were better. They skated better, they were quicker, they responded after we scored, they looked prepared, we didn't."
On if he was surprised that his club wasn't able to bounce back after Connor and Auston's goals:
"Yep, for sure. I mean I'm surprised about the whole thing. But obviously we had a good little run here and for whatever reason we weren't as good tonight. We have a day off tomorrow and then a good practice day and we gotta get back at er. Obviously your lulls at this time of year have to be real short."
On if the team had a different view than the Sabres doctor did:
"No. Don't read into anything. I didn't go back to our trainers after, I hadn't done anything. So we'll give you a report on Monday."
On whether he was surprised there was an issue (with Andersen) after the first period:
"Yep."
On whether or not he had any idea there was a problem:
"No, I was watching the game like you."
On his thoughts if Curtis gets the ball going forward:
"Well I'm not doing that because I don't speculate about stuff. We'll deal with what I know and you guys can get paid to speculate. You guys do that."
On the result tonight after getting three wins earlier this week:
"We weren't very good. For whatever reason they were quicker, they were better, they were hungrier. Obviously coming into the game I thought we had more the play for than they did. But pride is a wonderful thing and if you get your group to dig in like they did tonight, they look good and we didn't. So good for them and obviously we've got to fix whatever, we weren't good enough. Period."
MORGAN RIELLY (21:22 TOI, three shots)
On if losing Frederik Andersen after one period affected the team tonight:
"No, that didn't have any impact on the game. We're not very happy with the way that we came out, and they're a good team. They have good players that capitalized on their chances and we let that one kind of get away from us there in that span where they buried a couple."
On if there was a particular time when he felt the game slipping away in the second half:
"Two power play goals is a big one. Our penalty kill has to be better. We have to be able to do a job, recognize the situation during the game, know that that's a big moment and kill off two penalties. We weren't able to do that, so the PKers are going to have meetings and we're going to discuss what we could have done better."
On if the loss is more difficult given the success the team has had lately:
"Well, yeah. It's always touch to lose these games. Like I've told you before, we know the importance of every game here. So to come out and put yourself in a position where you're playing catch-up basically all night is tough. We want to be better. We expect ourselves to be better than that so now we're in a position where we've got to bounce back."
On what goes through his mind with Frederik Andersen injured:
Well we're not sure what it is yet but he's a huge part of this team. He's been playing the best hockey of his career, in my opinion, he's been a big part of what's going on. We'll have a discussion and we'll find out what the deal is."
CONNOR BROWN (one goal, four shots)
On a missed opportunity to score in the second period:
"Yeah, obviously those are big ones, especially in the second period. Would of given us a bit of life, I think a couple kills would've given us life too. When you lose a game like that there's a lot of things you can go back to and pin point."
On what goes through his mind with Frederik Andersen injured:
"I mean you've got to keep pushing forward. We're in a tight race and we believe in Mac [McElhinney], so nothing changes for us."
On what made their forecheck so challenging:
"They got on us. I don't think we did as good a job slowing them down as we could've, so they were all over our D, which made it tough on them to breakout."
AUSTON MATTHEWS (one goal, team-high 11 shot attempts)
On losing goaltender Frederik Andersen to injury:
"Yeah, it's tough. I didn't see what happened but obviously we were without Freddy for the second and third, but that's no excuse, I don't think, for the way we played tonight."
On when he knew Andersen wasn't going to return to the game:
"I don't know. I didn't know what happened or what the case was. Just that [McElhinney] was starting the second period and that was that."
On what the team's mindset will have to be if Andersen misses extended time:
"It doesn't change. Just play the way we play. Obviously they came out and they were hungrier than us and they were on top of us, getting the puck in deep and working us down low. With or without Freddy we can control the way we play as forwards and defencemen."
On tying Wendel Clark's rookie goal-scoring record:
"Yeah, that's nice. I mentioned the other day, a lot of respect for him. Obviously, he had an unbelievable career as a Leaf. He's a guy that a lot of people enjoyed watching as a Leaf legend so it's definitely a pretty big honour to be in the same sentence as him."
On if tonight was an example of Jack Eichel being on top of his game:
"For sure. He's obviously got that shot on the power play. That's on us to make sure that we're pre-scouting that and making sure we're in the lane and stuff like that, but obviously he's got that stride, that speed, that strength and he can make plays all over the ice."
On the atmosphere at KeyBank Center:
"It was great. A lot of blue jerseys out in the stands, a lot of Maple Leafs jerseys. We travel pretty well all across the country but especially when you're kind of just across the border in Buffalo, it's a really exciting game."
CURTIS MCELHINNEY (stopped 19 of 22 shots in relief)
On how tough it was to enter the game after the first period:
"Well obviously the results speak for themselves. A difficult second period to go into, that's for sure."
On when he learned he would be entering the game:
"During the first intermission."
On how tough it is to get back into a rhythm when you haven't played in a little while:
"I think it's just one of those things, once you see a couple of shots you're into it. The New Jersey game was a good experience for me. Tonight, not so much."
On if he knew there was an issue with Frederik Andersen at the end of the first period:
"Yeah, the trainers had mentioned something to me."
On how difficult it was on the penalty kill:
"Yeah, it's tough. I mean, when you give those guys time and space they're able to make some good shots and they executed tonight."
On his mindset moving forward with Frederik Andersen potentially injured:
"I'll just prepare the same way that I've been doing all year long. It's a good opportunity regardless of what happens with Fred right now so, you know, just go in and get a couple days of practice and get ready."
On what the Sabres did that made them so effective:
"I think they've got a lot of skill. They were playing loose tonight and obviously in the second period they executed on the power play."