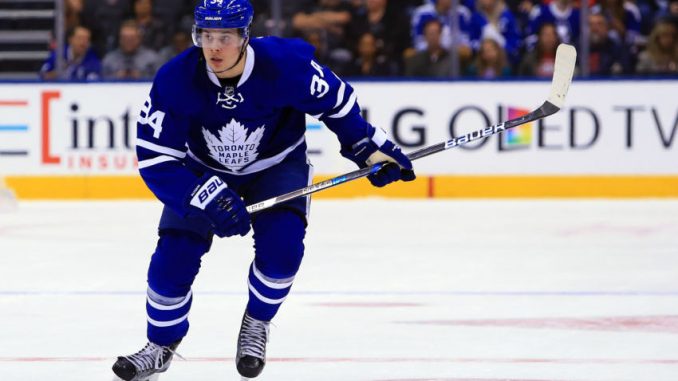 Toronto Maple Leafs come up strong to beat Florida Panthers 3-2. Here is the summary of the game played on Tuesday, March 28, 2017
| | | | | | |
| --- | --- | --- | --- | --- | --- |
| | 1 | 2 | 3 | OT | FINAL |
| FLORIDA | 0 | 1 | 1 | 0 | 2 |
| TORONTO | 2 | 0 | 1 | 0 | 3 |
GAME SUMMARY | EVENT SUMMARY | FACEOFF SUMMARY

ON THE SCORESHEET
Auston Matthews opened the scoring for the Maple Leafs at 11:54 of the first period. With the goal, Matthews has established a new Maple Leafs rookie record for goals in a season (35), surpassing the previous high of 34 set by Wendel Clark in 1985-86.
Auston Matthews' goal was the 14th time this season he has scored the first goal of the game, which ties the Maple Leafs record for opening goals set in 1993-94 by Dave Andreychuk, per Elias Sports Bureau.
Leo Komarov scored the second Toronto goal of the night at 14:43 of the first period and later added the primary assist on Zach Hyman's shorthanded goal. Komarov's goal was the 100th point of his NHL career. He has five multi-point games this season.
Zach Hyman registered the primary assist on Matthews' first period goal before adding a shorthanded goal at 3:32 of the third period. Hyman holds the Maple Leafs rookie record for shorthanded goals in a season and is tied for second in the NHL with four shorthanded markers this season.
William Nylander
had the secondary assist on Matthews' first period goal. Nylander has registered assists (4) in four consecutive games and points (4-10-14) in 12 consecutive games.
Connor Brown registered the primary assist on Komarov's goal. With the assist, Brown has points (2-1-3) in three consecutive games.
Nazem Kadri had the secondary assist on Komarov's first period goal. Kadri has five points (2 goals, 3 assists) in his last five games.
Curtis McElhinney made 24 saves in the win. He is 5-3-0 as a starter for the Maple Leafs.
SHOTS FIRED
The Maple Leafs were outshot by the Panthers by a 27-25 margin in all situations. Toronto had a 20-16 lead in shots at 5-on-5.
Toronto had a 59-53 lead in shot attempts in all situations and a 47-31 lead in shot attempts at 5-on-5.
Nazem Kadri led the Maple Leafs with five shots on goal and eight shot attempts.
HOME SWEET HOME
The Maple Leafs are 20-10-7 at home this season.
Toronto's all-time record is 39-32-7-2 in 80 games against the Panthers and 21-15-2-1 in games played in Toronto.
Toronto is 27-14-7 against the Eastern Conference this season and 16-8-3 against the Atlantic Division.
The Maple Leafs return to action on the road on March 30 at Nashville.
MAPLE LEAFS LEADERS
| | |
| --- | --- |
| Faceoff Wins | 13 (Bozak) |
| Faceoff Win Percentage | 68% (Bozak) |
| Hits | 3 (Kadri, Zaitsev) |
| Blocked Shots | 6 (Polak) |
| Takeaways | 3 (Brown, Matthews) |
| TOI | 21:50 (Zaitsev) |
| Power Play TOI | 4:34 (Gardiner) |
| Shorthanded TOI | 3:35 (Hunwick, Polak) |
| Shifts | 28 (Five players tied) |
| 5-on-5 Shot Attempt Percentage | 79.0% (Brown – 15 for, 4 against) |
RECORD WHEN…
The Maple Leafs were 3-for-4 on the penalty kill and 0-for-4 on the power play tonight. Toronto is 11-10-8 when allowing one power play goal and 14-11-7 when not scoring on the power play this season.
Toronto is 4-1-1 when scoring a shorthanded goal.
Toronto is 27-6-9 when scoring first this season
The Maple Leafs are 23-1-9 when leading through a period and 28-1-9 when leading through two periods.
Toronto has a 24-11-8 record when outshot by their opponent.
The Maple Leafs are 9-6-2 on Tuesday nights.
OF NOTE…
The Maple Leafs allowed three shots in the first period, which is the lowest total they've allowed in the first period this season.
Kasperi Kapanen made his season debut with the Maple Leafs. He appeared in nine games during the 2015-16 season.
Tyler Bozak started a team-high 73.3 percent of his shifts in the neutral or defensive zones.
Jake Gardiner was on the ice for a team high 20 shot attempts at 5-on-5 and had a 5-on-5 shot attempt percentage of 66.7 percent (20 for, 10 against).
UPCOMING GAMES:
Thursday, March 30 at Nashville Predators, 8:00 p.m. (TSN 4, FAN 590)
Saturday, April 1 at Detroit Red Wings, 7:00 p.m. (Hockey Night in Canada, FAN 590)
Monday, April 3 at Buffalo Sabres, 7:00 p.m. (Sportsnet Ontario, FAN 590)
Tuesday, April 4 vs. Washington Capitals, 7:30 p.m. (TSN 4, TSN 1050)
Thursday, April 6 vs. Tampa Bay Lightning, 7:30 p.m. (TSN 4, TSN 1050)
POSTGAME QUOTES:
HEAD COACH MIKE BABCOCK
On tonight's game:
I thought we played a real good first. Our power play wasn't very good to start the second. I thought it gave them some momentum, we weren't as good with the puck and [McElhinney] had to make some big saves, both while we were on the power play and at even-strength. I thought Mac had a real good night for us.
On the officials reversing a penalty call:
Well it has happened a few times since I've been in the League where they've got it right. Everybody in the whole place knows what's right, so I don't get what the big deal is. Why wouldn't you just be happy they got it right? It takes two seconds. There's a big screen up there. You don't have to go over and watch this little monitor, you just watch the big thing right there and get it right and everyone goes home happy. Players want it right, we want it right, fans want it right, get it right, let's move on. And it's quick.
On Kasperi Kapanen's play:
Great speed, good determination, big block on the penalty kill. Obviously, you're throwing him out there in important games and you're putting him on the penalty kill at the end of the game. It's probably – I don't know if that's ideal or not, but that's how we did it.
On the Matthews line opening the scoring:
Hyman made a great play, got it in deep again and got it out to him. Obviously that line started good. I thought we started really well, we played good and then I thought we got carried away for part of it.
On Hyman's importance to the team:
He's one of our most important players, him and Brown, just because they work every single day. You don't have to ask them, you don't have to beg them, you don't have to tell them, you can say nothing and they just come and they work like dogs every single day. I think it's important to have a drivetrain, your team needs guys like that, and he's one of those guys. They do it in the gym and they do it on the ice and it helps. The other thing about it is when you're a good player, you want someone to get you the puck and you want someone to occupy the D so you can have space. That's what those guys do. They get people the puck and work hard.
On the team missing the net on scoring chances:
What I would say is I expected the game to be tight at the end going into the game. I expect that every night. Over time we'll learn that you keep going and keep playing the same way and get rewarded for it. We still fluctuate in games so they're interesting all the time. It's exciting for the fans.
On Matthews taking on defensive responsibility:
We met at the start of the year and I made it real clear that you can play on the wing or you can play centre – 'No, I want to play centre and I want to play 200-feet.' He wants to do that; he wants to be the best player in the world up front so that's going to be the challenge for us. He's going to have to be an elite guy, 200-feet and those guys make their team win. That's a big challenge for him. Tonight, he lost a faceoff there and then his guy ended up scoring. Those are things you just learn over time, you get better at them and the more mistakes you make, the more you learn. We're putting him out there in a lot of key situations.
On the importance of earning two points tonight in the standings:
I don't spend a whole lot of time worrying about that, I really believe with our group if we just focus on the day we're playing and play right, we have a real good chance to win. That's what we talk about and that's kind of our mantra every day is just play right, play fast and we have an opportunity to be successful. We don't get all caught up in the race. We know the standings, it's in the paper every day, so we know that. Or it's on your computer or on your phone or whatever you want to talk about.
BRIAN BOYLE (10:11 TOI)
On tonight's game:
I think we started really well. For whatever reason – I mean, obviously they're going to push back, but I think we hung on. That's a big play by Hyman on the PK and they threw out – especially after two just two shots in the first – [McElhinney] was huge in the second and third. In the third, the penalty killing, a huge save on Marchessault through a screen. He was huge for us tonight.
On his collision with James Reimer in the second period:
I didn't really see anything. It was kind of like I felt something off my leg. What I did see was he was kind of going for the puck, he looked like he was going to come out and kind of fumbled it. I don't know if he lunged out a little bit, but it totally… Incidental contact. I obviously wasn't trying to hit the goaltender. We've talked about that – we actually talked about that this morning. It's unfortunate because it's a vulnerable position and there's a lot of variables like that in the game. Seeing him lying on the ice isn't a good feeling. Obviously, I was disappointed to see that. Hopefully he's okay. Credit to Sceviour, he did what he had to do, but, again, I think it's pretty well understood that I'm not looking for something like that. I'm just trying to skate. If I change my direction I'm probably going to fly into the boards. I wouldn't say I'm the quickest guy anyways to stop on a dime like that. It happened really fast. I mean, it was a good [penalty kill] – I understand why there was a penalty there, he goes down and it doesn't look very good. Again, it's just kind of chasing the puck, the puck is poked loose and I feel something on my leg as the puck comes loose. I hope that he's okay.
ZACH HYMAN (SHORTHANDED GOAL, 1 ASSIST)
On Matthews breaking the Toronto rookie goal record:
It's awesome. He's a great player and you've just got to give him the puck in areas and he'll put the puck in the net. He's done it a lot obviously this year. It's special to see him break that record. It's fun to play with him.
On scoring his fourth shorthanded goal:
I just try to do my part and, on the PK, when you're out there lots you get lots of chances and try to make the most of it.
On the play of McElhinney:
He was unbelievable. He stepped in and made huge saves for us down the stretch in the second period. Throughout the game he was really, really solid and that's what we need.
On if media chatter motivates him:
Honestly, I used to listen to TSN when I was a fan and growing up, but I stopped listening to everything. I don't follow too many things on Twitter, I'm not really active on Twitter, I just have it. I kind of tune out and do my thing and try to help the team win. If Auston is scoring, then I'm happy too.
On not watching sports television:
If it's on, it's on. I don't really watch too much TV. I'm more on the laptop, Netflix and stuff.
On using the cycle to create offence for his line:
That's my game down below the red line and just trying to make plays behind the goal line, get around defencemen and put the puck in an area where my linemates can score. Auston finds open space and it's easy if you have the puck in that area. Nine times out of 10 it's going to go in.
AUSTON MATTHEWS (35th GOAL OF THE SEASON)
On breaking the Maple Leafs single-season rookie goal record previously held by Wendel Clark:
Just to be in the same sentence as a guy like Wendel Clark is a big honour. A lot of credit to my linemates all season. It's definitely pretty special.
On his defensive zone play:
I think that was a point of the coaching staff going into the season was making sure that it was a big responsibility for myself and to take on that responsibility of being able to play both ends. I think over the season it has progressed pretty well. Obviously, there's always room for improvement but it has gone pretty well.
On the puck trickling to him prior to the goal:
It just snuck through his feet and I just kind of tried to look for it there. I was able to sneak it in.
On Hyman setting up his goal:
Hyman has been there all season and, like I said, he brings the same mentality each game. He never takes a game off, always gives 100 percent.
On his goal:
I just tried to – I think the D-man was there – I just tried to sneak it around him and I think it went right below his glove. I'll take that every day.
CURTIS McELHINNEY (50th CAREER NHL WIN)
On Florida pushing back after a slow start:
It's just one of those things. You're kind of waiting for them to make a bit of a push. With them playing the night before I think they were a little slow to get started, but they certainly poured it on and it was just one of those things where you've got to do your job to make sure you're in the game when those shots come.
On earning a win in the absence of Andersen:
It feels tremendous. I'll never complain about playing, that's for sure.
On preparing to face more shots in the second period:
They were going to start throwing pucks. Obviously with the back-to-back for them, you're looking for some bad breaks in there and they got one on their first goal. Credit to them for pushing back again there.
On reaching the 50-career NHL win milestone:
It took a little while but it feels good.
On how he felt in net:
It was great. Getting a couple of goals in the first period there helped out a little bit and let me settle into it. It was a nice win.