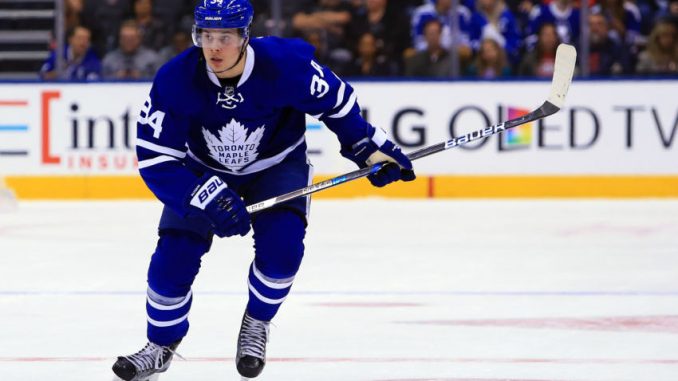 Toronto Maple Leafs beat Nashville Predators 3-2. Here is the summary from the game played on Thursday, March 30, 2017
| | | | | | |
| --- | --- | --- | --- | --- | --- |
| | 1 | 2 | 3 | OT | FINAL |
| TORONTO | 1 | 1 | 1 | 0 | 3 |
| NASHVILLE | 0 | 0 | 1 | 0 | 2 |
GAME SUMMARY | EVENT SUMMARY | FACEOFF SUMMARY
ON THE SCORESHEET
James van Riemsdyk opened the scoring for the Maple Leafs with a power play goal at 18:42 of the first period. He has seven points (4 goals, 3 assists) over his last 10 games.
Auston Matthews scored the Maple Leafs' second goal of the night on the power play at 18:43 of the second period. Matthews now has goals (3) in three consecutive games and points (5-3-8) in 12 consecutive games.
Connor Brown picked up the primary assist on Matthews' second period goal and later added an empty net goal at 19:01 of the third period. Brown has points (3-2-5) in four consecutive games, which is the longest point streak of his career. The Maple Leafs are 22-1-3 when Brown registers a point.
Nikita Zaitsev registered the primary assist on van Riemsdyk's first period goal. Zaitsev has registered at least a point (1-4-5) in four of his last six games.
Mitch Marner had the secondary assist on van Riemsdyk's goal in the first period. With the assist, Marner has established a new Maple Leafs rookie record for assists in a season (41), surpassing the previous high of 40 set by Gus Bodnar in 1943-44.
Jake Gardiner
recorded an assist in the second period on Matthews' power play goal and had the secondary assist on Brown's empty net goal in the third period. Gardiner has registered 18 of his 29 assists on the road this season.
Nazem Kadri had the primary assist on Brown's empty net goal. Kadri has five points (1 goal, 4 assists) in his last five games.
Frederik Andersen made 29 saves to earn the victory. Andersen is 10-7-8 when stopping 20-29 shots this season.
SHOTS FIRED
The Maple Leafs were outshot by the Predators by a 30-17 margin in all situations and by a 22-10 margin at 5-on-5.
Nashville had a 62-35 lead in shot attempts in all situations and a 44-25 lead in shot attempts at 5-on-5.
Connor Brown led the Maple Leafs with four shots on goal.
Morgan Rielly registered a team-high six shot attempts.
ROAD SCHOLARS
The Maple Leafs are 17-14-8 on the road this season.
Toronto's all-time record is 9-10-1-1 in 21 games against the Predators and 4-3-0-1 in games played in Nashville.
Toronto is 10-10-8 against the Western Conference this season and 5-5-4 against the Central Division.
The Maple Leafs continue their road trip on April 1 in Detroit when they take on the Red Wings.
MAPLE LEAFS LEADERS
| | |
| --- | --- |
| Faceoff Wins | 12 (Matthews) |
| Faceoff Win Percentage | 75% (Matthews) |
| Hits | 3 (Carrick, Komarov, Martin) |
| Blocked Shots | 3 (Gardiner, Polak, Zaitsev) |
| Takeaways | 1 (Kadri, Rielly) |
| TOI | 23:05 (Polak) |
| Power Play TOI | 1:58 (Zaitsev) |
| Shorthanded TOI | 6:05 (Hunwick) |
| Shifts | 32 (Rielly, Zaitsev) |
| 5-on-5 Shot Attempt Percentage | 55.6% (Rielly – 10 for, 8 against) |
RECORD WHEN…
The Maple Leafs were 5-for-5 on the penalty kill and 2-for-3 on the power play tonight. Toronto is 25-9-6 when not allowing a power play goal and 7-1-2 when scoring multiple power play goals in 2016-17.
Toronto is 28-6-9 when scoring first this season
The Maple Leafs are 24-1-9 when leading through a period and 28-1-9 when leading through two periods.
Toronto has a 25-12-8 record when outshot by their opponent.
The Maple Leafs are 9-4-4 on Thursday nights.
OF NOTE…
The Maple Leafs have scored a first period goal in 14 consecutive games and in 17 of their last 18 games.
Toronto has scored multiple power play goals on 10 occasions this season after doing so six times in 2015-16.
Zach Hyman was on the ice for a team-high 14 Toronto shot attempts at 5-on-5 in tonight's game. Hyman had a 5-on-5 shot attempt percentage of 51.9 percent (14 for, 13 against).
Auston Matthews won 71 percent (5 won, 2 lost) of his faceoffs in the offensive zone tonight and was 3-for-4 when matched up with Nashville centre Ryan Johansen on the draw in the Predators zone.
William Nylander did not record a point in tonight's game, which ends his point streak at 12 games (4-10-14). Nylander's point streak, which spanned from March 3 – March 28, stands as the Maple Leafs record for longest point streak by a rookie.
UPCOMING GAMES:
Saturday, April 1 at Detroit Red Wings, 7:00 p.m. (Hockey Night in Canada, FAN 590)
Monday, April 3 at Buffalo Sabres, 7:00 p.m. (Sportsnet Ontario, FAN 590)
Tuesday, April 4 vs. Washington Capitals, 7:30 p.m. (TSN 4, TSN 1050)
Thursday, April 6 vs. Tampa Bay Lightning, 7:30 p.m. (TSN 4, TSN 1050)
Saturday, April 8 vs. Pittsburgh Penguins, 7:00 p.m. (Hockey Night in Canada, TSN 1050)
POSTGAME QUOTES:
COACH MIKE BABCOCK
On Andersen's performance and tonight's win:
I thought Freddy [Andersen] had a good night, obviously. I thought we got off to a real good start. The first 10 minutes they didn't even get going, it was kind of a nothing period. I thought they took over in the second half of the first, but we had real good special teams tonight – real good on the power play, real good on the penalty kill and Freddy was solid down the stretch.
On what has led to success on the road:
I don't know. You're just trying to do what we do, try to be organized and play real hard. I think we've got to be more poised as the year has gone on. You get used to winning and knowing how to win, so that's positive. They have a real good hockey club, they make it hard on you and I thought our guys did a good job.
On Martin drawing a penalty to lead to the first power play goal:
I thought there was lots of penalties for this time of the year. I couldn't understand it really myself, but that's the way life is. I thought our penalty kill was real good to say the least and [Martin] did a good job there finishing his check and the next thing you know we're on the power play and we're up one. It's always nice to score first when you're on the road.
On the team playing tighter defensively in recent wins:
I think the big thing here is any time you get good goaltending you have an opportunity. But, I think our guys have done a good job in the neutral zone and we've looked after the puck better. That's not to say they didn't have some quality chances because they did tonight, but Freddy was good and the guys battled.
FREDERIK ANDERSEN (29 SAVES)
On tonight's victory:
We played really well, especially on the PK. We did a really good job of keeping the lead when we had it. We had some really good blocked shots. [Polak] had a rocket off his foot there so, it was good.
On keeping the puck out during a sequence with multiple players in the crease:
We were battling every one of us there to try to keep it out. I think you've got to give that one to Rielly. On the rebound they were really jamming and we were able to keep it out.
On the team's effort on the penalty kill:
They did a good job most of the game on the PK but at some point, if you keep giving them looks, they're going to know what to do. That's when the goalie has got to be sharp but I think we did a really good job early in the game.
CONNOR BROWN (1 GOAL, 1 ASSIST)
On collecting two points in tonight's win:
It's nice to get those and kind of put them away. They were coming hard there in the third and we did a good job hanging on.
On the team's recent success on the road:
I think it's sticking to the way we play. We play fearless and we play fast and playing in their end for the majority, and special teams obviously help a lot too.
On what he saw on Matthews' goal:
He was calling for it and I kind of just opened up and Johansen was reaching out so I tried to slide it under his stick. I kind of jammed Auston up but he can catch those in his feet and release them pretty good.
On Frederik Andersen's performance after missing a game due to injury:
Yeah, that's huge. Obviously, any time you get hurt like that and come back, it's tough to bounce back and he did an excellent job. He was really prepared. A real pro.
MITCH MARNER (41st ASSIST)
On playing through illness in recent games:
I feel a lot better, I feel almost like I'm at 100 percent. That's definitely nice to feel like that again. I thought our line played really well tonight – not just offensively, but defensively as well.
On taking away space defensively as a key to the win:
For sure. They have a lot of skilled forwards but their D-men can really carry the puck and make plays with it. I thought we did a really good job tonight of taking away their time and skill. We got the result we wanted.
On establishing a new Maple Leaf rookie assist record:
It's pretty cool. Obviously, it's nice to do it in a win. I didn't really do much, I just kind of got it up to [Zaitsev] and he got the shot through. It's definitely pretty cool growing up in that city and watching this team for my whole life and getting that accomplishment. It's a been a big help from my two linemates and everyone on the team.
On if making the playoffs feels closer:
I think playing feels a lot tighter out there. It feels more like a playoff hockey game every game we play. That's obviously important for us to know what it's going to feel like if that happens. We've just got to stay positive in this room, play the way we want to and when that happens we're successful.
AUSTON MATTHEWS (1 GOAL)
On tonight's victory:
It was great. For us, these games have kind of been a struggle for us since the beginning of the year, especially against good teams. At this point in the season, being able to close out a close game like tonight is definitely a positive sign for us and something we'll take moving forward.
On Frederik Andersen's performance after missing a game due to injury:
I don't think anybody was too worried about him. He's been our guy all year. He's been solid for us and obviously tonight he was a brick wall out there. He made a lot of big saves and kept us in the game at times when they had momentum. We were able to put a couple of goals in and held onto the lead.
On his power play goal:
It was a really nice play from everybody. The entry, getting the puck back. [Gardiner] giving it to [Brown] and [Brown] made an unbelievable pass to me so I was able to sneak it in there.