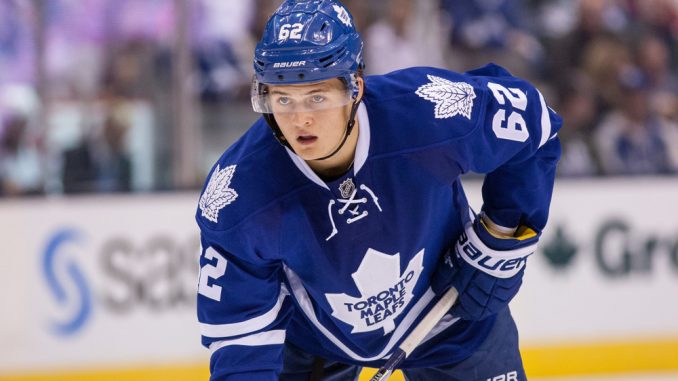 This article was last updated on April 16, 2022
Canada:

Oye! Times readers Get FREE $30 to spend on Amazon, Walmart…
USA:

Oye! Times readers Get FREE $30 to spend on Amazon, Walmart…
San Jose Sharks out hustle to beat Toronto Maple Leafs 3-2. Here is the summary for the game played on Monday, October 30, 2017
| | | | | | |
| --- | --- | --- | --- | --- | --- |
| | 1 | 2 | 3 | OT | FINAL |
| TORONTO | 1 | 0 | 1 | 0 | 2 |
| SAN JOSE | 0 | 1 | 2 | 0 | 3 |
GAME SUMMARY | EVENT SUMMARY | FACEOFF SUMMARY

ON THE SCORESHEET
Auston Matthews opened the scoring for the Maple Leafs at 12:14 of the first period. Matthews is tied for second among all NHLers in even-strength goals (8). He has points (2-2-4) in three consecutive games.
Nazem Kadri scored Toronto's second goal of the night at 18:50 of the third period. Kadri has goals (3) in two consecutive games.
Nikita Zaitsev registered the primary assist on Matthews' first period goal. The assist is Zaitsev's first road point of the season.
William Nylander picked up the secondary assist on Matthews' second period goal. Nylander has four assists in three career games against San Jose.
Andreas Borgman registered the primary assist on Kadri's third period goal. Borgman has three assists in 10 games this season.
Morgan Rielly had the secondary assist on Kadri's third period goal. Rielly leads the Maple Leafs with nine assists this season.
Frederik Andersen stopped 36 shots in the loss. Andersen's 36 saves tied his season-high for saves in a game (Oct. 23 vs. Los Angeles).
SHOTS FIRED
The Sharks had a 39-18 lead in shots in all situations and had a 31-17 lead in shots at 5-on-5.
San Jose had a 71-54 lead in shot attempts in all situations and a 57-54 edge in shot attempts at 5-on-5.
James van Riemsdyk had a team-high three shots on goal.
William Nylander led the Maple Leafs with seven shot attempts.
SHOTS ON GOAL
| | | | | |
| --- | --- | --- | --- | --- |
| | 1st | 2nd | 3rd | TOTAL |
| TORONTO | 9 | 2 | 7 | 18 |
| SAN JOSE | 14 | 11 | 14 | 39 |
SHOT ATTEMPTS
| | | | | |
| --- | --- | --- | --- | --- |
| | 1st | 2nd | 3rd | TOTAL |
| TORONTO | 22 | 13 | 20 | 55 |
| SAN JOSE | 30 | 17 | 24 | 71 |
ON THE ROAD AGAIN
The Maple Leafs are 3-2-0 on the road this season.
Toronto's all-time record is 20-21-5-2 in 48 games against the Sharks and 8-12-3-0 in games played in San Jose.
Toronto is 3-1-0 against the Western Conference this season and 1-1-0 against the Pacific Division.
The Maple Leafs continue their four-game trip swing on Wednesday when they take on the Anaheim Ducks.

MAPLE LEAFS LEADERS
| | |
| --- | --- |
| Faceoff Wins | 9 (Kadri) |
| Faceoff Win Percentage | 100% (Marner – 1 won, 0 lost) |
| Hits | 3 (Borgman, Martin, Zaitsev) |
| Blocked Shots | 3 (Martin, Polak) |
| Takeaways | 1 (Eight players tied) |
| TOI | 24:38 (Zaitsev) |
| Power Play TOI | N/A |
| Shorthanded TOI | 5:33 (Hainsey) |
| Shifts | 31 (Zaitsev) |
| 5-on-5 Shot Attempt Percentage | 70.4% (Komarov – 19 for, 8 against) |
RECORD WHEN…
The Maple Leafs were 3-for-4 on the penalty kill tonight. Toronto is 2-3-0 when allowing a power play goal this season.
Toronto is 5-3-0 when scoring the first goal of the game.
The Maple Leafs are 4-1-0 when leading after one period and 2-2-0 when tied after two periods.
Toronto has a 4-3-0 record when outshot by their opponent.
The Maple Leafs are 2-1-0 in Monday games.
OF NOTE…
The Maple Leafs registered two shots on goal in the second period of tonight's game, which is a new season-low for shots in a period.
The Sharks did not take a penalty in tonight's game. Prior to tonight, the last penalty free game by a Toronto opponent took place on Nov. 3, 2016 (Buffalo).
Jake Gardiner was on the ice for a Toronto-high 25 shot attempts for at 5-on-5. He had a 5-on-5 shot attempt percentage of 54.4 percent (25 for, 21 against) in tonight's game.
UPCOMING GAMES:
Wednesday, Nov. 1 at Anaheim Ducks, 10:00 p.m. (Sportsnet Ontario, FAN 590)
Thursday, Nov. 2 at Los Angeles Kings, 10:30 p.m. (TSN, TSN 1050)
Saturday, Nov. 4 at St. Louis Blues, 7:00 p.m. (Hockey Night in Canada, FAN 590)
Monday, Nov. 6 vs. Vegas Golden Knights, 7:00 p.m. (Sportsnet Ontario, FAN 590)
Wednesday, No. 8 vs. Minnesota Wild, 7:30 p.m. (Sportsnet, TSN 1050)
POSTGAME QUOTES:
HEAD COACH MIKE BABCOCK
On the challenge of maintaining offensive zone time:
I thought they played good and I thought our goalie was outstanding and gave us a chance. I thought our penalty kill did a pretty good job to give up the one. We lost that match 4-0 when you read on the power play. Like you said, I thought San Jose did a great job of putting the puck in and putting pressure on us. We turned the puck over too much. Part of it is they were working hard and catching us from behind. That made them quicker and on top of us and we didn't get on top of them enough. I thought we had one dominant line and other than that we didn't have enough.
On the ceremony for Marleau:
I think real special and special for him. I talked to him before – he earned the right to have that ceremony by being such a good human being and by playing so hard and being such a great player for so long here. Take it in and enjoy it, not many people ever get to experience something like that in their lifetime. I thought it was moving to say the least. Obviously, we'd all have liked to get a win here for him and find a way to execute. I thought they played real hard and I thought the tempo of the game was good. Their ability to get it through the neutral zone and get it behind us and work us and our inability to get through the neutral zone and get it behind them and work them was the difference in the game.
On if he's considering lineup changes for Wednesday:
I don't know for sure. That's the great thing about watching the tape. We'll get more figured out and know more by noon tomorrow. Obviously, we're not going as good as we could so we need to find a way to win a game and get rolling again. We'll look at it and make the changes we need.
On what has led to trouble in the neutral zone:
Just they're working hard too and we're stubborn about it. One of the things I think we should take out of tonight's game is they have a good, veteran leadership group here and what do they do with the puck every single time? They put it in more than any team we've ever played against. They didn't turn it over. When you turn it over you backcheck and you play in your own zone. When you get it in, you play in the O-zone and it's way more fun playing in the O-zone… I think we're frustrating ourselves with that so we've got to figure that out. We've been talking about it for a bit and we've got to figure it out fast.
FREDERIK ANDERSEN (36 SAVES)
On San Jose's performance tonight:
They're a good team, they came hard. We knew they were going to shoot a lot so I think we did all right. It's a tough one. Close game.
On his performance:
I felt good, I felt I was puck tracking well and moving explosive.
On what the Sharks do well:
I think they've got a lot of D-men that can shoot and you see they go to the net well. You've got to be good at that. It's about maintaining possession and fighting for position in front of your net and they won the battle a couple of times.
On the team's play through the neutral zone:
It's not really anything I concentrate too much about. It's my job to focus on stopping the puck. We have a lot of skill, I think maybe it gets in the way a little bit. Maybe we can play simple, but I'm sure we'll figure it out. I think we have enough time to do that. We've got to get ready tomorrow and for the next game.
PATRICK MARLEAU (5 SHOT ATTEMPTS)
On special teams:
They got a couple power play goals, I don't think we had one [power play] tonight so maybe we need to do a better job of drawing penalties and getting on the power play.
On his return to San Jose:
It was extremely special, I think to get an ovation like that and see all the signs and everything, it was really humbling and great to see.
On what this night meant to him:
I think it's something special, something I'll always remember. They showed me great support all through my time here and especially tonight was really special.
On the standing ovation:
It was humbling, like I said, it was extremely special to be honored like that by the Sharks and the organization and the fans, I'll never forget it.
On his second period scoring chance:
I thought that was going to be the one, maybe if I was a little slower coming down it would have been right on my tape and in the back of the net. It's good getting those chances but it's better burying them.
AUSTON MATTHEWS (1 GOAL)
On limited time and space:
Obviously, a good team. The structure of the team – they didn't provide much space going the other way.
On getting back on track:
I think just turnovers, we turn the puck over too much. I thought our work ethic and compete was much better tonight. We can still be a lot better but we just have to get out of the little funk we're in and continue to play a full 60 minutes, not get away from our game plan too much like we did tonight. Just taking care of the puck is the probably the main focus for this team right now.
On the strong start:
I thought we started off pretty well, this is obviously a pretty tough building. The first 10 minutes are pretty tough, you manage that and can kind of get back to playing, it definitely helps the team for sure.
On the disappointing result:
We definitely wanted to get this win for [Marleau]. He's an unbelievable teammate. He's only been here for a couple of months but he's already made a huge impact on all of us, as a player, as a guy off the ice and definitely stings a little bit to not get this one for him but we'll get another shot at these guys later on in the season.
On the standing ovation for Marleau:
I can only imagine what he was going through. When you spend 18-19 years in one place, everything he's accomplished here and done for the city, the organization. Like I said, the type of person he is off the ice, I can only imagine the emotions he was going through. He's been doing this a long time, couple shifts and get the nerves out of you and just play hockey.
You can publish this article on your website as long as you provide a link back to this page.