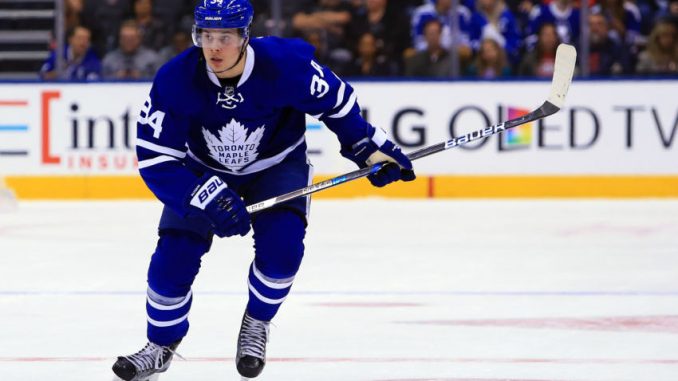 Arizona Coyotes thrash Toronto Maple Leafs 4-2. Here is the summary for the game played on Monday, November 20, 2017
| | | | | | |
| --- | --- | --- | --- | --- | --- |
| | 1 | 2 | 3 | OT | FINAL |
| ARIZONA | 1 | 1 | 2 | 0 | 4 |
| TORONTO | 0 | 1 | 0 | 0 | 2 |
GAME SUMMARY | EVENT SUMMARY | FACEOFF SUMMARY
ON THE SCORESHEET
James van Riemsdyk got Toronto on the board with a power play goal at 0:33 of the second period. He has goals (5) in four of his last five games. The goal was the fastest to start a period by the Maple Leafs. (Previous: Connor Brown – 0:37; 3rd period, Nov. 18 at Montreal).
Nazem Kadri picked up the primary assist on van Riemsdyk's second period goal. Kadri has points (4-4-8) in seven consecutive games, which ties his career-long point streak (7 – Feb. 23 – March 7, 2013).
Mitch Marner had the secondary assist on van Riemsdyk's second period goal. Marner has seven assists over his last five games.
Frederik Andersen stopped 28 of the 30 shots he faced in the loss.
SHOTS FIRED
The Maple Leafs were outshot by the Coyotes by a 32-27 margin in all situations. Both teams registered 22 shots at 5-on-5.
Toronto had a 61-52 lead in shot attempts in all situations and a 53-35 lead in shot attempts at 5-on-5.
Morgan Rielly and James van Riemsdyk registered a team-high five shots on goal.
Morgan Rielly had a team-high eight shot attempts.
SHOTS ON GOAL
| | | | | |
| --- | --- | --- | --- | --- |
| | 1st | 2nd | 3rd | TOTAL |
| ARIZONA | 10 | 7 | 15 | 32 |
| TORONTO | 8 | 8 | 11 | 27 |
SHOT ATTEMPTS
| | | | | |
| --- | --- | --- | --- | --- |
| | 1st | 2nd | 3rd | TOTAL |
| ARIZONA | 19 | 15 | 18 | 52 |
| TORONTO | 21 | 19 | 21 | 61 |
HOME AGAIN
The Maple Leafs are 8-4-0 at home this season.
Toronto's all-time record is 36-51-8-2 in 97 games against the Coyotes franchise and 21-26-2-2 in games played in Toronto.
Toronto is 6-4-0 against the Western Conference this season and 3-3-0 against the Pacific Division.
Tonight's attendance was 19,196.
The Maple Leafs return to action on the road on Wednesday, Nov. 22 against the Florida Panthers
MAPLE LEAFS LEADERS
| | |
| --- | --- |
| Faceoff Wins | 5 (Bozak, Kadri, Matthews) |
| Faceoff Win Percentage | 100% (Brown, Komarov) |
| Hits | 4 (Borgman) |
| Blocked Shots | 3 (Gardiner, Rielly) |
| Takeaways | 2 (Bozak) |
| TOI | 24:16 (Zaitsev) |
| Power Play TOI | 0:41 (Four players tied) |
| Shorthanded TOI | 4:51 (Zaitsev) |
| Shifts | 32 (Rielly) |
| 5-on-5 Shot Attempt Percentage | 81.0% (Kadri – 17 for, 4 against) |
RECORD WHEN…
The Maple Leafs were 2-for-4 on the penalty kill and 1-for-1 on the power play tonight. Toronto is 1-2-0 when allowing multiple power play goals this season and 6-3-0 when scoring a power play goal.
Toronto is 3-4-0 when their opponent scores the first goal of the game.
The Maple Leafs are 1-5-0 when trailing after one period and 1-7-0 when trailing after two periods.
Toronto has an 10-5-0 record when outshot by their opponent.
The Maple Leafs are 3-2-0 in Monday games.
OF NOTE…
Patrick Marleau
skated in his 1,515th career NHL game tonight to pass Steve Yzerman for sole possession of 17th place on the NHL's all-time games played list.
Auston Matthews skated in his 100th career NHL game tonight.
Ron Hainsey was on the ice for a team-high 25 Toronto shot attempts for at 5-on-5. Hainsey finished the game with a 5-on-5 shot attempt percentage of 73.5 percent (25 for, 9 against).
UPCOMING GAMES:
Wednesday, Nov. 22 at Florida Panthers, 7:00 p.m. (Sportsnet, TSN 1050)
Friday, Nov. 24 at Carolina Hurricanes, 7:30 p.m. (TSN4, FAN 590)
Saturday, Nov. 25 vs. Washington Capitals, 7:00 p.m. (Hockey Night in Canada, TSN 1050)
Tuesday, Nov. 28 at Calgary Flames, 9:00 p.m. (TSN4, FAN 590)
Thursday, Nov. 30 at Edmonton Oilers, 9:00 p.m. (TSN4, FAN 590)
POSTGAME QUOTES:
HEAD COACH MIKE BABCOCK
On the goaltender interference call in the third period:
We've had two of them the same way, the goal was going in whether he touched him or not because he had time and pushed out, but, the League decides that and not us. In my opinion, that didn't affect the outcome of the game. The one-on-one battles affected the outcome of the game and the ready to compete at the start affected the outcome of the game. They were better than us. The first 10 minutes they were better. We got the game coming but when you don't start on time and you're not prepared to go right, you don't deserve good results. We got what we deserved. I don't know if you remember a few – I don't remember how long ago it was – New Jersey came in here and we talked about this is a trap game. I made sure I didn't talk about that this time because I tried that and that didn't work. My approach this time didn't work either. This is what I was concerned about today. It's one thing when the other team, because of their record, makes you respect them. When the record is like their record is, even though we tried to tell the players how good they've been playing lately and they've won two in a row and come from behind and all that, we weren't prepared and so we got what we deserved. That's just it. Congratulations to them, they were better than us.
On putting the performance in the context of an 82-game season:
It's great, but it was the only game we were playing today. Get ready for the game you're playing today. That's what a good pro does, that's what you do each and every day. A lot of the guys that are driving us like the young skill guys, not today. They weren't here today.
On Matthews trying to get back up to speed following his injury:
Not today. We weren't good enough for those guys today. There wasn't enough of us.
FREDERIK ANDERSEN (28 SAVES)
On Arizona's game tonight:
I think they started out good. They came out flying, they've been feeling well the last few games and obviously have some confidence. I thought we played better and got into the game after that but overall, I think they out-battled us a little bit today. That's a tough one.
On Toronto's third period goal that was called back:
I didn't see it until after but I was a little surprised when I saw the replay, to be honest. I think the amount of time and I didn't think he touched him that much for him to take that much time for him to get up. That's the frustrating part. It's tough to get a consistent line on that but sometimes it goes your way and sometimes it doesn't. It sucks.
On facing the Coyotes:
I think they play fast, their top six forwards are really fast and skilled. If you don't compete with them they're going to have some chances. Obviously, on their power play, we weren't good enough today. They made us pay.
ZACH HYMAN (18:41 TOI)
On what he saw on the Leafs' third period goal that was overturned on a coach's challenge by Arizona:
I think my stick hits the pad, obviously, I think I was pushed in but, I don't know, I think the goalie had enough time get across and I thought he got into his position well but I guess that's how they're calling goalie interference so tough break for us.
If he was surprised the goal was overturned after the coach's challenge:
It's not good when they take so long but I thought it was going to be upheld but I guess that's how it goes:
On the team's compete level:
Not great at the start. I think they were all over us at the beginning of the game and Freddie played well and kept us in the game there, and then we got our legs going and they got two power play goals so our PK has to be better.
On what made Arizona's power play tough to handle:
They move the puck around well. Their 'D' are good at getting shots through and they have some elite defencemen. They had a good game.
AUSTON MATTHEWS (100TH CAREER NHL GAME)
On coming close to tying the game:
Yeah, we just kind of got playing there towards the end of the game, which shouldn't be the case. We should start on time and tonight we just didn't get much going.
On Coyotes limiting scoring chances:
I think they just clogged up the neutral zone. They've got a really good power play and we just took too many penalties again, which may have cost us a couple goals there so definitely disappointed. We were turning pucks over and not getting through the neutral zone.
On learning from this game ahead of the upcoming road trip:
Yeah, you have too, we're going down and playing a team in Florida and a team in Carolina that all play pretty similar. They don't give you a lot of space, tight game and you've got to outwork them and tonight they came out flying and they continued that throughout the whole game. Like I said, we took a couple penalties and they capitalized on the power play.
On his own play tonight:
Yeah, I mean, I didn't play very well tonight. I don't really like a lot of plays I made, just turned the puck over. I think it's just a means of getting back to the level I was playing at before I was injured. It's obviously frustrating but it's what you're working towards, each and every day, each and every game you want to get back to the point but yeah definitely tonight I wasn't very good myself.
JAMES van RIEMSDYK (1 GOAL)
On tonight's game:
I think they got off to a really good start to their game and got one on the power play and kind of got their – I thought they came with some pretty good energy at us. Obviously, they executed on their special teams and that's the difference tonight.
On the goaltender interference review
It's always tough. There's lots of times I think some of the goalies, they're smarter than we give them credit for, they'll try to incite some of that contact. Then you never really know. Once there's contact it's hard to really say if you know 100 percent what's going to happen with the call. It's just one of those things, I guess that's how it goes. I like, at least, now they're taking a closer look at them and at least there is some kind of process and method, whereas obviously before we started doing that it was just a guess. Obviously, that's no good. We have a process in place and you'd like to think that they're making the right judgment most of the time.
On Arizona's win streak:
Yeah, you know, they've been playing well as of late and I think they've had some injuries. Now they're getting some guys back in the lineup. They have a lot of skill and talent up front and their 'D' core is pretty strong as well. They're a team that's definitely going to get better as the year goes on.
On having one power play opportunity:
You'd like to see those even out a little bit, but that's just the way it goes sometimes. Obviously, they scored, they capitalized on two of their power plays and we only got the one. That's kind of the difference in the game, but that's the way it goes sometimes.