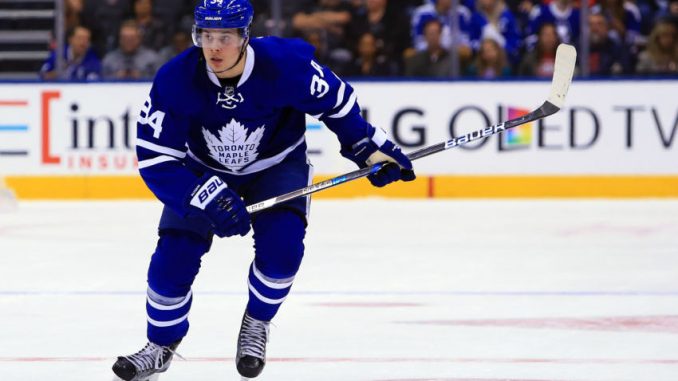 Toronto Maple Leafs easily beat Dallas Stars 4-1. Here is the summary for the game played on Thursday, January 25, 2018
| | | | | | |
| --- | --- | --- | --- | --- | --- |
| | 1 | 2 | 3 | OT | FINAL |
| TORONTO | 1 | 2 | 1 | – | 4 |
| DALLAS | 0 | 1 | 0 | – | 1 |
GAME SUMMARY | EVENT SUMMARY | FACEOFF SUMMARY

ON THE SCORESHEET
Nazem Kadri scored the first Maple Leafs goal of the night at 15:50 of the first period and later added the third Toronto goal of the game on the power play at 9:29 of the second period. Kadri has goals (3) in two consecutive games. Tonight's game is the third multi-goal game of the season for Kadri.
Zach Hyman registered the second Maple Leafs goal of the game at 1:55 of the second period. Hyman ranks third on the Maple Leafs with 24 even-strength points (8-16-24).
Auston Matthews scored Toronto's fourth goal of the night at 2:38 of the third period. Matthews has four points (3 goals, 1 assist) over his last four games. He has scored 15 of his 22 goals on the road this season.
Mitch Marner
picked up the primary assist on Kadri's first period goal. Marner has points (1-1-2) in two consecutive games.
Jake Gardiner had the secondary assists on Kadri's first and second period goals, as well as the secondary assist on Matthews' third period goal. Gardiner has assists (9) in five consecutive games, which establishes a new career-long assist streak (Previous: 4 games; 7 assists, Feb. 19 – 25, 2017) and ties his career-long point streak (Previous: 5 games; 2 goals, 5 assists – Dec. 10 – 17, 2016). Tonight's game is his fourth multi-assist game of the season and ties his season-high for assists in a game (Previous: 3 assists, Jan. 20 at Ottawa).
William Nylander registered the lone assist on Hyman's second period goal and the primary assist on Matthews' third period goal. Nylander has points (1-3-4) in three consecutive games. Tonight's game is Nylander's third multi-assist game of the season.
Tyler Bozak recorded the primary assist on Kadri's second period goal. Bozak has assists (2) in two consecutive games.
Curtis McElhinney stopped 39 shots to earn the victory tonight.
SHOTS FIRED
The Stars had a 40-29 lead in shots on goal in all situations and a 35-22 lead in shots on goal at 5-on-5.
Dallas had a 74-56 lead in shot attempts in all situations and a 66-47 lead in shot attempts at 5-on-5.
James van Riemsdyk led the Maple Leafs with four shots on goal and six shot attempts.
SHOTS ON GOAL
| | | | | | |
| --- | --- | --- | --- | --- | --- |
| | 1st | 2nd | 3rd | OT | TOTAL |
| TORONTO | 8 | 15 | 6 | – | 29 |
| DALLAS | 8 | 15 | 17 | – | 40 |
SHOT ATTEMPTS
| | | | | | |
| --- | --- | --- | --- | --- | --- |
| | 1st | 2nd | 3rd | OT | TOTAL |
| TORONTO | 21 | 22 | 13 | – | 56 |
| DALLAS | 21 | 25 | 28 | – | 74 |
ON THE ROAD AGAIN
The Maple Leafs are 15-10-3 on the road this season.
Toronto's all-time record is 94-90-28-1 in 213 games against the Stars franchise and 40-53-11-1 in games played on the road.
Toronto is 15-8-2 against the Western Conference this season and 5-3-2 against the Central Division.
The Maple Leafs are 4-4-1 in the second leg of back-to-backs.
The Maple Leafs return from the All-Star Break on January 31 when they host the New York Islanders at Air Canada Centre.
MAPLE LEAFS LEADERS
| | |
| --- | --- |
| Faceoff Wins | 9 (Matthews) |
| Faceoff Win Percentage | 100% (Kapanen – 1 won, 0 lost) |
| Hits | 3 (Marleau, Polak) |
| Blocked Shots | 3 (Matthews) |
| Takeaways | 1 (Four players tied) |
| TOI | 25:25 (Hainsey) |
| Power Play TOI | 2:50 (Gardiner) |
| Shorthanded TOI | 5:43 (Hainsey) |
| Shifts | 32 (Hainsey) |
| 5-on-5 Shot Attempt Percentage | 58.3% (Kapanen, Moore) |
RECORD WHEN…
The Maple Leafs were 3-for-3 on the penalty kill and 1-for-2 on the power play tonight. Toronto is 17-9-4 when not allowing a power play goal this season and 13-4-1 when scoring one power play goal.
Toronto is 22-5-3 when scoring the first goal of the game.
The Maple Leafs are 15-3-0 when leading after one period and 16-1-2 when leading after two periods.
Toronto has an 18-9-2 record when outshot by their opponent.
The Maple Leafs are 5-3-2 in Thursday games.
OF NOTE…
Leo Komarov started 16.7 percent of his shifts in the offensive zone, which was the lowest percentage among Toronto skaters.
Auston Matthews won 80 percent (4 won, 1 lost) of his faceoffs when matched up against Dallas forward Tyler Seguin.
Roman Polak was on the ice for a team-high 22 Toronto shot attempts-for at 5-on-5. Polak finished the game with a 5-on-5 shot attempt percentage of 55 percent (22 for, 18 against).
UPCOMING GAMES:
Wednesday, Jan. 31 vs. New York Islanders, 7:30 p.m. (Sportsnet, TSN 1050)
Thursday, Feb. 1 at New York Rangers, 7:00 p.m. (TSN4, FAN 590)
Saturday, Feb. 3 at Boston Bruins, 7:00 p.m. (Hockey Night in Canada, TSN 1050)
Monday, Feb. 5 vs. Anaheim Ducks, 7:00 p.m. (TSN4, FAN 590)
Wednesday, Feb. 7 vs. Nashville Predators, 7:30 p.m. (Sportsnet, TSN 1050)
POSTGAME QUOTES:
HEAD COACH MIKE BABCOCK
On tonight's performance:
I thought we started good, we got the goal and I thought everyone relaxed and we got playing. I thought we skated good tonight, maybe as good as we've skated all year. All four lines were good and it was a big win for our team. Any time you win back-to-back, especially with the way Dallas has been playing – Dallas has been playing real good, [Ken Hitchcock] does a good job and you knew it was going to be a tight game. It was a good win for our team.
On if it was clever of him to put Marner with Kadri:
No, I don't think so at all. I think obviously we had played [Matthews] and Mitch together a bunch of times, whether that be 4-on-4 or whatever and thought it was okay. Obviously, Naz was starting to come around anyway, he had gone into a bit of a spell and wasn't great, and then he was really starting to play and that line was really playing good for us, but they hadn't scored yet. Getting Mitch on that line – obviously he made a nice play here tonight – it gives us a different look. With Leo there we can put him in on the D-zone faceoffs and use him all over, so that was positive too. I thought Kapanen was really good for us, gave us four lines with good speed.
On McElhinney's performance:
I thought he was solid. That's what we pay him to do. We pay him to be here and be supportive and play when he's asked to play. He's a good pro.
On if he'll keep the lines the way they are after the break:
What we'll do is we'll just – obviously they played good, I saw that too – we'll just do what we did a bit here tonight. We caught Leo a few times in D-zone and put Leo with Bozak a few times and just used people. The great thing about it is we've got a break and lots of time to think about that.
JAKE GARDINER (3 ASSISTS)
On tonight's game:
I thought we played well all game. We were skating well, not making too many mistakes. As a whole I thought we were really good.
On the Marleau-Kadri-Marner line:
I like it. Mitch has that effect on people, he's got that electric speed and playmaking ability. To mix that with those two is a pretty good line.
On his career-long assist streak:
I think they come in bunches sometimes and I feel like I'm not doing too much different, but stuff is going in and it feels pretty good.
On playing well in the absence of Rielly:
It's nice. [Hainsey] makes it really easy, he's a really solid defenceman. I think everyone has stepped up though, it's not just myself. I think [Dermott] has really stepped his game up playing only a few games now – he looks like a regular. I think he's made a lot of strides.
NAZEM KADRI (2 GOALS)
On the play of his line with Marleau and Marner:
I feel like it's coming together great. Like I said, I've just got to focus on getting open because Mitch can play with the puck and I've got to give him space because he's a playmaker and he's going to find the open guy. For me, it's just trying to find the open spots and I'm going to get the puck when I'm open.
On adjusting his style to suit Marner's play:
I can become more of a shooter because Mitch does control more of the puck, he controls the game. When the puck is on his stick, his head is always up and he's looking for someone to pass to. My job is to get into the open areas and, like you saw tonight, he finds you.
On scoring his second goal of the night on a bounce after a goalless streak that ended yesterday:
Yeah, you know that's going to happen. You've just got to stay with it and be patient and, like I said, I've been through things like this before. To be honest with you, my game hasn't really changed since 20 games ago to now. I feel like I've been playing some pretty solid hockey and eventually things are going to turn for you. It's a perfect example tonight.
On if he expected the pass from Marner on his first goal:
I knew it was coming the whole way. That's Mitch's tendency is he's a passer, but he can also score. He's always got the puck in a ready to shoot position, but chances are he's going to be looking for you. Like I said, playing with him the only adjustment I've made is trying to have that shooter mentality and get open and he's going to hit you.
MITCH MARNER (1 ASSIST)
On playing with Nazem Kadri:
He's been a lot of fun to play with. It's fun going against the best every night. The last two nights have been a lot of fun. He's been playing great and I think our line has been moving well together.
On the play that led to Kadri's first period goal:
I kind of came off the bench, kind of saw it pop up to me and just looked up and saw Bishop sprawl out to me and saw Naz come in late. I think a lot of guys know on our team that I'm not going to shoot a lot so, I mean, he told me right after that he was ready the whole time, he knew it was coming to him, so luckily enough it worked out.
On the most satisfying part of this win:
I think all of the above there. [McElhinney] played unbelievable for us back there. Both of our goalies have been playing unbelievably every time they get in that net. It's nice. The last two games we've played our game in front of them and tried to keep out as many chances as we can and I think it's making it a little easier on them. They've been huge for us.
On Jake Gardiner's recent play:
He's been great for us every night. He's stepping up and playing big for us. He always controls the puck very well and I think his gap is very hard to put into words. He's annoying to play against in practice so I can't imagine playing against him in a game, seeing all that stuff he does. We're having fun with each other, we're enjoying it out there, we're talking a lot, we're having good chemistry and we've just got to keep that going.
AUSTON MATTHEWS (1 GOAL)
On what he was most proud of tonight:
I thought we worked really hard tonight. Regardless of the back-to-back, I thought we had pretty good legs. They're a fast team. They work equally as hard so we tracked back, didn't give them too much space out there – especially that top line – so I think that's definitely a good effort tonight.
On the team's puck movement between the defencemen and the forwards:
When you kind of come back and help out the D it makes it an easier pass for them to us. We kind of just let our speed and our skill take over regardless of whether we were getting the puck in deep or we were carrying it in. We had some pretty good speed tonight so that always puts pressure on their D no matter how good they are. It's never easy when you've got a guy draped on you from behind, chasing you down, so I thought we did a really good job of that tonight.
On if he's surprised at all seeing Mitch Marner develop quick chemistry with Nazem Kadri:
No, he never shoots it. That was an unbelievable play by him, just the patience and poise to make that play. I think nine out of 10 times you'd see a guy probably just shoot it. That's what he's really good at. He sees the ice well and he's patient with it, obviously a big goal for us.
On if he feels differently going to the all-star game this year:
Yeah, a little bit. I think your first year you're just kind of nervous and you go in there, you don't really know anybody. The second year around, you're a little bit more familiar with it. You know how it works, the stuff that kind of comes along with it. I think this year I'll be able to enjoy it a little bit more. My parents are going. Just being able to kick back and relax with them and enjoy the weekend.
CURTIS McELHINNEY (39 SAVES)
On how he felt tonight:
Great. I think last night I said the key was the first 10 minutes and we did a tremendous job in the first 10 minutes of setting the pace of play and easing into it. For myself, personally, that was great.
On getting the win in his return to the crease:
It feels good. Obviously, it has been a long layover. It's just the way the schedule has worked out. The last couple of games for me were tough personally so this was a nice way to bounce back tonight.
On how he stayed sharp during the layoff:
Just keeping good habits in practice and trying to stay focused. Sometimes those long layoffs are tough but there was a couple of breaks in between too that created some extra adversity. It was a good experience overall.
On the team's performance:
I thought we were tremendous start to finish. I just thought that was a great game. Especially with a break coming up, a three-in-four, the guys played great tonight. Hats off to them.