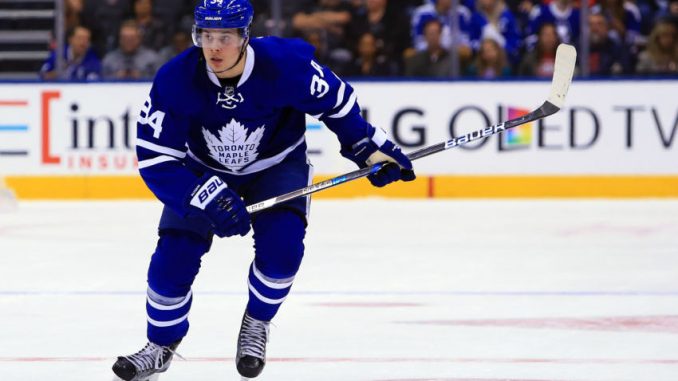 Toronto Maple Leafs blank New York Islanders 5-0. Here is the summary of the game played on Wednesday, January 31, 2018
| | | | | | |
| --- | --- | --- | --- | --- | --- |
| | 1 | 2 | 3 | OT | FINAL |
| NEW YORK | 0 | 0 | 0 | – | 0 |
| TORONTO | 2 | 2 | 1 | – | 5 |
GAME SUMMARY | EVENT SUMMARY | FACEOFF SUMMARY

ON THE SCORESHEET
Kasperi Kapanen opened the scoring for the Maple Leafs with a goal at 5:37 of the first period. He has three goals in nine games this season.
Auston Matthews scored the second Toronto goal of the night at 13:39 of the first period and later registered the primary assist on Justin Holl's third period goal. Matthews has six points (4 goals, 2 assists) over his last five games.
Mitch Marner scored Toronto's third goal of the game at 10:32 of the second period. Marner has points (2-1-3) in three consecutive games.
Travis Dermott registered the fourth Maple Leafs goal of the night at 18:59 of the second period and recorded the primary assist on Justin Holl's third period goal. Dermott's goal is his first career NHL goal. Tonight's game is his first career multi-point game in the NHL.
Justin Holl
scored the fifth Toronto goal of the game at 3:42 of the third period. Holl's goal is his first career NHL goal.
Zach Hyman registered the primary assist on Matthews' first period goal. Hyman has recorded 25 of his 27 points at even-strength this season (8 goals, 17 assists).
Jake Gardiner picked up the secondary assist on Matthews' first period goal. With the assist, Gardiner has extended his point streak to six games (10 assists), which establishes a new career-long point streak (Previous: 5 games; 2 goals, 3 assists – Dec. 10 – 17, 2016).
Nazem Kadri picked up the primary assist on Marner's second period goal. Kadri has points (3-1-4) in three consecutive games.
Connor Carrick recorded the secondary assist on Marner's second period goal. Toronto is 5-1-0 when Carrick picks up a point this season.
William Nylander had the primary assist on Dermott's goal. Nylander has points (1-4-5) in four consecutive games.
Frederik Andersen stopped 28 shots to earn his 25th victory and fourth shutout of the season. Andersen ranks tied for third among NHL goaltenders in victories (25) and tied for second among NHL goaltenders in shutouts (4).
SHOTS FIRED
The Maple Leafs had a 50-28 lead in shots on goal in all situations and a 46-25 lead in shots on goal at 5-on-5.
Toronto had an 85-62 lead in shot attempts in all situations and a 75-59 lead in shot attempts at 5-on-5.
Travis Dermott led the Maple Leafs with five shots on goal.
Travis Dermott and Auston Matthews each registered a team-high eight shot attempts.
SHOTS ON GOAL
| | | | | | |
| --- | --- | --- | --- | --- | --- |
| | 1st | 2nd | 3rd | OT | TOTAL |
| NEW YORK | 3 | 11 | 14 | – | 28 |
| TORONTO | 13 | 19 | 18 | – | 50 |
SHOT ATTEMPTS
| | | | | | |
| --- | --- | --- | --- | --- | --- |
| | 1st | 2nd | 3rd | OT | TOTAL |
| NEW YORK | 18 | 23 | 21 | – | 62 |
| TORONTO | 22 | 34 | 29 | – | 85 |
HOME SWEET HOME
The Maple Leafs are 14-8-2 at home this season.
Toronto's all-time record is 70-65-7-10 in 152 games against the Islanders and 41-29-4-4 in games played in Toronto.
Toronto is 14-10-3 against the Eastern Conference this season and 8-6-2 against the Metropolitan Division.
The Maple Leafs are 9-1-0 in the first leg of back-to-backs.
The Maple Leafs wrap up their 10th back-to-back tomorrow night in New York when they take on the Rangers at 7:00 p.m.
MAPLE LEAFS LEADERS
| | |
| --- | --- |
| Faceoff Wins | 11 (Bozak) |
| Faceoff Win Percentage | 100% (Komarov, Marner) |
| Hits | 5 (Borgman) |
| Blocked Shots | 4 (Borgman) |
| Takeaways | 3 (Brown) |
| TOI | 23:16 (Gardiner) |
| Power Play TOI | 3:16 (van Riemsdyk) |
| Shorthanded TOI | 1:45 (Zaitsev) |
| Shifts | 29 (Dermott) |
| 5-on-5 Shot Attempt Percentage | 75.9% (Brown – 22 for, 7 against) |
RECORD WHEN…
The Maple Leafs were 1-for-1 on the penalty kill and 0-for-2 on the power play tonight. Toronto is 18-9-4 when not allowing a power play goal this season and 12-13-4 when not scoring a power play goal.
Toronto is 23-5-3 when scoring the first goal of the game.
The Maple Leafs are 16-3-0 when leading after one period and 17-1-2 when leading after two periods.
Toronto has a 7-8-3 record when outshooting their opponent.
The Maple Leafs are 7-3-1 in Wednesday games.
OF NOTE…
The Maple Leafs registered 50 shots on goal, which ties the team's season-high for shots in a game. (Previous: 50, Oct. 11 vs. New Jersey).
Toronto allowed three shots against in the first period of tonight's game, which ties the club's season-low for shots against in a period. (Previous: 3, Dec. 2 at Vancouver).
Travis Dermott was on the ice for a team-high 35 Toronto shot attempts-for at 5-on-5. Dermott finished the game with a 5-on-5 shot attempt percentage of 63.6 percent (35 for, 20 against).
Justin Holl played 16:30 (30 shifts) in his NHL debut, registering a plus-3 rating and a 5-on-5 shot attempt percentage of 58.7 percent (27 for, 19 against).
Kasperi Kapanen and Dominic Moore started 22.2 percent of their shifts in the offensive zone, which was the lowest percentage among Toronto skaters.
UPCOMING GAMES:
Thursday, Feb. 1 at New York Rangers, 7:00 p.m. (TSN4, FAN 590)
Saturday, Feb. 3 at Boston Bruins, 7:00 p.m. (Hockey Night in Canada, TSN 1050)
Monday, Feb. 5 vs. Anaheim Ducks, 7:00 p.m. (TSN4, FAN 590)
Wednesday, Feb. 7 vs. Nashville Predators, 7:30 p.m. (Sportsnet, TSN 1050)
Saturday, Feb. 10 vs. Ottawa Senators, 7:00 p.m. (Hockey Night in Canada, FAN 590)
POSTGAME QUOTES:
HEAD COACH MIKE BABCOCK
On the excitement for players scoring their first goal:
Obviously, good for those kids. You don't get to score your first NHL goal very often – one time – it's great if your dad is here and great to see it. I saw between periods a few tears, which was nice to see as well. It's not just an individual accomplishment, it's a family accomplishment and they all should be proud. It's a good win for our team tonight and a good way to start our trip.
On players reaching milestones to kick off the Fathers' Trip:
It's like anything – when your dad is here, your family is here, you always try to play good. It's important you put your best foot forward. You want your parents to be proud of you. I'm 54 and I still want my folks to be proud of me so why wouldn't these guys? It was a good way to start.
On Polak's status:
Him and [Hainsey] were both upset stomachs and throwing up all day and their whole families and they couldn't get – we thought they were getting regrouped this morning, but they weren't getting regrouped at all. I don't think they're coming on the trip, I don't know if we're flying them in the morning – I haven't talked to anybody about that yet – but I don't think they're flying with our team. We don't need them to be contagious and have more people get sick.
On Polak being added to the injured reserve:
We just had to be at a spot to have another D.
On playing without two regular defencemen:
It is what it is. We wanted to have a look at Holl anyways, the opportunity hadn't presented itself. They have to earn the opportunity, but we also have to have one. We thought he played well in the minors, it was just a matter of time. There's probably a couple more guys down there that might get an opportunity, but there's got to be room for them.
On if he thinks the team is trending the right way:
I think what we talked about is we want to play way faster and we think we can play faster. When we play fast it's a lot more fun for the guys. We think we have good quickness throughout our lineup and I think it's starting to show again. We're still not skating as good as we could, but – I think we just had five days off again – so the rhythm right at the start, we didn't have any. I thought we got better as the game went on.
On the importance of the first goal:
Really big. They were better than us at the start and they played last night so they were a little sharper and it took us a bit to get going. We had good goaltending early, I don't know if they hit the net, they had three grade-A chances and missed it all, but Freddie [Andersen] was there and gave us an opportunity to get going.
FREDERIK ANDERSEN (28 SAVES)
On seeing two first career goals tonight:
Those are always fun to see, especially – [Dermott]'s was great up the ice and he worked hard to get it back and Willy made a great pass for him. He just had his stick on the ice and went to the net so it was good. Same for [Holl]. He took the puck up and instead of trying to make a pass I think he just threw it on net, which, sometimes, good things happen. Pretty cool for them.
On what has impressed him about Dermott:
He's feeling it, you can tell. He's moving around, he's talking with everyone on the D, did a great job of talking today and just made sure everyone was into it. I think that was huge for us at the beginning. We didn't spend too much time in our zone. I think the first half of the game we were pretty good. Obviously, he got to score a goal tonight. It's great for him.
TRAVIS DERMOTT (FIRST NHL GOAL, 1 ASSIST)
On scoring his first NHL goal:
You can't even put it into words. This, and even the start of the Fathers' Trip, you can't write up any more perfect than how this happened – [Justin Holl] as my D partner. With this all coming together like this, you can't really put words to it. It's just a feeling you'll remember forever.
On what he saw leading to the goal:
I kind of made a bad play coming in, I turned the puck over, but lucky enough I got the puck back, gave it to Willy [Nylander] and he gave me a perfect pass right on the slate. I just put my head down and went to the far post and started swinging.
On the scrum with his teammates after he scored:
It was just a bunch of congratulations. I know they're proud of me and it's just an amazing feeling playing with those guys and having them come up to you and congratulate you on your first goal.
On what it meant having his Dad present for his first goal:
Lightyears more. It's crazy having him here and being able to point up to him at the end of the game. That one was for him.
JUSTIN HOLL (NHL DEBUT, FIRST NHL GOAL)
On tonight's game as the result of years of work in the minors:
Yeah, definitely, it felt great. Obviously, playing your first NHL game is something special and to be able to put one in on top of that was a lot of fun. To see Travis [Dermott score his first NHL goal] too was really special. I couldn't be happier for him.
On how he found out he'd be getting called up:
It was funny, I was actually coming back from the [AHL] All-Star Break and then I got a call from Kyle Dubas saying that two guys were sick, Hainsey and Polak, so they didn't know if I was going to play or not, but they wanted me to come and be ready or whatever. I got another call from Kyle at 4:30 saying I was playing. At that point, you dial in and get ready.
On his relationship with Jake Gardiner's father, John:
John is great, I'm excited to see him on this trip. I haven't seen him in a while, but obviously I was really good friends with Max growing up, really good friends with Jake, so I spent a lot of time around him. He's a great guy.
On scoring in his NHL debut:
It's almost surreal. It happens and then you're like, 'Wait, did that really just happen?' And then you're like, 'Nice, it did.' That was nice. It's a big win and it was nice to contribute.
AUSTON MATTHEWS (1 GOAL, 1 ASSIST)
On Dermott and Holl scoring their first NHL goals:
You love to see it. Two good guys, great players. Especially being out there on the ice with them, it's pretty exciting. I know what it was like when I scored my first goal and I can only imagine what's going through their head because it's a dream come true. A really special night for those guys.
On Dermott's reaction after his goal:
Yeah, he gets excited anytime anybody scores a goal. You can hear him probably up in the press box especially him scoring his first. He was pretty pumped up. I'm just really happy for those two guys and a really good game by everyone tonight.
On Dermott scoring his first goal during the team's annual Father's trip:
Yeah, saw [Dermott]'s dad on the jumbotron there all excited. It's awesome. It's special. All of our dads have done so much for us to get us to this point in our career so it's always nice to do this trip for them and obviously it was a special moment for a couple fathers in the stands tonight.
On what stands out about what Dermott has been able to do during his time in the NHL:
He's got a lot of confidence. He's not afraid to carry the puck. He's skilled. He can play both ways with the puck. Good skater. Sees the ice well. Makes guys around him better so it's always fun going out there with guys that can play like that.