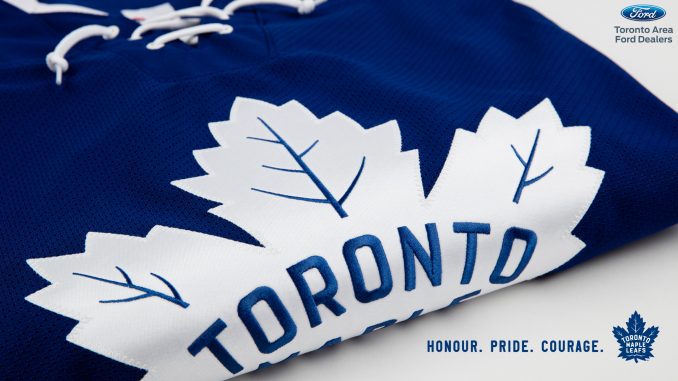 This article was last updated on April 16, 2022
Canada:

Oye! Times readers Get FREE $30 to spend on Amazon, Walmart…
USA:

Oye! Times readers Get FREE $30 to spend on Amazon, Walmart…
Boston Bruins easily beat Toronto Maple Leafs 4-1. Here is the summary of the game played on Saturday, February 3, 2018

| | | | | | |
| --- | --- | --- | --- | --- | --- |
| | 1 | 2 | 3 | OT | FINAL |
| TORONTO | 1 | 0 | 0 | – | 1 |
| BOSTON | 1 | 2 | 1 | – | 4 |
GAME SUMMARY | EVENT SUMMARY | FACEOFF SUMMARY

ON THE SCORESHEET
Mitch Marner put the Maple Leafs on the board with a power play goal at 8:03 of the first period. Marner has four points (3 goals, 1 assist) over his last five games. He has five points (2 goals, 3 assists) in three games against Boston this season.
Morgan Rielly picked up the primary assist on Marner's first period goal. With the assist, Rielly reached 27 assists for the season, which ties his career-high for assists in a season set in 2015-16. Tonight's game is Rielly's first since January 18 at Philadelphia.
Nazem Kadri had the secondary assist on Marner's first period goal. Kadri has assists (3) in three consecutive games and points (3-3-6) in five consecutive games.
Frederik Andersen stopped 26 shots in the loss.
SHOTS FIRED
The Bruins had a 30-24 lead in shots on goal in all situations and a 22-13 lead in shots on goal at 5-on-5.
Boston had an 61-47 lead in shot attempts in all situations and a 47-28 lead in shot attempts at 5-on-5.
Mitch Marner led the Maple Leafs with five shots on goal and 10 shot attempts.
SHOTS ON GOAL
| | | | | | |
| --- | --- | --- | --- | --- | --- |
| | 1st | 2nd | 3rd | OT | TOTAL |
| TORONTO | 7 | 7 | 10 | – | 24 |
| BOSTON | 13 | 11 | 6 | – | 30 |
SHOT ATTEMPTS
| | | | | | |
| --- | --- | --- | --- | --- | --- |
| | 1st | 2nd | 3rd | OT | TOTAL |
| TORONTO | 13 | 13 | 21 | – | 47 |
| BOSTON | 25 | 23 | 13 | – | 61 |
ON THE ROAD AGAIN
The Maple Leafs are 16-11-3 on road this season.
Toronto's all-time record is 275-286-98-10 in 669 games against the Bruins and 104-177-47-7 in games played in Boston.
Toronto is 15-11-3 against the Eastern Conference this season and 6-5-1 against the Atlantic Division.
The Maple Leafs will return to Air Canada Centre to host the Anaheim Ducks on February 5 at 7:00 p.m.
MAPLE LEAFS LEADERS
| | |
| --- | --- |
| Faceoff Wins | 8 (Bozak, Kadri) |
| Faceoff Win Percentage | 100% (Komarov – 2 won, 0 lost) |
| Hits | 8 (Komarov) |
| Blocked Shots | 6 (Hainsey) |
| Takeaways | 2 (Nylander, Zaitsev) |
| TOI | 22:05 (Gardiner) |
| Power Play TOI | 3:55 (Rielly) |
| Shorthanded TOI | 2:42 (Hyman) |
| Shifts | 28 (Zaitsev) |
| 5-on-5 Shot Attempt Percentage | 45.5% (Kadri, van Riemsdyk) |
RECORD WHEN…
The Maple Leafs were 1-for-3 on the penalty kill and 1-for-4 on the power play tonight. Toronto is 2-3-0 when allowing multiple power play goals this season and 13-5-1 when scoring a power play goal.
Toronto is 6-14-2 when their opponent scores the first goal of the game.
The Maple Leafs are 11-4-5 when tied after one period and 3-16-1 when trailing after two periods.
Toronto has an 18-10-2 record when outshot by their opponent.
The Maple Leafs are 8-6-0 in Saturday games.
OF NOTE…
Toronto won 62 percent of their defensive zone faceoffs (16 won, 10 lost).
Travis Dermott was on the ice for a team-high 13 Toronto shot attempts-for at 5-on-5. Dermott finished the game with a 5-on-5 shot attempt percentage of 41.9 percent (13 for, 18 against).
Dominic Moore was the lone Maple Leaf to not start a 5-on-5 shift in the offensive zone.
William Nylander was 4-for-5 (80%) in the faceoff circle against Boston centre Patrice Bergeron.
UPCOMING GAMES:
Monday, Feb. 5 vs. Anaheim Ducks, 7:00 p.m. (TSN4, FAN 590)
Wednesday, Feb. 7 vs. Nashville Predators, 7:30 p.m. (Sportsnet, TSN 1050)
Saturday, Feb. 10 vs. Ottawa Senators, 7:00 p.m. (Hockey Night in Canada, FAN 590)
Monday, Feb. 12 vs. Tampa Bay Lightning, 7:00 p.m. (TSN4, TSN 1050)
Wednesday, Feb. 14 vs. Columbus Blue Jackets, 7:00 p.m. (Sportsnet, FAN 590)
POSTGAME QUOTES:
HEAD COACH MIKE BABCOCK
On tonight's game:
I thought they were better than us, I thought they were quicker. We were in a real good spot after one when we hadn't been great, but were still tied 1-1. We come out on the power play, hit the post and Rask makes a real good save. The game is fair. I thought they were quicker, better, executed harder and had more players going than we did tonight and it showed.
On lessons from tonight's game going into Monday:
I think the biggest thing is if you don't have everyone on deck and you're not ready to go, you're not going to win very often. I thought we'd done a good job of that of late and I didn't think we got that tonight. We just didn't have enough players and the other thing about it is when the game was there, after one you hadn't been great, it's time for a pushback. We didn't have a pushback.
On if tonight's performance is disappointing given recent games:
Yeah, but which part is us and which part is them? I think you've got to give them lots of credit too, they did a good job and we weren't as good for whatever reason here today. We'll go through it and look at it and do all those things, but to me we didn't have the kind of jump we normally do, we didn't execute with the puck and they skated us. Give them credit, we've got to be better. We'll take an off-day tomorrow and get ourselves regrouped for a good Anaheim team.
FREDERIK ANDERSEN (26 SAVES)
On the Bruins:
They came ready to play. They were right on top of us. I think we had a tough time getting out of the zone. That's how they've been playing lately so it could have been better, but they're a good team.
On what the team did better in recent wins:
I think we worked back to help each other a little bit better. I think they came hard and you've really got to be on top of it and come back and help out when they play that aggressive.
On how Boston found ways to score on their power plays:
I think the first one was a little bit of a broken play. They waited me out and obviously I would have liked to have been better on the PK but I think it was a good shot on the second one by [Krug] there. You've got to move on.
On what can be taken from tonight's game into Monday:
We know how we play best so we've just got to stick to that and I think go to work tomorrow and be ready for Monday.
On tonight's result as discouraging for the team:
I think we should take it as a challenge and there's a long way to go. Right now, we're focused on what's ahead on Monday. I don't think there's any reason to look that far ahead [to the playoffs] yet. We've still got to keep playing and take that when the time comes.
MITCH MARNER (1 GOAL)
On the play of the forwards tonight:
I mean, yeah. I think we didn't help the D enough. We didn't come back, track back, and get open for our D-men to get the puck in as well. We've got to work to be successful and tonight I don't think we were helping out our D-men too much.
On if the team challenged Tuukka Rask enough:
I don't think so. We've got to get through that neutral zone quicker, we've got to get the puck in quicker and when we do get in, we've got to get out to the top and get bodies in front of his eyes. He's been unbelievable this last month and a bit. We knew that coming in, and when you give him his eyes he's going to make the saves.
On if it was tough to get pucks to the net on the powerplay:
We had a lot of chances on the powerplay. A couple posts, a couple bad bounces. That's what happens though. It's unfortunate, but it happens. I thought we were moving the puck well, we had good puck speed, we were getting it to the net, it just didn't go in.
On if the potential of these two teams meeting in the first round of the playoffs went through his mind:
Me personally, I don't really think about it. A lot of games left to play so you can't start thinking about playoffs already. We've got a long season still ahead of us here and if it ends being that, we've got to be ready to play. Any playoff series we play, whoever we play against, it's going to be like this. It's going to be intense and it's going to be hard and we've got to make sure we're ready.
MORGAN RIELLY (1 ASSIST)
On tonight's game:
Yeah, they're a good team. I think they did a good job. You see there's a lot of talent on that team but the toughest part was their structure. I thought they were good through the neutral zone and we've got a lot of video to watch and see how we can get better.
On what the team can learn from this game heading into Monday's game versus Anaheim:
You know, it's a different team. They play a different style so there's not too much of a carryover. I think the most important thing is just a bounce back. I think we had a good thing going there for a while and I think it's important going in on Monday we make sure that we get back into the win column and we get back to playing the way that made us successful in the last couple.
On how he felt in his first game back after missing six games with an upper body injury:
I felt good. Whenever you come back, you know you're a little bit cautious. I think moving forward it's just a matter of making sure you do the work and making sure your confidence comes back. All in all, not the outcome of the game we wanted and we'll move forward to Monday.
On if the Bruins made it hard to get any speed going through the neutral zone:
Yeah, I think they did a good job and of getting above our forwards and taking away time and space coming through the neutral zone. That plays a big role in the game. That takes a toll on the guys when you try to get through. It can be frustrating the way they close it down. So, credit to them, they did a good job, it's important we get better tomorrow, we come in on Monday and get back on track.
You can publish this article on your website as long as you provide a link back to this page.