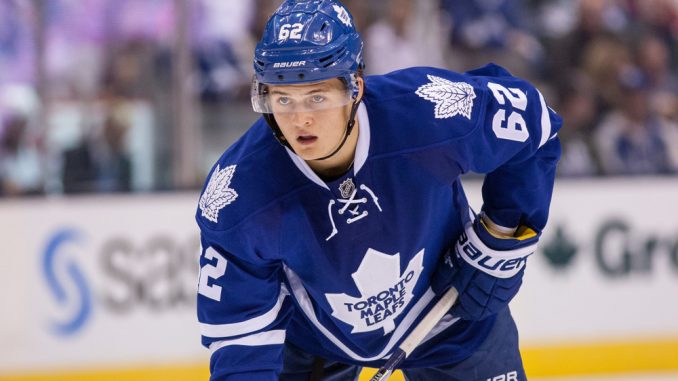 Toronto Maple Leafs prey on Nashville Predators 3-2. Here is the summary of the game played on Wednesday, February 7, 2018
| | | | | | | |
| --- | --- | --- | --- | --- | --- | --- |
| | 1 | 2 | 3 | OT | SO | FINAL |
| NASHVILLE | 0 | 1 | 1 | 0 | 0 | 2 |
| TORONTO | 1 | 1 | 0 | 0 | 1 | 3 |
GAME SUMMARY | EVENT SUMMARY | FACEOFF SUMMARY

ON THE SCORESHEET
James van Riemsdyk opened the scoring for the Maple Leafs at 16:06 of the first period before scoring the shootout-winning goal in the seventh round of the shootout. He has scored five goals in his last three games against the Predators dating back to the 2016-17 season, including a hat trick at Air Canada Centre on Nov. 15, 2016. He has points (1-1-2) in two consecutive games.
Kasperi Kapanen scored the second Toronto goal of the night while shorthanded at 9:38 of the second period. Kapanen's goal is his first career NHL shorthanded goal. He has points (1-1-2) in two consecutive games.
Connor Brown registered the primary assist on van Riemsdyk's first period goal. Brown has assists (2) in two consecutive games and three assists over his last four games. Seven of Brown's nine assists this season have been primary assists.
Travis Dermott
picked up the secondary assist on van Riemsdyk's first period goal. Dermott has four points (1 goal, 3 assists) over his last five games. He has registered all of his points at even-strength this season.
Dominic Moore recorded the primary assist on Kapanen's shorthanded goal. Moore has six assists in 38 games this season. Toronto is 3-1-0 when Moore registers an assist.
Ron Hainsey picked up the secondary assist on Kapanen's second period goal. Hainsey's assist is his second shorthanded assist of the season, placing him in a tie with Zach Hyman for the team lead in shorthanded points (2). With the assist, Hainsey tied his career-high for shorthanded assists in a season.
Frederik Andersen stopped 44 shots in overtime and regulation, as well as six of seven shootout attempts to earn the victory. Andersen has 26 wins on the season, which ranks fifth in the NHL.
IN THE SHOOTOUT
Auston Matthews – Stopped (2017-18: 3/6)
William Nylander – Missed (2017-18: 1/3)
Tyler Bozak – Goal (2017-18: 3/4)
Mitch Marner – Stopped (2017-18: 1/6)
Patrick Marleau – Stopped (2017-18: 1/5)
Connor Brown – Stopped (2017-18: 0/1)
James van Riemsdyk – Goal (2017-18: 1/2)
Frederik Andersen – 6/7 (2017-18: 21/27)
SHOTS FIRED
The Predators had a 46-32 lead in shots on goal in all situations and a 35-22 lead in shots on goal at 5-on-5.
Nashville had an 79-54 lead in shot attempts in all situations and a 62-40 lead in shot attempts at 5-on-5.
Auston Matthews and James van Riemsdyk each registered a team-high four shots on goal.
James van Riemsdyk led the Maple Leafs with six shot attempts.
SHOTS ON GOAL
| | | | | | |
| --- | --- | --- | --- | --- | --- |
| | 1st | 2nd | 3rd | OT | TOTAL |
| NASHVILLE | 8 | 19 | 16 | 3 | 46 |
| TORONTO | 11 | 11 | 6 | 4 | 32 |
SHOT ATTEMPTS
| | | | | | |
| --- | --- | --- | --- | --- | --- |
| | 1st | 2nd | 3rd | OT | TOTAL |
| NASHVILLE | 20 | 28 | 25 | 6 | 79 |
| TORONTO | 14 | 16 | 17 | 7 | 54 |
NO PLACE LIKE HOME
The Maple Leafs are 16-8-2 at home this season.
Toronto's all-time record is 10-10-1-1 in 22 games against the Predators and 6-7-1-0 in games played in Toronto.
Toronto is 17-8-2 against the Western Conference this season and 6-3-2 against the Central Division.
Tonight's attendance was 18,878.
The Maple Leafs continue their homestand when they host the Ottawa Senators on February 10 at 7:00 p.m.
MAPLE LEAFS LEADERS
| | |
| --- | --- |
| Faceoff Wins | 10 (Bozak) |
| Faceoff Win Percentage | 100% (Brown – 1 won, 0 lost) |
| Hits | 6 (Zaitsev) |
| Blocked Shots | 2 (Hyman, Polak, Zaitsev) |
| Takeaways | 2 (Gardiner) |
| TOI | 23:39 (Rielly) |
| Power Play TOI | 2:07 (Gardiner) |
| Shorthanded TOI | 3:37 (Hainsey) |
| Shifts | 33 (Zaitsev) |
| 5-on-5 Shot Attempt Percentage | 58.8% (Kapanen – 10 for, 7 against) |
RECORD WHEN…
The Maple Leafs were 2-for-2 on the penalty kill with a shorthanded goal and 0-for-2 on the power play tonight. Toronto is 19-9-4 when not allowing a power play goal this season, 3-0-1 when scoring a shorthanded goal and 13-13-4 when not scoring a power play goal.
Toronto is 26-5-3 when scoring the first goal of the game.
The Maple Leafs are 19-3-0 when leading after one period and 20-1-2 when leading after two periods.
Toronto has a 20-10-2 record when outshot by their opponent.
The Maple Leafs are 8-3-1 in Wednesday games.
OF NOTE…
Tyler Bozak was 5-for-7 (71%) in the faceoff circle in the offensive zone.
Zach Hyman started 10 percent of his shifts in the offensive zone, which was the lowest percentage among Toronto skaters.
Morgan Rielly was on the ice for a team-high 21 Toronto shot attempts-for at 5-on-5. Rielly finished the game with a 5-on-5 shot attempt percentage of 47.7 percent (21 for, 23 against).
UPCOMING GAMES:
Saturday, Feb. 10 vs. Ottawa Senators, 7:00 p.m. (Hockey Night in Canada, FAN 590)
Monday, Feb. 12 vs. Tampa Bay Lightning, 7:00 p.m. (TSN4, TSN 1050)
Wednesday, Feb. 14 vs. Columbus Blue Jackets, 7:00 p.m. (Sportsnet, FAN 590)
Saturday, Feb. 17 at Pittsburgh Penguins, 7:00 p.m. (Hockey Night in Canada, TSN 1050)
Sunday, Feb. 18 at Detroit Red Wings, 7:00 p.m. (Sportsnet, FAN 590)
POSTGAME QUOTES:
HEAD COACH MIKE BABCOCK
On Andersen's performance:
I thought he was really good. I thought we did a good job right until we turned the puck over and they got one. Then I thought they upped the ante. They won when you look at the 50/50 battles in tonight's game and the faceoff circle they dominated us. That's a good team competing at a high level and then, as the game went on, they got quicker and quicker and we watched them more and more. Freddie had to be good. Good for Freddie and good for us – we got the points. It just goes to show we've got a ways to go.
On Kapanen's shorthanded goal giving the team a lift:
Obviously, we're set up pretty good at that point. I didn't like – we came through and we had a big kill and then we turn the puck over and it's in our net. To me, that's just managing the game and keeping it under control. We didn't need to put any fuel on the fire, we know they're a good team. Then I thought when we got cautious, I thought their D really started to skate and then they had us. They were already winning the faceoffs and they were skating by us too. That made it important Freddie was good.
On if he told Kapanen to become a penalty killer:
I just said, 'That's the way you're going to play in the National Hockey League.' We've told [Borgman] the same thing. You're not playing on the power play, you better figure out how to make yourself important. Kappy can really skate and he can really shoot the puck, he just doesn't, but he can really shoot the puck. He'll figure that out over time. But, he's competitive and I thought he and Leo [Komarov] were some of our best wingers tonight.
On how Nashville contained Hyman, Matthews and Nylander:
They wouldn't let them have the puck.
On if there are lessons for that line in a game like this:
Sure, there is, but, you know, when you go through and play these good teams or these good players, you get tired of these lessons. You'd like to have the puck more. You've got to decide. In the end, to me, the game is so simple. In the end, you've got to decide you're going to dig in hard enough to have it, period. No different than two kids playing in the living room fighting over a ball. Usually one decides they're going to have it.
On what has changed in Kapanen from his earlier call-ups:
He used to be a skinny little kid and now he's got some meat on his bones and he has worked hard at it. Then, obviously, experience, and experience makes you compete a little harder on a nightly basis because you don't want to go back anymore. That's a great thing about earning your way and being in the minors and riding the bus and learning what it's like. It makes you not want to go back there. I think that helps out. I also think getting here when you're ready and not before you're ready helps you stay and helps you keep your confidence.
On if he thinks Kapanen will stay with the NHL team:
He looks like a good player to me. He's come here, we win, he's made a difference, flat-out made a difference. We can come at you faster with more people, he's penalty killing every night and doing a good job for us. I think he's important.
FREDERIK ANDERSEN (44 SAVES)
On tonight's game:
I think it was a tough game. There wasn't a lot of space out there. They play a good style of hockey. I think they've got good defencemen down there so we didn't have much room, but we did a good job as well. Their goals came out of some tough bounces and that's how the hockey is going to be going down the stretch. It was a good test for us. I think we played well and it's great to get the extra point.
On stopping Johansen's wraparound attempt in the third period:
I expected he was just going to try to throw it on net once he got it. The puck came kind of high and he did a good job of catching it and putting it on his stick quick. I had to get over there obviously.
On hearing 'Freddie' chants from the crowd:
It's fun. It's special. Obviously, we have great fans here and it means a lot when you have that support.
KASPERI KAPANEN (SHORTHANDED GOAL)
On penalty killing:
I've been doing it for a couple years now and at first, I didn't know what to expect, but it's a big responsibility and it's an honour to go out there on the PK. I think we did a pretty good job of that today.
On what he likes about playing on the penalty kill:
You go out there and you try to not let the other team score I guess, I don't know. Like I said, it's a big responsibility. At first, I didn't know if I could do it or not but the coaching staff and everybody in the organization has been helping me so I think I've been doing a pretty good job.
On the sequence that led to his goal:
I was getting pretty tired there so I just gave it all I got and lucky enough I just got him on my back and it ended up the way it did.
On what he knows about Pekka Rinne:
Not too much. I haven't played against him too much but Leo was giving me some pointers. He's a great goalie and I'm just lucky that it went in.
On Frederik Andersen's performance.
I don't think I have to stand here and tell you how key he was for us today, making game savers. He played really well tonight.
MORGAN RIELLY (23:39 TOI)
On the team's defensive play tonight:
I think we did a good job. We knew it was going to be a close checking game and when you go in late in the third and it's tied 2-2, that's a good test for us. Those are the games we have to learn how to win and I think we did a good job tonight doing that. Obviously, you don't want to give up the lead but when they come back they play well and we managed to hang on and get the win and those are big points for us.
On using games like this as a measuring stick:
I think so yeah, but I think for us more now not as much measuring against people or teams – you know we want to be one of the best teams and we feel like as long as we play our system and play our game and compete every night and work we can play with anybody. So, I don't think we are measuring up against anyone, we're trying to win right now.
On if the team can raise their game to another level:
Absolutely, I mean, there is always room to get better. There are lots of things we can improve on. You're never going to play a perfect game – it's about limiting the mistakes, playing towards the system, making sure we're all on the same page and competing. As long as we do that we feel like we can play with everyone.
On Andersen's performance:
Everything, I thought he was outstanding. He was playing the puck well. Obviously came up huge for us down the stretch, couple big saves and then great in the shootout so credit to him, he's got it going right now.
JAMES van RIEMSDYK (1 GOAL, SHOOTOUT WINNER)
On his approach versus Pekka Rinne in the shootout:
You watch a little bit of the guys going before you and obviously you have some moves in mind that you usually try to go for. Then when you're coming down the ice you just go off of instinct and look for something that you think is there.
On what he saw leading up to his shootout winner:
I'm not too sure. I think I just saw what the other guys were looking to do and wanted to try something a little bit different and a little bit different than what I usually do so I just went with that.
On why Tyler Bozak has success in the shootout:
I think he's just so versatile, as far as he's got a lot of different moves and he's unpredictable as far as where he's going to go. He kind of disguises them so they look all of the same. It makes it tough to go against.
On Frederik Andersen's performance:
He was great, made a ton of huge saves for us, and it's always nice to hear your name get chanted by the fans like that. He played a good game for us and gave us a chance to win.