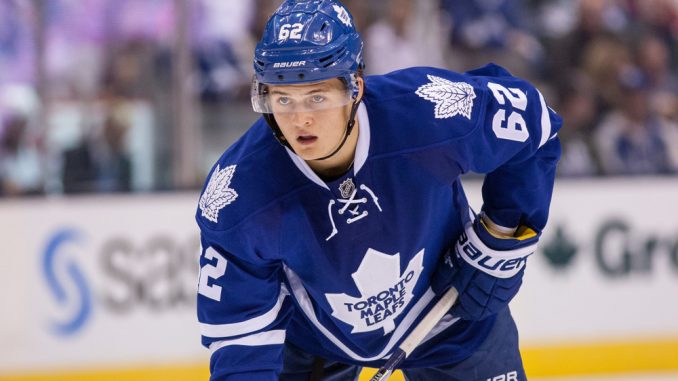 Toronto Maple Leafs batter Columbus Blue Jackets 6-3. Here is the summary for the game played on Wednesday, February 14, 2018
| | | | | | |
| --- | --- | --- | --- | --- | --- |
| | 1 | 2 | 3 | OT | FINAL |
| COLUMBUS | 1 | 2 | 0 | – | 3 |
| TORONTO | 2 | 2 | 2 | – | 6 |
GAME SUMMARY | EVENT SUMMARY | FACEOFF SUMMARY

ON THE SCORESHEET
Dominic Moore put the Maple Leafs on the board at 4:38 of the first period. Moore has scored all five of his goals at even-strength this season. Four of his five goals have been scored on home ice.
Nazem Kadri scored Toronto's second goal of the night at 7:36 of the first period, the third Maple Leafs goal of the game at 8:03 of the second period and the fifth Toronto goal of the night at 11:21 of the third period. He also added the primary assist on Mitch Marner's second period goal and the secondary assist on Patrick Marleau's empty net goal. Kadri's five points establish a new career-high for points in a game. It is the ninth time this season he has registered multiple points in a game. Tonight's game is the fourth time Kadri has recorded a hat trick in his NHL career.
Mitch Marner
scored the fourth Maple Leafs goal of the game at 8:03 of the second period and later added the primary assist on Kadri's third period goal. Marner has 13 points (7 goals, 6 assists) over his last 10 games.
Patrick Marleau registered the secondary assist on Marner's second period goal and Kadri's third period goal before scoring Toronto's sixth goal with an empty netter at 18:13 of the third period. Marleau has seven points (3-4-7) in seven games during the month of February. With three points, he tied his season-high for points in a game (3), which he has reached three times this season.
Roman Polak picked up the primary assist on Moore's first period goal. The Maple Leafs are 4-0-2 when Polak registers a point this season.
Travis Dermott had the secondary assist on Moore's first period goal and the secondary assist on Kadri's second period goal. Dermott has recorded five of his six points at home this season (1-4-5). Tonight's game is his second career multi-point game and first career multi-assist game.
Morgan Rielly picked up the primary assist on Kadri's second period goal. Rielly ranks second on the Maple Leafs with 18 primary assists this season.
Leo Komarov had the primary assist on Marleau's empty net goal in the third period. The Maple Leafs are 10-4-0 when Komarov registers a point this season.
Frederik Andersen stopped a career-high 54 shots on a career-high 57 shots faced to earn his 29th win of the season. Andersen is tied for second in the NHL in wins.
SHOTS FIRED
The Blue Jackets had a 57-28 lead in shots on goal in all situations and a 53-20 edge in shots on goal at 5-on-5.
Columbus had a 91-56 lead in shot attempts in all situations and an 85-40 lead in shot attempts at 5-on-5.
Nazem Kadri led the Maple Leafs with four shots on goal and eight shot attempts.
SHOTS ON GOAL
| | | | | | |
| --- | --- | --- | --- | --- | --- |
| | 1st | 2nd | 3rd | OT | TOTAL |
| COLUMBUS | 19 | 22 | 16 | – | 57 |
| TORONTO | 12 | 7 | 9 | – | 28 |
SHOT ATTEMPTS
| | | | | | |
| --- | --- | --- | --- | --- | --- |
| | 1st | 2nd | 3rd | OT | TOTAL |
| COLUMBUS | 31 | 35 | 25 | – | 91 |
| TORONTO | 28 | 13 | 15 | – | 56 |
NO PLACE LIKE HOME
The Maple Leafs are 19-8-2 at home this season.
Toronto's all-time record is 11-10-1-3 in 25 games against the Blue Jackets and 5-6-1-2 in games played in Toronto.
Toronto is 18-11-3 against the Eastern Conference this season and 10-6-2 against the Metropolitan Division.
Tonight's attendance was 18,890.
The Maple Leafs hit the road for a back-to-back this weekend when they visit the Pittsburgh Penguins on February 17 at 7:00 p.m., before taking on the Red Wings in Detroit on February 18 at 7:00 p.m.
MAPLE LEAFS LEADERS
| | |
| --- | --- |
| Faceoff Wins | 15 (Kadri) |
| Faceoff Win Percentage | 100% (Hyman, Komarov) |
| Hits | 5 (Polak) |
| Blocked Shots | 3 (Polak) |
| Takeaways | 2 (Five players tied) |
| TOI | 24:44 (Rielly) |
| Power Play TOI | 3:36 (Matthews, Nylander) |
| Shorthanded TOI | 2:52 (Hyman) |
| Shifts | 28 (Rielly) |
| 5-on-5 Shot Attempt Percentage | 40.6% (Marner – 13 for, 19 against) |
RECORD WHEN…
The Maple Leafs were 2-for-2 on the penalty kill and 0-for-3 on the power play tonight. Toronto is 22-9-4 when not allowing a power play goal this season and 15-13-4 when not scoring a power play goal.
Toronto is 29-5-3 when scoring the first goal of the game.
The Maple Leafs are 22-3-0 when leading after one period and 23-1-2 when leading after two periods.
Toronto has a 22-10-2 record when outshot by their opponent.
The Maple Leafs are 9-3-1 in Wednesday games.
OF NOTE…
Toronto's 57 shots against were a season-high for shots allowed in a game, while the 22 shots recorded by Columbus in the second period of tonight's game are a season-high for shots allowed in a period by the Maple Leafs.
The Maple Leafs won 72 percent of their defensive zone faceoffs (26 won, 10 lost).
Nazem Kadri and Patrick Marleau started 6.7 percent of their shifts in the offensive zone, which was the lowest percentage among Toronto skaters.
Nazem Kadri won 11 of his 12 faceoffs in the defensive zone (92%) and went 6-for-6 in the faceoff circle against Columbus centre Nick Foligno in all situations.
Morgan Rielly was on the ice for a team-high 17 Toronto shot attempts-for at 5-on-5. Rielly finished the game with a 5-on-5 shot attempt percentage of 34 percent (17 for, 33 against).
UPCOMING GAMES:
Saturday, Feb. 17 at Pittsburgh Penguins, 7:00 p.m. (Hockey Night in Canada, TSN 1050)
Sunday, Feb. 18 at Detroit Red Wings, 7:00 p.m. (Sportsnet, FAN 590)
Tuesday, Feb. 20 vs. Florida Panthers, 7:00 p.m. (Sportsnet Ontario, TSN 1050)
Thursday, Feb. 22 vs. New York Islanders, 7:00 p.m. (TSN4, FAN 590)
Saturday, Feb. 24 vs. Boston Bruins, 7:00 p.m. (Hockey Night in Canada, FAN 590)
POSTGAME QUOTES:
HEAD COACH MIKE BABCOCK
On requiring a team effort after going down to five defencemen:
Well, it was Freddie [Andersen]'s effort anyway. Let's be honest, Freddie was real good. We weren't very good for whatever reason. They had jump and we didn't. We scored early and then we were able to score on our chances and then Freddie was outstanding. We had some guys that really battled. I didn't think we were, at any time, really that good. We battled hard and we found a way to get ourselves a win.
On Gardiner's status:
They just told me he's got some sort of – I didn't even know what happened, to tell you the truth – they just told me he had some sort of lower body thing and he's got some kind of spasm or something like that. He just couldn't get it to relax or whatever. They wouldn't let him come back.
On how Gardiner's absence affected managing the bench:
It affects you because you don't have as many guys, but I would say to you if you play in the offensive zone and you cycle, it's no big deal. When you spend the whole game in your own zone, it's some miles on those D. We weren't, for whatever reason – it's a great win for our team, two points are hard to come by, but it's good we have a day off tomorrow. We can take a breath and get ready to go again.
On if he felt the game flow reflected the shot counter:
What I said to the guys going into the third period was, 'Here we are, we're set up perfect,' and I hadn't thought we played great. Let's get out and play. Obviously, Mitch [Marner] and Nazem [Kadri] and Marleau had it going, had it on a string, and they scored enough that the rest of us were able to leave here tonight with a win. Freddie, I mean, Freddie was outstanding.
On if he's worried about bad habits setting in:
No, I never said that. I just thought we didn't have any energy and weren't very good tonight for whatever reason. Now, does it have to do with what we did yesterday? I don't know the answer. We weren't very good.
On what has worked with the Kadri-Marleau-Marner combination:
I don't know. I don't know for sure. I used them together, Kadri and Marner, last year and they were no good together. They didn't even go. We wanted to try that, we thought it would be good, but it just didn't work, so we went back to what kind of had worked. Bozak and James [van Riemsdyk] and Marner were, I thought, outstanding last year. It didn't work this year. That's the beauty of having more players. You move them around and, once in a while, you get lucky and you can tell everyone how smart you are.
On the original plan being using these lines on the road:
That's what I was going to do and then Mitch decided to play hard enough and it didn't much matter. What has worked good too is Leo [Komarov] is playing on our fourth line, or starts on our fourth line, and is playing 14, 15 minutes a night anyway so it doesn't make much difference. Each night you evaluate who's playing good and you move them around accordingly.
On if Gardiner will practice Friday:
It's a day off tomorrow so once we get through tomorrow I'll have a better handle on it. Like I said, it's some sort of spasm or something and they knew he had it, but he thought he was fine. When he got out there he wasn't fine.
FREDERIK ANDERSEN (54 SAVES)
On stopping over 50 shots tonight:
I was prepared for that, I know they've been throwing a lot of pucks on the net the last few games. It's fun to face a lot of shots, especially when we boxed out to make sure I had a good lane to see the puck.
On facing a lot of bodies around his net:
I think they definitely try to go to the net but, like I said, we did a good job of making sure I had a clean view on most of the shots. That was key to withstand all of those shots.
On his save on Jenner in the third period:
I think I just tried to follow the puck. They made pass to the middle and I tried to stretch out to get a toe on it.
On if facing a career-high in shots was physically challenging:
They had some periods where they were probably pressing more than usual, but I think it was a fun game. We got off to a good start so we just wanted to keep playing. It wasn't the prettiest game but glad we got the win.
TRAVIS DERMOTT (2 ASSISTS)
On playing Columbus with five defencemen after Jake Gardiner left the game due to injury:
It was tough for sure. I don't see how I can say it was easy by any means. They brought it to us pretty good and I think the shots showed that. [Andersen] really saved our backs a bunch of times tonight. I gave up one for sure that was on me. I had my mistakes and you've got to fix those but that also comes with fatigue. You just try to learn from those and get better. I think our team came together and really gutted out this win tonight.
On if Andersen's play gave the team a confidence boost:
Yeah, for sure. You look up at the shots they have against and it's pretty tough getting confidence but when you know you have a guy like Freddie behind you he's going to stop the majority of those, a majority of the night. So, it definitely gives us confidence back there. It gives our forwards confidence throughout. It's great, for sure, having a guy like that behind us.
On how the Kadri-Marner-Marleau line looked to him:
Oh, great. Without them I don't think we would have had much going so congrats to [Kadri] for getting the three, it was pretty cool seeing that. It was just good for them. They had – I don't know about a coming out game today – but they definitely had a strong game and it showed for sure.
NAZEM KADRI (3 GOALS, 2 ASSISTS)
On playing in games like tonight's:
I mean, that's when it's the most fun. Offensively, I think, we're generating a lot now but at the same time we're being responsibly defensively. You've got to like both.
On who had the better assist – Kadri to Marner or Marner to Kadri:
They were both up there. They were both great passes and obviously I just tried to linger backdoor on the third goal and I figured [Marner] was going to throw it. He's got eyes on the back of his head, I've just got to get open and be ready to put it in.
On recording a hat trick on home ice for the first time:
It was great. It's always a thrill to score three and contribute offensively, obviously that's what makes the game so fun. That's what attracts you when you first start playing, putting the puck in the back of the net. My linemates contributed just as much as I did. They found me. I just tried to get open and the puck seemed to find me tonight.
On the play that resulted in Marner's goal:
It was originally a set breakout, we just tried to come back and generate some speed. [Marleau] made a great play off the wall to me and I was able to pick the puck up in stride. I had a step on the guy and I figured the defenceman was going to try to either slide at me or try to cut off the shot so Mitch did a great job opening up and we were able to find the back of the net.
MITCH MARNER (1 GOAL, 1 ASSIST)
On Kadri's backhand pass for his goal:
Yeah it was great, I mean I had no doubt in my mind he would be able to make that pass. As soon as we crossed over the blueline and it opened up I thought it would come around where I could [one-time] it and obviously he did.
On playing with Kadri and Marleau:
A lot of speed, I mean a lot of creativity but at the same time you're going up against the best and challenging yourself so it's a challenge every night and it's exciting.
On setting up Kadri's third goal:
I saw — I mean when I first came around I tried to hit – I don't know if it was him or Pat backdoor and kind of went around and lucky it was there again. I saw Pat in front and Naz sneaking in backdoor and lucky enough it got through.
On facing a tough Columbus team:
It was a challenging night. They are a very hard team to play against. They bring a lot of energy and they nonstop move their feet and it's challenging when you play a team like that, especially with how active their D-men were. I think we played a solid defensive game and I think we're kind of getting down to knowing that when we play good defence it will lead to good offence.