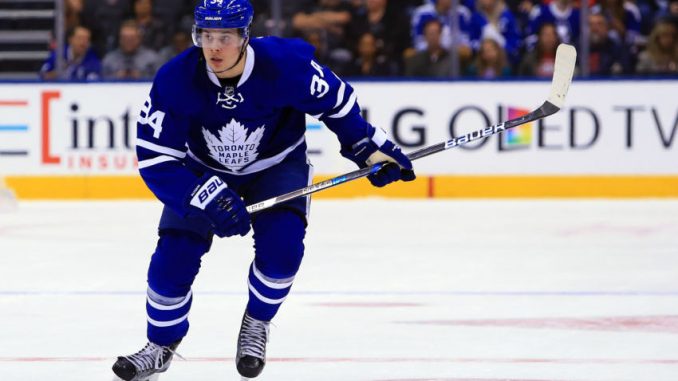 Toronto Maple Leafs beat Detroit Red Wings 3-2. Here is the summary of the game played on Sunday, February 18, 2018.
| | | | | | |
| --- | --- | --- | --- | --- | --- |
| | 1 | 2 | 3 | OT | FINAL |
| TORONTO | 0 | 2 | 1 | – | 3 |
| DETROIT | 0 | 1 | 1 | – | 2 |
GAME SUMMARY | EVENT SUMMARY | FACEOFF SUMMARY

ON THE SCORESHEET
James van Riemsdyk put the Maple Leafs on the board with his 24th goal of the season at 7:02 of the second period. Ten of his 24 goals this season have come against Atlantic Division opponents.
Mitch Marner scored his 14th goal of the season to give the Maple Leafs a 2-1 lead at 7:20 of the second period. Marner has nine points (4-5-9) in his past five games and has registered at least one point in eight of his last 10 games (7-5-12).
Auston Matthews gave the Maple Leafs a 3-2 lead at 19:29 of the third period for his fourth game winning goal of the season. Matthews ranks second in the NHL in even-strength goals (25).
Jake Gardiner registered the primary assist on van Riemsdyk's second period goal. Gardiner is tied for fourth among NHL defencemen in primary assists (18).
Tyler Bozak picked up the secondary assist on van Riemsdyk's second period goal. Bozak has points (1-2-3) in consecutive games.
Nazem Kadri recorded the primary assist on Marner's second period goal. Kadri has eight points (4-4-8) in his past five games.
William Nylander recorded the primary assist on Matthew's game winning goal in the third period. Nylander has nine points (4-5-9) in nine games during the month of February.
Zach Hyman collected the secondary assist on Matthew's game winning goal in the third period.
Curtis McElhinney stopped 27 of 29 shots to earn his seventh victory of the season.
SHOTS FIRED
The Maple Leafs had a 34-29 lead in shots on goal in all situations and a 30-26 edge in shots on goal at 5-on-5.
Toronto had a 60-47 lead in shot attempts in all situations.
Zach Hyman led the Maple Leafs with six shots on goal.
SHOTS ON GOAL
| | | | | | |
| --- | --- | --- | --- | --- | --- |
| | 1st | 2nd | 3rd | OT | TOTAL |
| TORONTO | 15 | 12 | 7 | – | 34 |
| DETROIT | 12 | 8 | 9 | – | 29 |
SHOT ATTEMPTS
| | | | | | |
| --- | --- | --- | --- | --- | --- |
| | 1st | 2nd | 3rd | OT | TOTAL |
| TORONTO | 24 | 24 | 12 | – | 60 |
| DETROIT | 20 | 13 | 14 | – | 47 |
ON THE ROAD
The Maple Leafs are 17-12-3 on the road this season.
Toronto's all-time record is 287-281-93-3 in 664 games against the Red Wings and 115-173-46-1 in games played in Detroit.
Toronto is 19-12-3 against the Eastern Conference this season and 9-5-1 against the Atlantic Division.
The Maple Leafs are 6-4-1 in the second leg of back-to-backs.
The Maple Leafs return to Air Canada Centre when they host the Florida Panthers on February 20 at 7:00 p.m.
MAPLE LEAFS LEADERS
| | |
| --- | --- |
| Faceoff Wins | 11 (Kadri) |
| Faceoff Win Percentage | 67% (Nylander, Matthews) |
| Hits | 6 (Komarov) |
| Blocked Shots | 2 (Matthews) |
| Takeaways | 1 (Nylander) |
| TOI | 21:50 (Zaitsev) |
| Power Play TOI | 2:24 (Rielly) |
| Shorthanded TOI | 1:46 (Hainsey) |
| Shifts | 29 (Zaitsev) |
| 5-on-5 Shot Attempt Percentage | 69.7% (Hyman – 23 for, 10 against) |
RECORD WHEN…
The Maple Leafs were 0-for-1 on the penalty kill and 0-for-2 on the power play tonight. Toronto is 11-7-1 when allowing a power play goal this season and 16-13-4 when not scoring a power play goal.
Toronto is 7-15-2 when their opponent scores the first goal of the game.
The Maple Leafs are 12-5-5 when tied after one period and 24-1-2 when leading after two periods.
Toronto has a 10-8-3 record when outshooting their opponent.
The Maple Leafs are 2-1-0 in Sunday games.
OF NOTE…
James van Riemsdyk (7:02) and Mitch Marner (7:20) scored 18 seconds apart in the second period to record the fastest two goals the Maple Leafs have scored on the road this season (Previous: Dec. 9 at Pittsburgh; 19 seconds).
Zach Hyman was on the ice for a team-high 23 Toronto shot attempts-for at 5-on-5. Matthews finished the game with a 5-on-5 shot attempt percentage of 69.7 percent (23 for, 10 against).
Patrick Marleau played in his 1554th regular season game tonight, tying Jarome Iginla for 12th place all-time in games played.
Toronto allowed their first power play goal against since February 5th vs Anaheim.
The Maple Leafs have a 18-3-5 (.692) record in one-goal games, which is the NHL's best winning percentage in one-goal games.
UPCOMING GAMES:
Tuesday, Feb. 20 vs. Florida Panthers, 7:00 p.m. (Sportsnet Ontario, TSN 1050)
Thursday, Feb. 22 vs. New York Islanders, 7:00 p.m. (TSN4, FAN 590)
Saturday, Feb. 24 vs. Boston Bruins, 7:00 p.m. (Hockey Night in Canada, FAN 590)
Monday, Feb. 26 at Tampa Bay Lightning, 7:30 p.m. (Sportsnet Ontario, TSN 1050)
Tuesday, Feb.27 at Florida Panthers, 7:30 p.m. (TSN4, FAN 590)
POSTGAME QUOTES:
HEAD COACH MIKE BABCOCK
On winning the second game of a back-to-back:
I just think good teams find a way to win. It's not always pretty but you just find ways to win. We had a good run and then instead of being off it for two or three games we got right back on it which I appreciate. You know they are playing well, they are very organized. They've got good veteran players that can make it hard on you, especially in their own building but I thought we did a good job tonight. We had lots of contributors so it was a good win.
On McElhinney getting the second game of back-to-backs:
Well I thought [McElhinney] had a really good game for us. He was really steady, we made some mistakes and he was there to make the saves and did a real good job. If you go through, I don't know how many starts in a row he's been solid for us so when you can have that solid guy to gain confidence and you know you have a chance to win that's a real positive for us.
On the space Nylander and Hyman create for Matthews on the ice:
Well I think for sure that last play – they're fortunate because Willy can take faceoffs on one side and Matty on the other and obviously Hyman does a real good job at winning his battle and their guy lost his check and Willy makes and unbelievable play. They are good players, they are fast and hungry and they want to be stars so I think that's important. When you look at – I was reading this if I'm not mistake, you've got three kids leading our team in scoring. It's not like they are leading our team because we've got Patty and Hainsey and guys like that doing that but they have huge growth potential and they are intelligent people and they have a chance to get better. The more tight games and big games we're in the better they're going to be.
On Canada's Olympic women's curling team:
It's good stuff, I texted [Rachel Homan] today. You know it's so fortunate to go to the Olympics and meet so many great people. When you meet them and you're a big curling fan like I am you just want to reach out and help a little bit. What we do and what they do is exactly the same. Ability to execute under pressure is so important. You think it's going to go good and sometimes it doesn't go good, you have to find a way to grind. I always tell people the difference between good and great is your passion and ability to stick with it and keep grinding. To me that's what champions do. They never ever in their mind believe they're not going to get it done. They just keep their foot on the gas and keep going and find a way, it's fun to be involved in a little way from a distance – a little text, a little call, but I appreciate it.
On Hyman's disallowed goal:
I think player safety. I don't even know what the real rule is. I don't know if it's your helmet knocked off or if the goalie knocks it off themselves, I don't know how to answer that.
AUSTON MATTHEWS (1 GOAL)
On winning the second game of a back-to-back:
We've played pretty similar styles, both teams, so there's not a whole lot of space out there. I thought we got skating kind of after the first 10 minutes of the first – kind of got our legs going and able to get in their zone and play heavy down low and kind of get rolling around a little bit.
On scoring tonight after not finding the back of the net last game:
Yeah for sue, me and Willy look at each other like 'finally'. Obviously, we had a lot of chances last game, over the last couple games. Had some pretty good chances tonight. We've had a lot of really good chances but the puck just didn't go in but it's nice to kind of finish it off there with a minute left and be able to win the game.
CURTIS MCELHINNEY (27 SAVES)
On getting back into game action:
It was good. It was a critical game with a big back-to-back situation for both teams so it was good to get out there and obviously come away with it late.
On facing a relentless Detroit team:
Yeah they are trying to make a push right now and we understand that and they were just throwing pucks to the net trying to create some chaos down low and I thought we did a pretty good job overall.
On how Marner and Matthews patience around the net:
Yeah it's tough, you know those guys can make plays out of nothing sometimes. A lot of guys would just shoot the puck in those situations when they get into those areas. For them to hold onto it for an extra second its impressive.
MITCH MARNER (1 GOAL)
On the patience he showed for his goal:
Kind of at that moment I was trying to look for Patty in the slot. I mean obviously a goalie comes out to challenge right away and as soon as he starts sliding you get some holes opening up so lucky enough got it by him.
On if he's able to slow the game down in those moments:
I don't know, obviously you hope for that but I knew there was no back pressure on me there and there was a d man in front of it that kind of had a stick on me. Just kept dragging back, back and back until I thought I had a lane and chance at net.
On Kadri's pass to set up the goal:
We talked about it, we knew that play was open all game long and we wanted to capitalize on their turnovers that time we did.