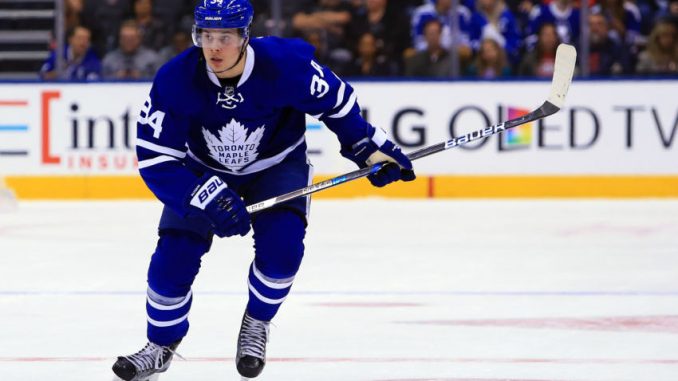 | | | | | | |
| --- | --- | --- | --- | --- | --- |
| | 1 | 2 | 3 | OT | FINAL |
| | 0 | 1 | 0 | – | 1 |
| TORONTO | 2 | 1 | 1 | – | 4 |
GAME SUMMARY | EVENT SUMMARY | FACEOFF SUMMARY

ON THE SCORESHEET
– Kasperi Kapanen opened the scoring for the Maple Leafs at 0:46 of the first period before adding the fourth Maple Leafs goal of the game at 7:45 of the third period. Kapanen has goals (3) and points (3-1-4) in two consecutive games. Kapanen's point streak ties his career-long point streak (2 games – 3x). Tonight's game is Kapanen's first career multi-goal game.
– Patrick Marleau scored Toronto's second goal of the night on the power play at 19:38 of the first period. Marleau's goal is his first of the season. The goal is Marleau's 166th career power play goal, which ties Al MacInnis for 32nd on the NHL's all-time power play goal register.
– Mitch Marner scored the third Maple Leafs goal of the night at 8:32 of the second period. Marner has nine points (3 goals, 6 assists) over his last four games.
– Jake Gardiner registered the primary assist on Kapanen's first period goal and the secondary assist on Marleau's first period power play goal. Gardiner has assists (4) in two consecutive games. His second assist of the first period is his 179th career assist and moves him into a tie with Tom Fergus for 33rd on the Maple Leafs' all-time assist register.
– Auston Matthews picked up the secondary assist on Kapanen's first period goal and later had the primary assist on Kapanen's third period goal. Matthews has points (10-6-16) in seven consecutive games. With two assists tonight, Matthews becomes the fifth player in NHL history to open a season with multiple points in seven consecutive games (Previous: Mario Lemieux, 12 GP in 1992-93; Kevin Stevens, 8 GP in 1992-93; Wayne Gretzky, 7 GP in 1983-84; Mike Bossy, 7 GP in 1984-85).
– Josh Leivo recorded the primary assist on Marleau's first period power play goal. Leivo has points (1-1-2) in two consecutive games.
– John Tavares registered the primary assist on Marner's second period goal. Tavares has five assists over his last three games.
– Zach Hyman picked up the secondary assist on Marner's second period goal. Hyman has registered an assist in five of his last six games.
– Garret Sparks stopped 33 shots to earn his second victory of the season.
SHOTS FIRED
– The Kings had a 34-25 lead in shots on goal in all situations and a 31-20 edge in shots on goal at 5-on-5.
– Los Angeles had a 72-55 lead in shot attempts in all situations and a 59-46 lead in shot attempts at 5-on-5.
– John Tavares each had a team-high five shots on goal and eight shot attempts.
SHOTS ON GOAL
| | | | | | |
| --- | --- | --- | --- | --- | --- |
| | 1st | 2nd | 3rd | OT | TOTAL |
| LOS ANGELES | 9 | 15 | 10 | – | 34 |
| TORONTO | 10 | 8 | 7 | – | 25 |
SHOT ATTEMPTS
| | | | | | |
| --- | --- | --- | --- | --- | --- |
| | 1st | 2nd | 3rd | OT | TOTAL |
| LOS ANGELES | 16 | 34 | 22 | – | 72 |
| TORONTO | 20 | 17 | 18 | – | 55 |
THERE'S NO PLACE LIKE HOME
– The Maple Leafs are 2-1-0 at home this season.
– Toronto's all-time record is 63-64-21-2 in 150 games against the Kings and 39-26-11-1 in 76 games played in Toronto.
– Toronto is 3-0-0 against the Western Conference this season and 1-0-0 against the Pacific Division.
– Tonight's attendance is 19,429.
MAPLE LEAFS LEADERS
| | |
| --- | --- |
| Faceoff Wins | 12 (Tavares) |
| Faceoff Win Percentage | 67% (Lindholm – 2 won, 1 lost) |
| Hits | 6 (Zaitsev) |
| Blocked Shots | 6 (Rielly) |
| Takeaways | 2 (Kadri) |
| TOI | 20:12 (Dermott) |
| Power Play TOI | 2:12 (Four players tied) |
| Shorthanded TOI | 3:54 (Hainsey, Zaitsev) |
| Shifts | 27 (Gardiner) |
| 5-on-5 Shot Attempt Percentage | 63.9% (Dermott – 23 for, 13 against) |
| | |
RECORD WHEN…
– The Maple Leafs were 3-for-3 on the penalty kill and 1-for-2 on the power play tonight. Toronto is 3-1-0 when not allowing a power play goal this season and 4-1-0 when scoring one power play goal.
– Toronto is 2-0-0 when scoring the first goal of the game.
– The Maple Leafs are 2-0-0 when leading after one period and 4-0-0 when leading after two periods.
– Toronto has a 3-0-0 record when outshot by their opponent.
– The Maple Leafs are 1-0-0 in Monday games.
OF NOTE…
– Connor Brown started 16.7 percent of his 5-on-5 shifts in the offensive zone, which was the lowest percentage among Toronto skaters.
– Igor Ozhiganov was on the ice for a team-high 25 Toronto shot attempts-for at 5-on-5. Ozhiganov had a 5-on-5 shot attempt percentage of 61.0 percent (25 for, 16 against).
– John Tavares won 78 percent (7 won, 2 lost) of his defensive zone faceoffs.
UPCOMING GAMES:
– Thursday, October 18, 7:00 p.m., vs. Pittsburgh Penguins (TSN4, TSN 1050)
– Saturday, October 20, 7:00 p.m., vs. St. Louis Blues (Hockey Night in Canada, FAN 590)
– Wednesday, October 24, 7:00 p.m., at Winnipeg Jets (Sportsnet, FAN 590)
– Saturday, October 27, 7:00 p.m., vs. Winnipeg Jets (Hockey Night in Canada, TSN 1050)
– Monday, October 29, 7:00 p.m., vs. Calgary Flames (Sportsnet, FAN 590)
POSTGAME QUOTES:
HEAD COACH MIKE BABCOCK
On tonight's win:
Obviously, a good night for [Sparks], he played much better, which was good. I thought our team was pretty solid. In the second there we took a bunch of penalties and didn't get our people on the ice for a bit, I didn't think were very good at that point in the game but, other than that, I liked us.
On Andersen's status:
He'll be starting on — when do we play next? He'll be starting on Thursday.
On if Andersen was injured in the morning skate:
No, we knew, we just wanted to check. As soon as we knew it was anything we just decided we decided that we were going the other way.
On where Kapanen has grown so far this season:
I don't know – opportunity is one. You've got to be ready for your opportunity in life when it comes along. It's like any job, it's great to get the job, you've got to be able to do a good job. Obviously, his three years previous and the work he has put in, how much stronger he's gotten, more poised, he's taking advantage of it, you've got to give him credit. He's scoring at an unbelievable rate, but he's physical and he's fast and he's tenacious. That line has been good and they were playing against good players tonight. He was good.
On Matthews registering multiple points in seven straight games:
Well, what I liked about Auston tonight is he played head-to-head with Kopitar and he was really good. We're blessed to have a guy that can play with and without it and that size and, now, his skating the way it is. He's a real player, he's just growing, he's just a kid and he's going to get better. He's dangerous when he's on the ice and that line is a good line right now. We're fortunate that we appear to have quite a bit of depth, we're still kind of evolving, trying to figure out how we're going to play everybody, but I think we're going in the right direction.
On Hyman's work to set up Marner's goal:
He's a good player, I say it all the time. An intelligent player. I don't know where – I think he was fourth on our team last year in 5-on-5 scoring and doesn't get to play on the power play and I don't know where he is this year. He generates good offence with the forecheck and heavy play. That line wasn't heavy enough tonight, they didn't spin around in the O-zone like they normally do, but they were still effective.
On what made the difference for Sparks tonight after his season debut:
I don't know, the puck hit him.
On the success of the penalty kill to start the season:
I just think our penalty kill – I think D.J. [Smith] does a nice job with it. We have good scheme, we have good players, Lindholm coming in now gives us another elite penalty killer — real good high, real smart, so that helps out as well. Tavares can take draws for us. I don't even know if I used Mitch [Marner] tonight on the penalty kill or not, to tell you the truth, but he's another one. I probably didn't because he was in the box all night.
On if there's anything he doesn't like about the team:
We just won, everything's good.
KASPERI KAPANEN (2 GOALS)
On his production since joining the Matthews line:
It's not just Auston, obviously he's had a tremendous start to the season, but it's also Patty [Marleau]. Playing with those two, it's amazing, it feels easy and it's just clicking right now. I'm just enjoying it right now and trying to get better day by day. I know we have a couple of notches still left.
On if he tried to bank his first goal off the goaltender and in the net:
I felt like he was scrambling a bit and just decided to throw it at the net. It looks good on paper when you get at least one shot on goal. I got lucky enough that it went in.
On what he saw leading to his second goal:
To be honest, I was just trying to get it to [Matthews]. He's a guy who can really shoot the puck and when Doughty went on the ice there, it felt like he might get it back to me. Auston made a great play obviously, and, just going to my backhand, it was kind of empty there. Good play by him.
PATRICK MARLEAU (1 GOAL)
On his goal:
I saw there was a lot of traffic there in front and he was laying down so, if it didn't hit him, it would have went to [Johnsson] or [Brown] on the backside.
On the feeling of getting his first goal:
It's nice to get on the board and feel like you're contributing a little bit more on the scoresheet. Things have been going really well, I've been getting lots of looks. It's been great playing with those two guys.
On what has impressed him about Kapanen:
Just taking full advantage of the opportunity. He's using his speed to his advantage and getting open and scoring goals and making great plays out there.
AUSTON MATTHEWS (2 ASSISTS)
On Kapanen's game:
I think he's got a lot of skill, obviously he can skate fast. I think every game we've kind of been able to just develop more and more chemistry and found each other. Tonight was a pretty solid night for him, scoring two goals – obviously, that first one to get us started against a really good team at home. It's been fun playing with him
On Sparks' performance:
He was big for us tonight. We played a good team over there, they're good, they're structured, they'll hang on to it, they've got big guys and they'll get rolling around in your zone. It's tough to defend. He made some big saves to keep us in the game and keep our lead. He played great for us tonight. I think there were obviously things we can improve, but we played a pretty good team tonight.
GARRET SPARKS (33 SAVES)
On what allowed him to bounce back after his last start:
I would just say steady work every day since that start, getting more comfortable, establishing a routine here. Getting back to the process that makes me good. Obviously, when you're starting the season on the road in Chicago, Stan Mikita night, there's a lot of stuff buzzing around. It was a really emotional day for me. Today was more I found out I was playing and I prepared myself accordingly.
On when he found out he'd start:
I found out this morning. I just found out.
On if he anticipated playing prior to today:
I wasn't anticipating playing tonight when I went to bed last night, but that's the nature of this position is having to be ready and being able to perform when you're called upon.