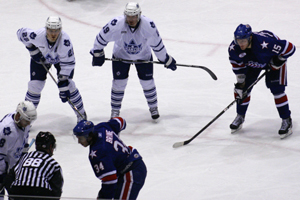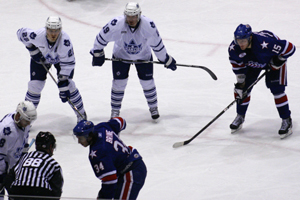 The Toronto Marlies outplayed and outshot the Rochester Americans 40-17, but once again were stymied by goalie Tyler Plante, losing 1-0 in front of 4,048 fans at Ricoh Coliseum on South Asian Cultural Day.
Plante has certainly had the Marlies number this season – the victory gave Plante his third win of the season against Toronto with two of them being shutouts. The Marlies threw more than enough rubber at the Americans netminder but Plante had little trouble stopping all 40 shots he faced.
Rochester opened the scoring mid-way through the first period while on the power-play. Jamie Johnson slid a cross-crease pass to an open Mike York who had an easy tap-in on the open side of the net past Marlies goaltender Joey MacDonald.
Plante Steals Win
The Marlies had several great scoring chances throughout the game were unable to get the equalizer, losing only their second one-goal game this season. The majority of the opportunities were either shots along the ice or directly at the goaltender. Toronto didn't shoot the puck high enough nor did they get enough bodies in front of the Americans net and as a result were unable to get Plante off his game. Rochester did a good job blocking shots and keeping the Marlies players to the outside, allowing Plante to see pucks and make easy saves.
Forward Jay Rosehill thought his team played well but were simply bested by a great performance by Plante.
"We were getting the shots to them and I think we played good in all ends of the rink," said Rosehill.
"It's one of those games where their goalie came up a little bit hot and things weren't bouncing our way but overall I think we played a pretty good game. We just weren't able to solve him tonight with anything we tried."
MacDonald wasn't very busy but made key saves when called upon. He thinks his team simply needs to find a way to score goals and win low scoring games.
"I thought we played well defensively, we didn't give up a lot of shots but we got to find a way," said MacDonald.
"This is the time of year – this was a playoff game like that. You got to win playoff games 1-0, 2-0 or whatever it is, we just got to find a way to score and guys got to pay the price in front of the net a little more. Their goalie was seeing a lot of shots and if he sees it, he's going to stop it."
Toronto has now lost two straight, both being shutouts, and have only scored one goal in their last three games. Toronto now finds themselves 12 points behind Manitoba for the last playoff spot and have a tough task ahead of them if they hope to make the playoffs.
Coach Dallas Eakins thought his team played as well as they could and gave his players positive reinforcement for tonight's game against the Hartford.
"I was worried about their mindset going into tomorrow (tonight). When you lose a game there's a lot of negative feelings and negative thoughts and I didn't want that coming into their heads. If we play like that each and every game down thru the stretch here we will challenge somebody for a playoff spot and they needed to know that. That's about as good as we can play."
South Asian Cultural Day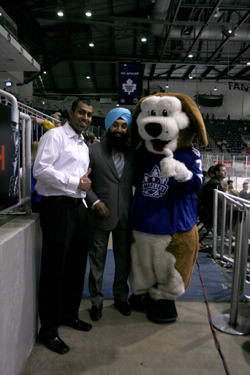 Saturday afternoon's game was also South Asian Cultural Day and featured performances by singer Prita Chhabra and Dhol Circle. Chhabra sang both national anthems and performed one of her songs in the first intermission. Dhol Circle delighted the crowd with their infectious drum beats in the second intermission and in the third period.
CBC's Parminder Singh was also on hand and took part in a ceremonial faceoff prior to the game. Singh is a commentator for Hockey Night in Canada and Toronto Raptors broadcasts in Punjabi.
The Marlies will have little time to dwell on their loss as they get back in action tonight when they host the Hartford Wolf Pack at 4pm at Ricoh Coliseum.
Game's Three Stars
1)
Americans goalie Tyler Plante
2)
Americans forward Jamie Johnson