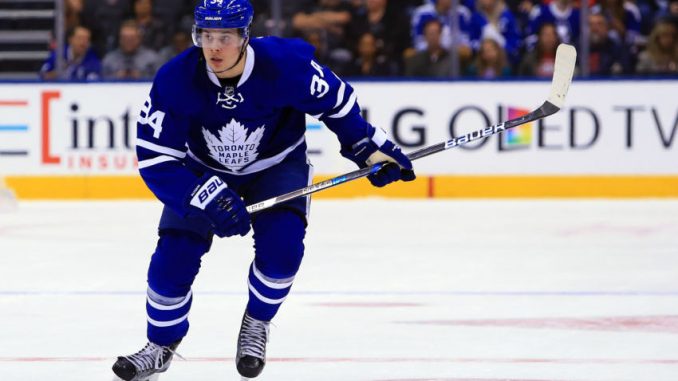 – Auston Matthews put the Maple Leafs on the board at 1:43 of the second period and later had the secondary assist on John Tavares' second period goal. Matthews' second period assist is his 200th career NHL point. According to NHL Stats, he is the third fastest player to reach 200 career NHL points in Maple Leafs history at 204 games played (Charlie Conacher – 197 GP; Syl Apps – 200 GP). Tonight's game is his 21st multi-point performance of the season.
– John Tavares scored the second Maple Leafs goal of the night at 18:32 of the second period and later had the lone assist on Mitch Marner's third period goal. Tavares' goal is his 41st of the season and his 33rd even-strength goal of 2018-19, which leads the NHL. Per NHL Stats, Tavares is the fourth Ontario-born player to register at least 80 points in his first full season with the Maple Leafs (Previous: Doug Gilmour – 127, 1992-93; Dave Andreychuk – 99, 1993-94; Wilf Paiement – 97, 1980-81). Tonight's game is his 24th multi-point game of 2018-19.
– Mitch Marner scored Toronto's third goal of the game at 0:22 of the third period. Marner has four points (1-3-4) over his last five games. In four games against Buffalo in 2018-19, Marner has registered five points (2-3-5).
– Zach Hyman scored Toronto's fourth goal of the night into an empty net at 19:27 of the third period. He has recorded 10 of his 18 goals in 24 games since the All-Star Break.
–
Andreas Johnsson
recorded the primary assist on Matthews' second period goal. Johnsson has four points (1-3-4) over his last five games. He ranks second among NHL rookies in points (20-21-41).
– Jake Muzzin collected the secondary assist on Matthews' second period goal. Muzzin has 15 points (4-11-15) in 25 games with the Maple Leafs and five points (1-4-5) in five games against Buffalo this season.
– William Nylander registered the primary assist on Tavares' second period goal. Nylander has six assists over his last five games. He has 11 career points (3-8-11) in 14 career games against Buffalo.
– Garret Sparks stopped 22 shots to earn the victory.
SHOTS ON GOAL (5-on-5 in brackets)
| | | | | | |
| --- | --- | --- | --- | --- | --- |
| | 1st | 2nd | 3rd | OT | TOTAL |
| | 19 (12) | 19 (18) | 8 (7) | – | 46 (37) |
| BUFFALO | 7 (4) | 8 (7) | 9 (9) | – | 24 (20) |
SHOT ATTEMPTS (5-on-5 in brackets)
| | | | | | |
| --- | --- | --- | --- | --- | --- |
| | 1st | 2nd | 3rd | OT | TOTAL |
| TORONTO | 27 (19) | 35 (31) | 15 (14) | – | 77 (64) |
| BUFFALO | 13 (8) | 14 (13) | 20 (17) | – | 47 (38) |
ON THE ROAD AGAIN
– The Maple Leafs are 22-11-4 on the road this season.
– Toronto's all-time record is 81-104-18-11 in 214 games against the Sabres and 32-64-6-6 in 108 games played in Buffalo.
– Toronto is 26-15-3 against the Eastern Conference this season and 13-8-3 against the Atlantic Division.
– The Maple Leafs swept the season-series with Buffalo for the first time in franchise history, according to NHL Stats.
MAPLE LEAFS LEADERS
| | |
| --- | --- |
| Shots | 7 (Kapanen, Matthews) |
| Shot Attempts | 12 (Kapanen, Matthews) |
| Faceoff Wins | 9 (Kadri) |
| Faceoff Win Percentage | 100% (Hyman, Marleau) |
| Hits | 2 (Johnsson) |
| Blocked Shots | 2 (Hainsey, Rielly, Zaitsev) |
| Takeaways | 2 (Matthews) |
| TOI | 25:25 (Rielly) |
| Power Play TOI | 3:53 (Marner) |
| Shorthanded TOI | 3:20 (Zaitsev) |
| Shifts | 34 (Muzzin) |
| 5-on-5 Shot Attempt Percentage | 71.4% (Holl – 10 for, 4 against) |
| | |
RECORD WHEN…
– The Maple Leafs were 1-for-2 on the penalty kill and 0-for-3 on the power play tonight. Toronto is 17-8-3 when allowing one power play goal this season and 22-18-5 when not scoring a power play goal.
– Toronto is 15-19-3 when their opponent scores the first goal of the game.
– The Maple Leafs are 9-14-3 when trailing after one period and 34-0-1 when leading after two periods.
– Toronto is 18-12-0 when outshooting their opponent.
– The Maple Leafs are 7-3-1 in Wednesday games.
OF NOTE…
– Toronto had a plus-22 shot differential in all situations tonight, which is tied for the team's third-highest shot differential of the season.
– Ron Hainsey was on the ice for a team-high in Toronto shot attempts-for at 5-on-5 (32). Hainsey had a 5-on-5 shot attempt percentage of 65.3 percent (32 for, 17 against).
– Toronto's line of Zach Hyman, Mitch Marner and John Tavares started 40 percent of their 5-on-5 shifts in the offensive zone, which was the lowest percentage among Toronto skaters.
– John Tavares won 75 percent (6 won, 2 lost) of his defensive zone faceoffs tonight.
UPCOMING GAMES:
– Saturday, March 23, 7:00 p.m. vs. New York Rangers (Hockey Night in Canada, FAN 590)
– Monday, March 25, 7:00 p.m. vs. Florida Panthers (TSN4, TSN 1050)
– Wednesday, March 27, 7:00 p.m. at Philadelphia Flyers (Sportsnet, FAN 590)
– Saturday, March 30, 7:00 p.m. at Ottawa Senators (Hockey Night in Canada, TSN 1050)
– Monday, April 1, 7:00 p.m. at New York Islanders (Sportsnet Ontario, TSN 1050)
POSTGAME QUOTES:
HEAD COACH MIKE BABCOCK
On tonight's performance:
Well, I thought we played real well last night and weren't rewarded in the end. I thought we played real well here tonight and were rewarded. So, you know, I like that we played hard and did things well and stuck together and played the right way.
On Matthews' puck possession tonight:
I thought he was real good. I thought we had lots of real good players tonight, though. I thought Johnsson played a real strong game with that line too, I thought Willy [Nylander] was good. So, we had lots of good players tonight and we had lots of guys jumping around from the get-go. Obviously, it's an important win for us. You want to get back on track, it hadn't gone as good here this last while as we'd like to. We'll go from there.
On what separates Matthews when he is dominant:
I just thought he skated and he was real determined. I thought he was real good defensively and real good offensively and, in the end, I thought it was a real positive thing.
MITCH MARNER (1 GOAL)
On the performance tonight:
I mean, I think you saw the shots, we had a lot of shots on net, we had guys there, we had a lot of great opportunities. I think, defensively speaking, we didn't give up many odd-man rushes, we were coming back hard and I think we were making it hard to get through the neutral zone. That's something we've got to just keep doing.
On tonight's start to the game:
We were happy with how we played in Nashville, we wanted to start again fast, we wanted to get on them right away. I thought we did a very good job of that, made it hard on them to get out of their zone. I think all four lines played down low very well, played heavy with the puck and got the puck to the net. Like I said, that's something we've been focused on recently and something we wanted to be better at. I think the last two games is something we can take going forward and keep working at it.
On what the last two games do for the group:
I just think it brings us back to our confidence we need. It brings us back to the team we know we can be and I think last week our confidence was a little low, we were giving up too many rushes, we were giving up too many chances. We kind of talked as a team, we sat down and realized, if we're working, how hard we can make it on teams. The last two games we've done a good job of that.
AUSTON MATTHEWS (1 GOAL, 1 ASSIST)
On the way the team generated offence tonight:
Yeah, it's been dirty goals. I think just the way it's been going for us, sometimes you've just got to get to the net and it's going to go off a skate or go off a shinpad and fall there for you. Obviously, a really good bounce on that second goal and even the first one. Kind of the little bounces we needed tonight, but I thought from start-to-finish we played really well and played a pretty complete game despite giving up the first goal. The first two periods, we were dominant, getting shots to the net. We kind of let our foot off the gas a bit in the third, but we finished out strong.
On if he felt extra motivation to make a statement tonight:
Yeah, I mean, it sucks losing. You never want to lose and, obviously, the little slump we've been in lately, it's frustrating for everybody. You try to stay positive, but obviously it's getting towards the end of the season and you want to make sure your game is kind of peaking at this point individually and as a team. I think everybody was prepared tonight, despite the back-to-back. Everybody came out flying and we skated really well. Obviously, it was a big two points for us.
GARRET SPARKS (22 SAVES)
On facing so few shots early on in the game:
It's always difficult when your team plays so well that they are shooting at a rapid pace and you're not seeing much action. You just have to stay engaged and stay focused and, you know, I had a lot of experience with that last year with the Marlies. We were a possession team and there were stretches of time where I didn't see the puck that much. It's something I guess I'm conditioned for and I just want to be here for this team to make the saves when I need to make them.
On if he felt more pressure heading into tonight's game:
No, I think I actually felt less. I just wanted to go out and play my game, I had a great morning skate in Nashville and I just wanted to carry that momentum over to the game and play a little looser, a little more energetic. I just let my game do the talking.
JOHN TAVARES (1 GOAL, 1 ASSIST)
On grinding out the win in the third period:
I think we may have lost a little bit of our jam, but certainly, I think, under the circumstances, we understood just try to make it difficult for them. We don't want to get caught chasing numbers, chasing bodies. So, just stay above them, make them come 200 feet, make them have to really earn their ice, earn getting to the middle and coming into our zone. Obviously, when we have an opportunity to sustain pressure in the offensive zone, we want to do that, we haven't at times. Other than that, just good poise and staying with it and, overall, a really good win for us.
On the team's fast start tonight:
Well, I think some of our habits, some of the positives really started to come back over practice on Monday and you could see it last night, some better things, and the way we were just on our toes and putting pressure on the opponent. That's what we do well is when we're playing quick, we're executing, good puck support all over the ice and we're getting it up the ice quick and putting the opponents in a tough spot. No time and space, under pressure to make plays. That allows us to have zone time, puck possession and good quality chances.