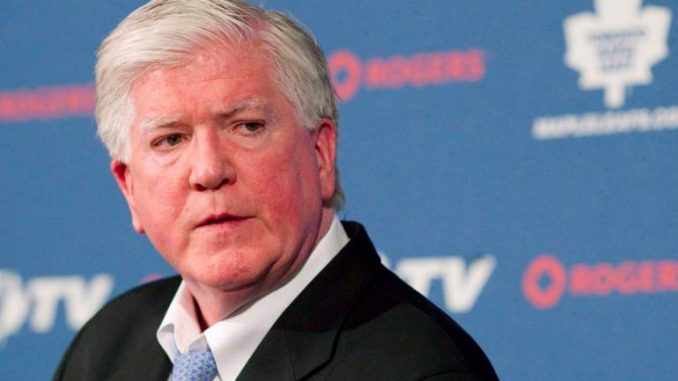 Brian Burke, the former president and GM of the Toronto Maple Leafs, is currently the No. 1 favourite to be Don Cherry's successor on "Hockey Night in Canada," according to a popular sports betting site.
The site SportsBettingDime.com has revealed odds on various candidates to replace Cherry. Yesterday, Cherry was fired yesterday by Sportsnet for his "you people" rant about immigrants not wearing poppies. His rant happened Saturday on his "Coach's Corner" segment of Hockey Night in Canada.
Burke is currently an analyst at Sportsnet. An American-Canadian, Burke is the 3-2 favourite (you must bet $2 to win $3) to appear on Cherry's longtime "Coach's Corner" segment (will it be renamed?) on Saturday.
As for becoming the full-time replacement, Burke is listed as the 5-4 pick.
Veteran hockey writer Ken Campbell writing in The Hockey News argues that it's time for Burke to replace Cherry.
Burke's most recent job was president of hockey operations for the Calgary Flames. Most notably, Burke was the president and general manager for the Toronto Maple Leafs, where he advocated a "truculent" style of play. He's also been the GM of the Anaheim Ducks (winning the Stanley Cup in 2007), the Vancouver Canucks, and the Hartford Whalers.
Burke, a graduate of Harvard Law School, was also GM for the United States national men's ice hockey team for the 2010 Winter Olympics in Vancouver,[2] and is a member of Rugby Canada's board of directors.
No announcement has been made by Sportsnet regarding the fate of, and possible host for, the popular Coach's Corner, or whether or not they plan to keep it as part of the first-intermission entertainment on HNIC.
READ: Mississauga Mayor Slams Don Cherry's "You People" Remarks
Burke has never been an NHL coach.
Sportsnet hockey commentators Kelly Hrudey, Colby Armstrong and Craig Simpson are among the other betting favourites for Cherry's job, according to Canadian Press.
SportsBettingDime.com is also taking odds on what Cherry's next career move is. Working for another media organization the favourite.
There's been some speculation that Cherry might move into politics. He's popular with Ontario Premier Doug Ford and the Conservative party, and has supported the Ford family politically.
Canadian Press says Cherry is listed as a 2,000-1 pick to join the NDP.