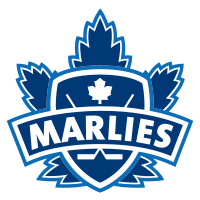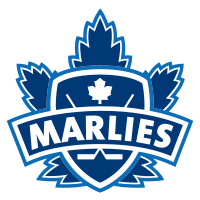 The Toronto Marlies defeated the San Antonio Rampage, AHL affiliate of the Florida Panthers, by a score of 4-1 tonight at Ricoh Coliseum.
After Jared Gomes gave San Antonio an early 1-0 lead, Toronto Captain Ryan Hamilton recorded his 11th goal of the season and 75th as a member of the Marlies. With the goal, Hamilton moved past Jeremy Williams into first place on the all-time Toronto Marlies goal scoring list. Carter Ashton's sixth goal of the season gave Toronto a 2-1 lead at 9:16 of the second period. Mike Kostka would register another tally before the end of the middle frame giving the Marlies a 3-1 advantage. Paul Ranger recorded the only goal of the final period on a powerplay at the 18:17 mark to secure the win for Toronto.
The Marlies return to the ice tomorrow afternoon for a 3 p.m. game at Ricoh Coliseum against Canadian rival St. John's, AHL affiliate of the Winnipeg Jets. Tickets are still available and can be purchased by calling the team's ticket line at 416-597-PUCK (7825).
Toronto Goal Scorers: Ryan Hamilton, Carter Ashton (GWG), Mike Kostka, Paul Ranger
San Antonio Goal Scorer(s): Jared Gomes
Game Notes
– San Antonio outshot Toronto 31-15
– Ben Scrivens earned the victory, while Jacob Markstrom took the loss
– Toronto went 1-for-5 on the powerplay and 5-for-5 on the penalty kill