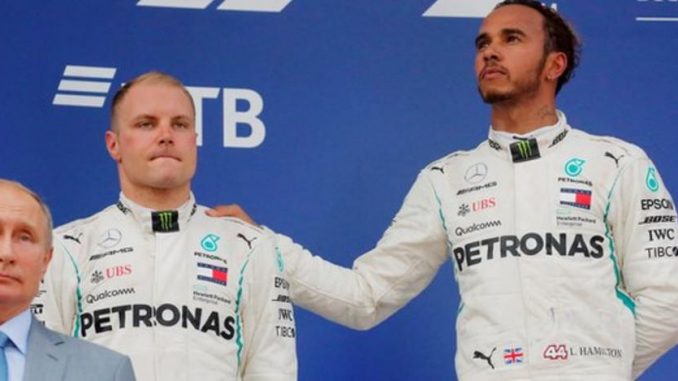 Lewis Hamilton took a giant step towards a fifth world championship with victory in the Russian Grand Prix.
Hamilton benefited from team orders as Mercedes told his team-mate Valtteri Bottas to let him by at half distance to protect against rival Sebastian Vettel.
But Hamilton had to pass Vettel on track to get into a position to benefit from the orders after being passed at the pit stops.
The Briton is now 50 points ahead in the title race with a maximum 125 still available in the remaining five races.
Bottas led away from pole position, and the Finn's slipstream enabled a slow-starting Hamilton to fend off Vettel's attack into the first corner.
Hamilton was struggling with his tyres, which were developing small blisters, and Mercedes were worried about Vettel being right behind him.
So Bottas was ordered to move out of the way at Turn 13 on lap 25, and Hamilton assumed second place.
Bottas was not a happy camper , saying over the radio that he had been preparing a move on Verstappen on the next lap – which did not sound very credible given the nearly two-second gap.
In the closing laps, Bottas asked whether they were going to finish in these positions and was told: "Affirm. We will talk about it afterwards."
RESULTS
1 Lewis Hamilton Mercedes
2 Valtteri Bottas Mercedes
3 Sebastian Vettel Ferrari
4 Kimi Raikkonen Ferrari
5 Max Verstappen Red Bull
6 Daniel Ricciardo Red Bull
7 Charles Leclerc Sauber
8 Kevin Magnussen Haas
9 Esteban Ocon Force India
10 Sergio Perez Force India
11 Romain Grosjean Haas
12 Nico Hulkenberg Renault
13 Marcus Ericsson Sauber
14 Fernando Alonso McLaren
15 Lance Stroll Williams Canada
16 Stoffel Vandoorne McLaren
17 Carlos Sainz Jnr Renault
18 Sergey Sirotkin Williams
R Pierre Gasly Toro Rosso
R Brendon Hartley Toro Rosso