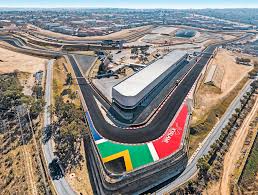 Formula One is "having conversations" over staging a Grand Prix in South Africa, according to Sean Bratches, the Global Formula One managing director of commercial operations.
Bratches revealed that Formula One has received a level of interest in hosting a Grand Prix which "far exceeds the number of chairs at the table", and said that a return to Africa for the first time since 1993 could be on the cards.
"South Africa is very interesting to us and we're having conversations there," said Bratches. "[It's] obviously a complicated political market, but something would be the last habitable continent that we're not racing on, so that's something of high interest."
Potential F1 Miami GP looks to Hard Rock Stadium
The Formula One calendar currently features 21 races across five continents, and next year will include a Grand Prix in Hanoi, Vietnam, marking the first race to be added since Liberty Media's takeover of the series.
In terms of future potential Grand Prix hosts, Formula One has made no secret of its desire to bring an additional US race to Miami despite being hit by a number of setbacks. Bratches also told the AFP news agency earlier this month that the series is in talks over a second race in China that would be staged on the streets of Beijing.
"There's opportunities all around the world," Bratches added during an in-depth discussion at SportsPro Live. "We are in a position where the demand is giving us the ability to drive price and be selective. I think as we look at this we're trying to create diversity between Europe, between the Americas, between Asia. We want to go to and race in locations that align with our brand."
Bratches also said that he believes Formula One's growing calendar has given the series an advantage from a commercial perspective because of its global footprint, something which he claims can only be rivalled by the Fifa World Cup and the Olympics.
"The global aspect of the sport I think is really important, and it's one of the things I think really differentiates us in the marketplace," Bratches said. "We look at the World Cup, the Olympics and Formula One as the three truly global sports, but we're the only one that happens every year, we happen in 21 different countries, five continents, where the other two happen once every four years in one country.
"I think in a world – from a commercial standpoint – that is really global in nature, brands are interested in going global, so we're a great platform for them, and we're making that platform better."