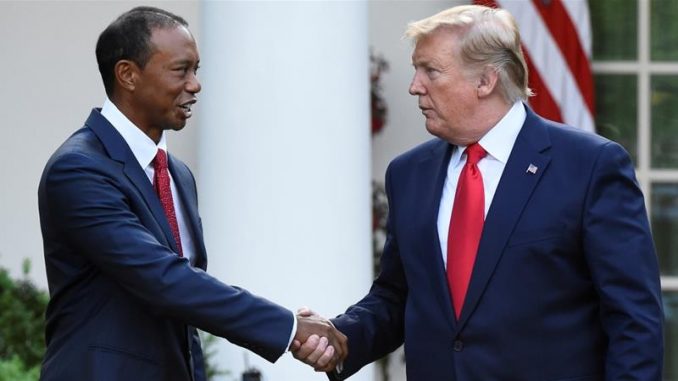 US President Donald Trump has awarded golfer Tiger Woods the country's highest civilian honour, describing the 43-year-old as a "true legend" who transformed golf and then fought through years of injury to return to the sport's summit.
Woods was presented the Presidential Medal of Freedom at the White House on Monday, as he became the fourth and youngest golfer to receive the prestigious award.
Trump announced last month that he would honour the star golfer with the medal, a day after Woods won a fifth Masters title, ending an 11-year major title drought having overcome personal and professional setbacks, including a highly-public divorce and multiple surgeries.
An emotional Woods thanked those in attendance at the Rose Garden ceremony for their support through the years when he was not winning.
"You've seen the good and the bad, the highs and the lows, and I would not be in this position without all of your help," he said after Trump placed the medal around his neck.
"The amazing Masters experience I just had a few weeks ago certainly is part of the highlight of what I've accomplished in my life on the golf course."
Trump, an avid golfer, described the 15-times major champion as "a global symbol of American excellence, devotion and drive".
Woods joined Arnold Palmer, Charlie Sifford and Jack Nicklaus as the only golfers to have received the award.
Nicklaus, whose record 18 major wins Woods is chasing, congratulated his compatriot.