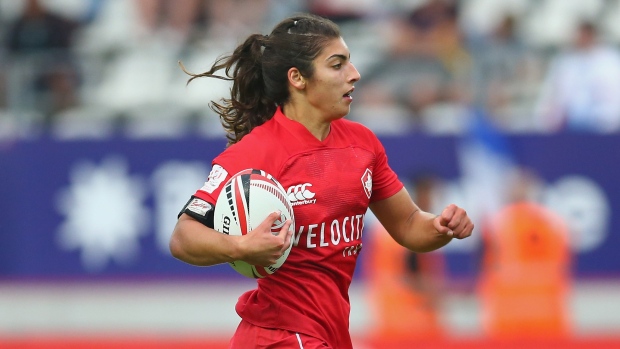 PARIS — Canada's women's rugby sevens team beat host France 17-10 on Sunday for the bronze medal at the HSBC Paris tournament while the Canadian men placed fourth after a 38-5 loss to New Zealand.
Bianca Farella scored two tries and Ghislane Landry and Charity Williams had the others on the women's side.
Mike Fuailefau had Canada's lone try for the men, who equalled their season-best result of the World Series with fourth place.
The Paris event is the last stop for both the men and women on the HSBC World Rugby Sevens Series. Teams will now gear up for the Rugby World Cup Sevens in San Francisco in July.
The New Zealand women won in Paris, defeating rival Australia 33-7 in the final. But Australia took the season crown with 92 points ahead of New Zealand (90), France (68) and Canada (60).
The Canadian women had finished third in the World Series four times in the previous five seasons. It was runner-up the other year.
They came to Paris tied for fourth in the season table with the United States on 44 points. Australia topped the table with 74 points, ahead of New Zealand at 70 and France at 54.
Canada beat the U.S. 26-24 in the quarterfinal Saturday, ensuring a finish ahead of the Americans in the standings.
The Canadians dropped a 34-7 decision to New Zealand in Saturday's semifinal, taking them out of contention for gold.
South Africa beat England 24-14 in the men's final, moving past Fiji to claim the season crown with 182 points. Fiji was second (180) and New Zealand third (150).
The Fijians came into Paris having won 25 games in a row. But they could only go 3-2-0 in Paris.
Fiji won five of the 10 events, with South Africa taking two. But the Blitzboks were more consistent, reaching the podium eight times.
Canada's men placed ninth in the final standings, thanks to quarterfinal appearances in London and Paris — the final two stops. The men finished eighth in 2016-17, 13th in 2015-16, ninth in 2014-15 and sixth in 2013-14.
The Canadian men advanced to the semis with a 19-5 win over Ireland in the Cup quarterfinals earlier Sunday, then lost 26-12 to England to fall to the bronze-medal match.
Nathan Hirayama had a try and two conversions to lead the Canadian squad against Ireland.
The men also finished fourth in Cape Town, losing to host South Africa in the bronze-medal game in the second stop of the Series.
They placed 11th in Dubai, 13th in Sydney, 11th in Hamilton, New Zealand, 10th in Las Vegas, 14th in Vancouver, 10th in Hong Kong and 10th in Singapore (where it won the previous season).
This season, the Canadian women were fourth in Dubai, third in Sydney, Australia, 11th in Kitakyushu, Japan, — where injuries played havoc — and fifth in Langford.