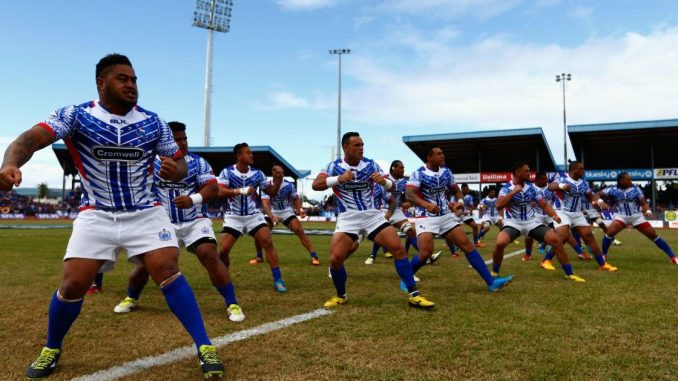 Manu Samoa players have been put on notice by their Prime Minister, as they prepare for Saturday's Rugby World Cup playoff game against Germany.
The Germans stagger into the home-and-away elimination series, after finishing bottom of their European qualifying pool, but were promoted over Belgium, Romania and Spain, when those teams were penalised for fielding ineligible players.
That Germany into a European playoff against Portugal, which they duly won 16-13 to set up the clash with Samoa.
No wonder Samoan Prime Minister Tuilaepa Sailele Malielegaoi has warned his team they should resign en masse if they can't beat the minnows of world rugby.
"You have no guts," Malielegaoi apparently told the team recently.
"You played 10 games and you lost in all of those 10 games, what does that tell me – you have no guts. That is what I said to them," he recounted to the Samoan parliament.
"I said, if you don't win this game then you all have to resign from the team."
Just five years ago, Manu Samoa reached their highest-ever world ranking of seventh, but they've since tumbled 10 spots to 17. They haven't won an international game since defeating Canada 25-23 in November 2016.
Samoa lost both their Pacific Nations Cup this month, falling 24-22 to eventual winners Fiji and 28-18 to acrhrivals Tonga.
Germany currently sit 29th on world rankings, ahead of just Chile and just behind Kenya.
The first leg of the playoff is scheduled for Saturday afternoon in Apia, with the return game set for July 14 at an unspecified German venue.
The winners land in a World Cup pool that already features Ireland, Scotland, Japan and Russia. The losers have yet another chance to advance through a repechage that would include Canada, African qualifiers and either Cook Islands or Hong Kong.
The winners of that repechage will face the All Blacks, South Africa, Italy and the top African qualifiers.