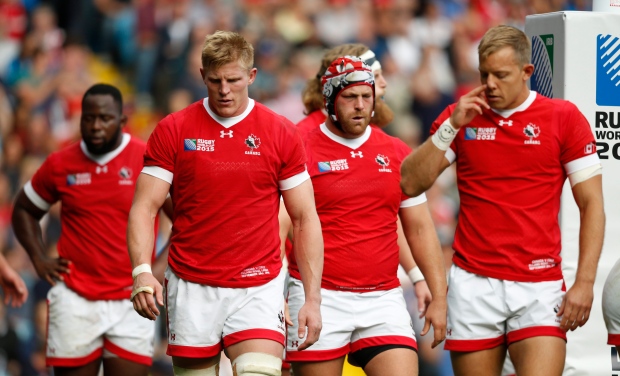 Can Canada do to Argentina in rugby what it had done to it in hockey by Germany?
The theory goes Canada can send less than its best internationally in hockey and still win sans NHLers. But Germany put paid to that in the 2018 Pyeongchang Winter Olympics with a major upset in the semifinals.
Argentina sends its national B team to the Americas Rugby Championship because its full national side, the world top-10 Pumas, would overwhelm the competition. But that hasn't stopped Argentina XV from leading the ARC standings at 3-0 heading into tonight's game at 7 at Westhills Stadium against Canada (1-2).
Canada would be hard-pressed to beat the Pumas. But can it pull off the upset against Argentina's B side? That, too, is a hard ask. Yet, remember Germany-Canada in hockey at Pyeongchang.
"We have to be confident but we know we face a big challenge against Argentina XV," warned Canada head coach Kingsley Jones.
"We have to be on the money all the time. We can't lose concentration."
Jones pointed to home-field advantage in Langford as possibly being pivotal: "We are at home, where our crowd was a big help to us last week [in a 56-0 ARC victory over Chile]. We'll test Argentina away from their home."
That is also on the mind of Argentina XV head coach Ignacio Fernandez Lobbe: "We've come from 39 degrees to zero degrees. There was snow when we played up here two years ago. Hopefully, there's not snow [tonight]."
Lobbe played pro rugby for Sale in Wales under Jones.
"[Jones] has done a really good job in Canada." said Lobbe.
"We [scouted] the game and Canada played quick rugby against Chile."
The task gets a lot harder for Canada tonight.
"We want to develop young players to go up to our national team," said Lobbe, of his Argentina XV lineup.
Canadian captain Lucas Rumball knows the hosts will be in tough tonight.
"Argentina plays fast with a lot of trick plays off the lineouts and scrums," said Rumball, who will start at flanker.
"We have to expect the unexpected. But the boys are excited. Our crowd was unreal last week against Chile. The noise they make definitely keeps us going throughout the game. Hopefully, we'll see another sold-out crowd [tonight]."
Westhills Stadium is undergoing an expansion to 6,000 seats for future rugby Tests and also Pacific FC of the pro soccer Canadian Premier League. Because of the construction, only the old main grandstand is available for the ARC matches. The grandstand, seating just over 1,000, was full against Chile. Rugby Canada says only about 100 tickets remain for tonight's game against Argentina XV and advises fans to buy them online at rugby.ca rather than waiting until arriving at the gate. The game will be broadcast live on TSN5.
Argentina is 3-0, the U.S. and Uruguay 2-1, Canada and Brazil 1-2 and Chile 0-3 in the ARC standings.
Canada, missing its overseas pro players, began the ARC with tight road losses to Uruguay at the final whistle in Montevideo and 18-10 upset to Brazil in Sao Paulo. Those were certainly a letdown for Canada after the high of beating Kenya, Germany and Hong Kong to win the last-chance qualifier at Marseille in November to earn the 20th and final berth into the 2019 World Cup this fall in Japan.
"It's way better playing rugby with wins," said Rumball, referring to last week's victory over Chile.
Canada closes out the ARC against the U.S. next Friday in Seattle. That's a grudge match in the wake of the U.S. drubbing of Canada in the direct North American qualifier for the 2019 World Cup in 2017 at San Diego.