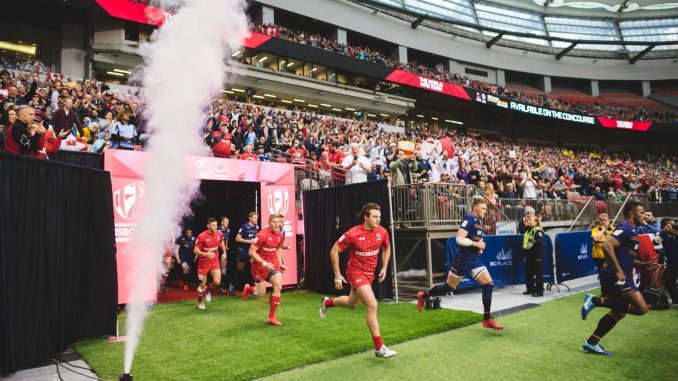 Canada finished a disappointing 10th in the HSBC Canada Sevens at B.C. Place, falling to Australia in the Challenge Trophy final.
Another year, another disappointment and another Canada Sevens where the home team did a lot of things well, including a thrilling upset of Fiji and a big comeback win over Scotland, but in the end, it was a terrible performance in the weekend's opening match against Samoa that settled the whole story and outcome.
The Canadians lost that first game, then bounced back to post wins over Fiji and Kenya, but still found themselves playing on the consolation Challenge Trophy side of the draw on Sunday.
They showed well on Sunday, first thumping Spain, then getting that fan-pleasing win over Scotland.
It all set up a final against Australia. The Australians hadn't found themselves on this side of the draw yet this season, a statement about the usual standard that they play to.
In beating Canada in the Challenge Trophy final and earning ninth place, they showed why they usually aren't in this spot. On the other side of the coin, the Canadians were a team who simply hit the depth wall.
Prior to the HSBC World Rugby Sevens Series kicking- off Rugby Canada had to deal with a player boycott by thirteen players including co-captains Nate Hirayama and Harry Jones.
The two sides had been at odds since Rugby Canada announced in early August that it would have one centralized player pool rather than separate sevens and 15s squads.
The sevens players were upset at changes in their player contract — for example, their appearance bonus for playing in the hugely successful Canada Sevens in Vancouver dropped to $500 from $5,000 in the original offer. Appearance fees and performance bonuses have been renegotiated. Rugby Canada stepped up, now its time for the Sevens players do the same!