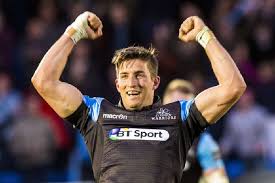 DTH VAN DER MERWE may not be playing for Glasgow Warriors when they line up the PRO14 semi-final, having been sidelined with a shoulder injury, but he has another exciting date to look forward to with Canada's World Cup campaign in Japan looming in the autumn.
Van der Merwe, who hails from Worcester in the Western Cape in South Africa before his family emigrated to Canada, is driven by an insatiable desire to feature in his side's clash with the Springboks in Kobe in October.
"I'm really excited about that. It's been my dream to play against South Africa," said the Glasgow wing. "It was always my dream to play for South Africa as a youngster. Well, this year, I got the chance to play in South Africa against the Cheetahs and the Kings.
"Having the opportunity to play against South Africa is going to be a big day for myself and my family. There's going to be a lot of friends back in South Africa who are going to be watching it, so I'm excited about that opportunity. I just hope I'm fit and stay healthy until then.
"It's my fourth World Cup. It is special. It comes around every four years, like everyone knows, but there's a lot of luck and everything has to match up – you have to be fit, you have to be on form to qualify.
"I've been dealt this card with the shoulder but now I've got to do everything I can to be fit for the World Cup. It could be the last one I play. It's something that I don't want to miss. I've been working really hard with the Glasgow staff to try and get there in September."
Although he won't play any further part in Glasgow's bid for glory in the PRO14 Final Series, Van der Merwe is right where he wants to be. After playing in Wales with the Scarlets and with Newcastle Falcons, the Canada star returned to Scotstoun just over a year ago. For the 32-year-old, there's no place like his adopted home.
"It's amazing. It's tough to put into words how much it [returning to Glasgow] meant to me. When I heard that both teams were happy to go ahead with it, you had to pinch yourself. I couldn't believe it was happening again. Not only for myself, but for my wife [Gill] as well.
"She came over from the start with me, from Canada, and we've grown to have Glasgow as our second home. I've actually lived in Glasgow for longer than I've lived in Canada! It's very much part of me.
"It's a special club, and it was tough to leave when I did – although I'm happy I did to experience something else – but now I'm over the moon to be back in Glasgow. This is the place I'm the happiest and I feel like I play my best rugby here as well.
"I fully believe that the boys can win it [the PRO14] this year. There's a special buzz in the squad. We had a special buzz in 2015 when we did win it.
"I think there's a good mix of young and old in the team to just steady the nerves when it comes to the big games but then there's also some of these youngsters that are playing with absolutely no fear."