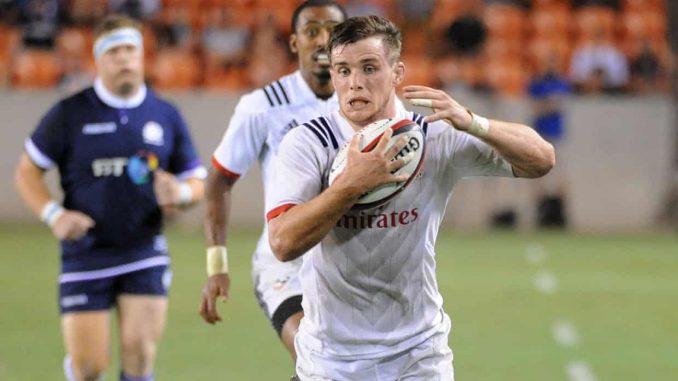 The USA crushed Canada 47-19 in their Pacific Nations Cup opener in Glendale, Colorado on Saturday.
Dylan Fawsitt got the scoring started for the Eagles when he made it over the line on the back of the rolling maul to the delight of a sell-out crowd at Infinity Park.
Winger and captain Blaine Scully, until recently with Cardiff, dotted down in the corner for the second try after a chip through by the Bedford full-back Will Hooley in the 24th minute. Sale fly-half AJ MacGinty's excellent place-kicking helped the Americans to a 20-0 halftime lead.
Canada hit back with an interception try from Chiefs back row Tyler Ardron and captain, but Canada never seriously threatened a comeback against a strong Eagles side.
Canada had two more second-half tries, a penalty try awarded at the scrum and a score at the death from the winger Conor Trainor.
However, Canada did show some good signs of running back play and strong forward play as a unit pushing the USA pack several times.
Both teams now travel on to Fiji for the final two rounds of the tournament, which also includes the Fijians, Samoa, Tonga, and Japan.
Canada may have the chance to reverse their loss against the USA in Vancouver before the World Cup kicks-off in a one-off Test.
The American victory in Colorado, was the 10th over Canada in 11 games, is the latest indication that rugby is maturing in the US – the match-day squad in Glendale had a heavy presence from Major League Rugby, the professional competition which has completed two seasons.
In fairness to Canada, they had only assembled as a team two weeks ago compared to the Eagles who have been in camp for over a month. Kingsley Jones, coach of the Canadians has his work cut out for him for the rest of the Pacific Cup games and preparing the side for the RWC in Japan. At times the Canadians lost their game plan, there were too many basic mistakes and made more turnovers than an apple tart bakery. Ball retention is a must in the game today.
Nonetheless, the team will have their work cut out with a tough schedule, in Pool B with world champions New Zealand, South Africa, Italy, and Namibia.