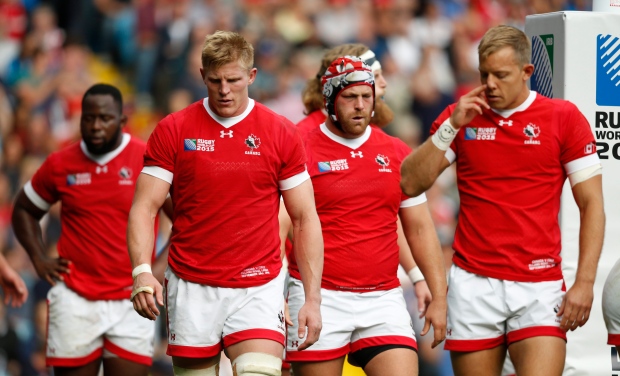 Canada's rugby sevens teams are taking home medals from the 2019 Pan Am Games, but only one team was able to defend the title they won on home soil at Toronto 2015.
Canada beat the U.S. 24-10 in the women's final, thanks to a hat-trick of tries from Toronto's Asia Hogan-Rochester, while Breanne Nicholas of Bienheim, Ont., added another and two conversions.
Captain Kayla Moleschi says couldn't have asked much more from her team, who only surrendered two tries all tournament.
"Our resilience all weekend was pretty incredible — keep chasing them back and putting them down, and get turnover. USA got two on us, but that's OK," she says with a laugh.
Toronto's Josiah Morra started the Canadian men off with a 5-0 lead in their gold-medal match but Argentina roared back with 21 unanswered first-half points on the way to a 33-10 victory.
Head coach Henry Paul says Pan Ams are critical to grow their program.
"We have to find people to fill those spots and when are they going to get that experience? Tournaments like this," Paul says. "We're trying to grow extra numbers and high-level events like this is where they learn."
The women were also without the services of veterans like Ghislaine Landry, Brittany Benn and Karen Paquin. Those are some big-time athletes, but Morgan Williams, head coach of the Canadian women's Pan Am team, says the results prove that the talent pool available to Canada runs deep.
"We're very happy with our depth and where we are. Of course we're not just sitting on our laurels, we're canvassing the county looking for athletes, [and] not just rugby athletes," Williams says. "We're looking for the best athletes and see if we can bring them in and convert them.
Pan Ams were also a chance for players to experience what it's like competing at a major, multi-sport Games, as both men's and women's teams have already qualified for Tokyo 2020.
"We're using these games as a stepping stone," Hogan- says. "Our goal is 2020, so we're just taking it one tournament at a time. We were going for gold here, and we got it, and we want to keep up that intensity."