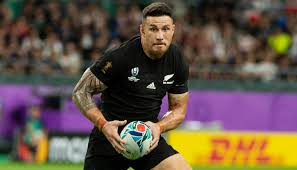 Today, it is confirmed that the Toronto Wolfpack has signed New Zealand Rugby superstar Sonny Bill Williams to a two-year contract for the 2020 and 2021 seasons. Williams' signature comes on the back of the Wolfpack's biggest year in the team's very short history, one that saw the Wolfpack achieve their five-year goal of Super League promotion two years early. Williams will now be part of the squad that sets their sights on the Northern Hemisphere's premier Rugby League competition in 2020.
Sonny Bill Williams had this to say about the next stage in his professional career:
"Toronto Wolfpack is a club that represents Toronto which is a very multicultural city. The club has big ambitions and big goals. I want to be part of all this and do all I can to help reach those lofty goals. On the field I'd like to bring high quality play and do all I can for the betterment of the team. Off the field I'd like to use my experience to mentor the young players and be helpful where I am needed. Super league will be a new challenge and one I'm looking forward to. It will be a new experience and one I'm ready to embrace."
A proven performer at the highest levels of both Rugby League and Union, Williams has just taken part in his third Rugby World Cup with New Zealand. One of only twenty players to have won multiple World Cups, he was a crucial part of the All Blacks teams that triumphed in the 2011 and 2015 tournaments. The towering Kiwi will assume his duties with the Wolfpack after a period of rest and recovery following New Zealand's recent third place World Cup finish.
Bob Hunter, Toronto Wolfpack Chairman and CEO spoke in the wake of the momentous signing:
"The excitement he will bring to the sport of rugby league in this country will be incredible. Having someone of his talent join the Wolfpack will greatly raise the profile of the club, and also help move the game forward globally. Sonny is a phenomenal athlete and we believe he is rugby's LeBron James and his addition to our league is comparable to when David Beckham joined LA Galaxy. "
Toronto Wolfpack Head Coach, Brian McDermott, added these words to the announcement:
"We have signed one of the highest profile rugby players, if not sports stars in the world and he will enhance the world of rugby in Toronto and certainly push the brand of the Wolfpack onto another level. The main point of excitement for our club is that we are signing a great Rugby League player who has the hunger to be successful in Super League much as he was in the NRL and Rugby Union."
The Mayor of Toronto, John Tory, notes the significance of adding this prominent sports figure into the city's community with this sentiment:
"Today's news is another huge win for our Toronto Wolfpack. Sonny Bill Williams is one of the best rugby players in the world and we welcome him to Toronto. Our city is proud of the success of this team so far and we're ready to keep cheering them on in the Super League."
Toronto City Councillor, Mark Grimes, a proud Wolfpack supporter since the Club's inception provided these words to the exciting news:
"Signing Sonny Bill Williams to the Wolfpack roster marks another exciting occasion for rugby fans in Toronto. The Wolfpack achieved something exceptional when they advanced to Super League, helping to put Canadian rugby on the map. SBW is a world class player who brings a wealth of experience to this championship team as they prepare to compete at the next level. This is truly an exciting time to be a Wolfpack fan."
The final words come from the current head coach of the Australian National Rugby Team (Kangaroos), Mal Meninga, who is regarded by most as one of the greatest players in the sport's history added his thoughts on what the signing of Sonny Bill Williams represents for The Wolfpack:
"Sonny Bill Williams will provide an immediate impact for rugby league in the Northern Hemisphere and for the development of rugby in North America. When the Kangaroos tour England in 2020 – we will look forward to playing a warm up game against the Wolfpack as it would create a lot of excitement for the sport."