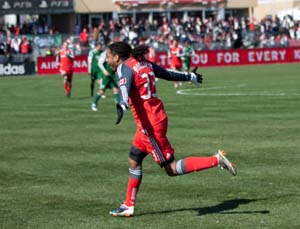 This article was last updated on April 16, 2022
Canada:

Oye! Times readers Get FREE $30 to spend on Amazon, Walmart…
USA:

Oye! Times readers Get FREE $30 to spend on Amazon, Walmart…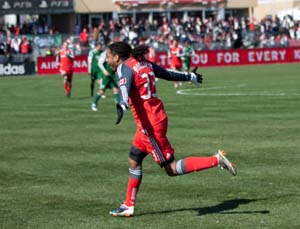 Toronto forward Javier Martina celebrates
his brilliant second goal
Javier Martina scores brace in home debut while Stefan Frei earns clean sheet and assist


Home sweet home.
After opening the season with a lacklustre effort last week in Vancouver, Toronto FC made amends in front of their fans as they dispatched the expansion Portland Timbers 2-0 Saturday afternoon at BMO Field.
The Reds were led by Javier Martina, who scored both goals, one in each half to pace Toronto's attack in his home debut. Toronto goalkeeper Stefan Frei made three saves to earn his 14th career clean sheet, while notching an assist on Martina's brilliant second half strike.
"First of all, it's always nice, your first game at home, to win," said TFC coach Aron Winter who received his first win as a manager. "It was a good victory, and I think if you're watching the total 90 minutes, we deserved to win. It'll have to be much better in the future, but the most important thing is this moment, to start at home."
As Winter alluded to, the Reds didn't play a superb game, but a win is a win, and the victory was just what the club needed to restore their confidence. Another loss to an expansion team would have been troubling to say the least, for the fifth year club.
Although it wasn't a sell out, the team seemed to be buoyed by their fans as an announced crowd of 20,086 braved temperatures of -3 degree Celsius to cheer on their team.
"It's very encouraging when you come to this pitch to see the fans and the support that they give us, the passion," said Frei. "So it's hard not to feed off that. So that was the 12th man on the field today."
From the goalie on out, the Reds were simply much better than the team that had little fight and played poor defensively in their season-opening 4-2 loss to the expansion Vancouver Whitecaps.

Toronto keeper Stefan Frei leaps
in the air and knocks the
ball away with his fists.
In goal, Frei was leaping through the air to corral loose balls and commanded the box very well.
With Nana Attakora out with a knee injury, Adrian Cann returned to his usual left centre back position to anchor the defense along with Ty Harden, Dan Gargan and Mikael Yourassowsky, who made his TFC debut.
With midfielder Julian de Guzman still out of the lineup recovering from knee surgery, Maicon Santos was a menace in the middle and continued to click with captain Dwayne De Rosario and was the catalyst on TFC's first goal.
Playing in Winter's preferred 4-3-3 formation, the forward trio of De Rosario, Alan Gordon and Martina posed problems for the Timber defense throughout the match. The 6'3 Gordon was also making his debut for the Reds after being acquired from Chivas USA on March 11 in exchange for Nick LaBrocca.

Martina Lifts the Reds
Both teams started the match slowly but in the 14th minute Toronto got the start they were hoping for. Maicon put a wonderful through ball in to De Rosario but when a defender blocked his route towards goal, he flicked the ball back to a charging Martina. Martina powered his way past a defender before sliding the ball under Timbers' starting keeper Adin Brown. Martina's first MLS goal put the Reds up 1-0.
The majority of the play in the first half was controlled by the Timbers, especially through the midfield, but TFC's backline did a great job preventing Portland from getting any dangerous scoring chances.

Timbers were forced to substitute their goalie at the half. Brown pulled a hamstring while diving for a ball and was replaced by backup keeper Jake Gleason.

Timbers' reserve keeper Jake Gleason
watches the ball fly past him on Martina's
second goal.
Winter wasn't very impressed with Nathan Sturgis in the midfield and replaced him at the half with newly acquired midfielder Alen Stevanovic on loan from Torino F.C. of Italy's Serie B league. Stevanovic looked tired in his debut but had only arrived from Europe on Friday.

In the second half, Portland continued to pressure Toronto, but in the 70th minute with one improbable strike, Martina's second goal gave the Reds a much needed insurance goal and sealed the victory. And what a strike it was – from beginning to end it was a thing of beauty and left fans and members of both teams in awe.
After corralling a corner kick, Frei looked up field and saw that De Rosario was one-on-one on the left and Martina was the same on the right. Since Frei's kicks from his right he opted to deliver his goal kick ahead to Martina. The former Ajax forward ran ahead and after letting the ball bounce, he hit a perfect volley from just outside of the box that sailed past Gleason, off the far post and into the net.
Frei did acknowledge that he was a bit lucky on his goal kick to Martina.
"You need some kind of luck there as well to pin-point, it's not all skill. At the end, obviously he (Martina) still needs to deliver a world class finish which he did. So all the credit to him."
Martina was all smiles after the game
"For me, that is very nice. It's like a dream, you know, to play a first game for the Toronto fans and score two goals," said Martina. "And win 2-0, you know. But like I say, we did it, the whole team worked hard, and you see at the end with 10 men, everybody worked for each other, and that's the most important thing."
Winter was happy with the play of Martina and even more impressed with his second goal.
"It was great, especially for him, because he came overseas and he's a good player," said Winter. "And always, your first game, for your own fans at home, to make two goals, but the second goal was beautiful, but also very good from Stefan that he saw at that moment that he was one against one, that he gave him the ball, and he finished it very well. It was a great goal."
The team went down to ten men in what was a bizarre incident in the 84th minute. Yourassowsky was being substituted off because of an injury, when apparently, referee Silviu Petrescu issued the defender his second yellow card of the match for time-wasting, ejecting the defender instead of being substituted. Coach Winter was perplexed by the ejection but luckily the game was well in control and no harm was done.
Yourassowsky will miss the next match when TFC hosts Chivas USA next Saturday at 1pm.


Fans cheer on Toronto FC
Game notes:

Scoring Summary:
TOR — Javier Martina 1 (Dwayne De Rosario 1) 14
TOR — Javier Martina 2 (Stefan Frei 1) 70

Toronto FC (1-1) — Stefan Frei, Dan Gargan, Adrian Cann, Ty Harden, Mikael Yourassowsky, Maicon Santos (Gianluca Zavarise 69), Nathan Sturgis (Alen Stevanovic 46), Jacob Peterson, Dwayne De Rosario, Alan Gordon, Javier Martina (Ashtone Morgan 87).
Substitutes Not Used: Oscar Cordon, Doneil Henry, Keith Makubuya, Milos Kocic.
TOTAL SHOTS: 10 (Maicon Santos 3); SHOTS ON GOAL: 6 (Maicon Santos 2, Javier Martina 2); FOULS: 18 (Alan Gordon 5); OFFSIDES: 2 (Dwayne De Rosario 1, Alan Gordon 1); CORNER KICKS: 3 (Dwayne De Rosario 2); SAVES: 3 (Stefan Frei 3)

Portland Timbers (0-2) — Adin Brown (Jake Gleeson 46), Steve Purdy, Eric Brunner, Kevin Goldthwaite, Rodney Wallace, Ryan Pore (Sal Zizzo 66), Peter Lowry, Jack Jewsbury, Jeremy Hall, Jorge Perlaza (Brian Umony 73), Kenny Cooper.
Substitutes Not Used: Kalif Alhassan, Freddie Braun, David Horst, James Marcelin.
TOTAL SHOTS: 11 (Jeremy Hall 4); SHOTS ON GOAL: 3 (Jeremy Hall 2); FOULS: 8 (Rodney Wallace 2); OFFSIDES: 6 (Kenny Cooper 3); CORNER KICKS: 9 (Jack Jewsbury 9); SAVES: 3 (Jake Gleeson 3)

Misconduct Summary:
TOR — Mikael Yourassowsky (caution; Persistent Infringement) 56
TOR — Alan Gordon (caution; Reckless Tackle) 71
POR — Peter Lowry (caution; Reckless Tackle) 77
TOR — Dan Gargan (caution; Reckless Tackle) 79
TOR — Mikael Yourassowsky (caution; Delaying a Restart) 84
TOR — Mikael Yourassowsky (ejection; Second Caution) 84
To follow me on twitter click HERE
Download or stream
the 500 Level podcast with co-hosts Aman Dhanoa and Ben Trattner as they discuss news, opinions, and views on Toronto sports from the Upper Deck. Leafs, Raptors, Jays, Argos, TFC – nothing is off limits. It's good to be a fan!
Also available on iTunes
Contact Aman Dhanoa at aman@oyetimes.com

Photos courtesy of J.P Dhanoa
Article viewed at: Oye! Times at www.oyetimes.com
You can publish this article on your website as long as you provide a link back to this page.