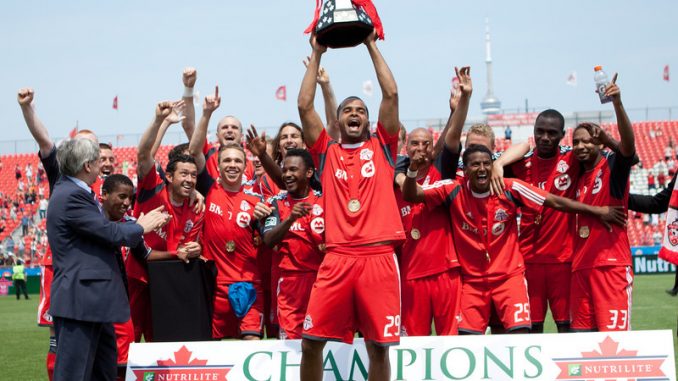 TFC Hoist Voyageurs Cup for Third Straight Year
Toronto FC put in one of its most inspired and complete performances of the season on Saturday afternoon to win the Nutrilite Canadian Championship (NCC) for the third straight year.
While Toronto celebrated its 2-1 victory on Saturday afternoon, the Vancouver Whitecaps FC walked off the field dejected after having another disappointing result in the NCC. TFC won the two-leg final with an aggregate score of 3-2 after both teams tied 1-1 in the first leg in Vancouver.
Saturday's match was the second attempt at playing the final leg of the NCC. The match was originally scheduled for May 25, but the match was called off with the Whitecaps up 1-0 in the second half. Torrential rain had left the pitch unplayable while severe thunderstorms and lightning raised safety concerns as well.
TFC players were given medals and Joao Plata received the George Gross Memorial trophy after being named the NCC MVP as the tournament's best player. However, the true celebrations began when the Voyageurs Cup was presented to Captain Maicon Santos. All the players took turns hoisting the trophy and saluting fans around the stadium.
"First of all we deserved to win the game, and it's nice to win," said TFC Head Coach Aron Winter. "In the first half, after they scored to make it 1-0, we reacted well. After that, the referee didn't give us what I thought was a 100 percent goal, the one on the line. Still, in the second half we reacted very well, as we created pressure in the front, and finally we deserved the two goals."

Winter said that Plata has brought up his play again after having a few uneventful games.
"He (Plata) came from far; he has very good skills, but he's also very young," said Winter. "You saw at first when he came into the first team and scored, he became a popular player with the crowd, as everybody loves him. After that he had some periods where things were not going as well, but in the last three games you notice he is picking it up and playing well, and hopefully he continues to go that way."
Plata was all smiles after the match and but realizes the team now needs to carry over the results of this week forward to the rest of the season.
"All the time it is good to get three points, but now it's good to be the Canadian Champions, and now we have to put our effort like this to get the three points every game," said Plata.
Toronto had some bad luck in the first half but were able to overcome a 1-0 deficit to pull out the victory.
"Well at that moment I was thinking that with all the things that had happened, and the bad luck that we had, that it could be possible", said Winter. "I was still confident after they scored because I felt we were dominating the game. We had the chances in the first half that if we were a bit sharper we could have scored."

Added Plata," We got over the score, and went on to score our first, then the second, and we kept going and gave ourselves the confidence to get over their team," said Plata.
Vancouver players were obviously frustrated and disappointed after the match.
"It's disappointing to lose in the fashion we did, going up 1-0," said midfielder Terry Dunfield. "We talked about it at halftime, being solid, even pushing for the second goal. It's easy to say, but we didn't do it."
"That's what makes it frustrating, because we were so close. Unfortunately that second half, the way we've gone out has probably summed our season up. We're almost there.
We compete, we put ourselves in a great chance to win the game, and unfortunately we weren't able to follow through."
Added Whitecaps goalkeeper Joe Cannon, "We stopped playing a little bit. Over the course of the next 70 minutes, they became men and we became boys. That was it."
"They wanted it more, got to second balls, they out-fought us, out-hustled. Maybe it was the crowd that lifted them but, whatever. It was just really kind of gut-wrenching, because we knew this was our season, and to see guys just… I don't want to say or call anyone out, but they were going through the motions… We were second best."

Wins for Toronto have been few and far in between but with two victories this week the team has an air of confidence around them and want to ensure the winning feeling continues.
"It feels amazing," said goalkeeper Stefan Frei. "It's something that I would love to get used to. We got to enjoy it but we have big games coming up in the league again. We want to keep that momentum going again because if we get on a losing streak again then all these wins right now don't matter. So you got to make sure that you make those wins matter."

Big Second Half
The Whitecaps struck first after an even first 15 minutes of action. Vancouver was awarded a free kick just outside of the penalty area. Alain Rochat faked the spot kick and Camilo Sanvezzo hit the ball straight at goal and into the top of the net. Frei barely moved and had no chance of stopping the strike.
Five minutes later Julian de Guzman fired a hard strike that went off Cannon's outstretched hand and off the crossbar. The ball then landed at Javier Martina's feet but his shot on goal was cleared a foot from the line by Whitecaps defender Michael Boxall.
Martina came into the match in the 19th minute to replace Santos who seemed to re-injure himself in the early-going.

Martina had an even better chance in the 41st minute when Cannon came out to challenge for a ball but he chested it right to the TFC forward. Martina fired at the empty goal but defender Jay DeMerit hustled to get back and cleared the ball off the line. However, replays seemed to suggest that the ball crossed the line before being cleared away but play still continued.
Early in the second half, Plata was knocked down in the box by Jonathan Leathers and the referee awarded TFC penalty kick. Plata was stopped by Cannon who dove to his right but the official saw Cannon move off his line before Plata struck the ball. As a result, Plata took the penalty again, but this time got Cannon to go the opposite way to tie the match at 1-1.
Plata was also pivotal on the go-ahead goal in the 61st minute. The Ecuadorian shook off Leathers and sent a cross through the box to an open Mikael Yourassowsky who had an easy tap in to put the Reds ahead 2-1.
Despite being down 2-1, Vancouver just needed to score one more road goal to clinch the NCC. Camilo came close on a free kick in the 68′ and then found Eric Hassli in the 86th minute but the Swiss striker's shot went just wide of the far post. Hassli fell to his knees and held his head in his hands after missing such a great opportunity to tie the game.
Vancouver pressed hard in the dying minutes of the match but Toronto defended well to hold on to the 2-1 victory and once again claim the Voyageurs cup.
"This was a huge game for us and this was one of the goals we set for the season was to win the Canada Cup," said de Guzman. "We did it and we did it in fine style as well, in front of our home fans again. I think this is a great opportunity for us to bring our heads up and a confidence booster for the second half of the season."

"We got off to a very rough start, a lot of points we've lost at home as well. Finally we got back-to-back wins against Vancouver as well. It's great motivation for the entire team and I think for the rest of the way this is something that we could use, not just for MLS, but also at the international level – it's something that we've always wanted to find ourselves in.
By winning the 2011 NCC, TFC not only defend their title but will once again represent Canada in the CONCACAF Champions League (CCL). Toronto will face Nicaragua's Real Estelí FC in the Preliminary Round of the 2011-12 CCL on Wednesday, July 27 in Toronto and Tuesday, August 2 in Estelí.
However, before TFC can look ahead to the CCL they will need to set its focus back to the MLS when the club is back in league action on Wednesday night. The Reds will head back out on the road and play the New York Red Bulls with kickoff at 8pm ET.
Game Notes:

Scoring Summary:
21′ – VAN – Camilo
51′ – TOR –
Joao Plata
(penalty kick)
61′ – TOR –
Mikael Yourassowsky (
Joao Plata
)
Match Stats:
Shots: Toronto 13 – Vancouver 11
Shots on Goal: Toronto 12 – Vancouver 3
Saves: Toronto 2 – Vancouver 8
Fouls: Toronto 13 – Vancouver 12
Corners: Toronto 3 – Vancouver 2
Offsides: Toronto 3 – Vancouver 2
Cautions:
50′ – VAN – Eric Hassli
56′ – TOR – Javier Martina
72′ – VAN – Russell Teibert
Tor onto FC
24.Stefan Frei; 8.Dan Gargan, 27.Richard Eckersley, 20.Ty Harden ( 32.Tony Tchani 57′) , 25.Danleigh Borman; 11.Nathan Sturgis, 6.Julian de Guzman ( 4.Doneil Henry 87′) , 19.Mikael Yourassowsky; 18.Nick Soolsma, 29.Maicon Santos ( 33.Javier Martina 19′) , 7.Joao Plata
Subs not used: 30.Milos Kocic, 15.Matt Stinson, 21.Alan Gordon, 28.Gianluca Zavarise
Vancouver Whitecaps FC
1.Joe Cannon; 25.Jonathan Leathers, 2.Michael Boxall, 6.Jay DeMerit ( 23.Blake Wagner 62′) , 4.Alain Rochat; 22.Shea Salinas ( 31.Russell Teibert 45′) , 28.Gershon Koffie, 7.Terry Dunfield, 12.Jeb Brovsky ( 16.Nizar Khalfan 72′) ; 37.Camilo, 29.Eric Hassli
Subs not used : 18.Jay Nolly, 3.Bilal Duckett, 17.Omar Salgado, 33.Pete Vagenas

To follow me on twitter click
HERE
Download or stream
the 500 Level podcast with co-hosts Aman Dhanoa and Ben Trattner as they discuss news, opinions, and views on Toronto sports from the Upper Deck. Leafs, Raptors, Jays, Argos, TFC – nothing is off limits. It's good to be a fan!
Also available on iTunes
Photos courtesy of JP Dhanoa
Contact Aman Dhanoa at aman@oyetimes.com

Article viewed at: Oye! Times at www.oyetimes.com