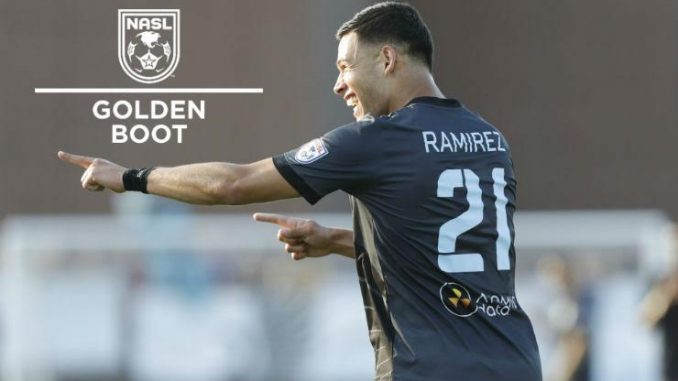 California native scores league-high 18 goals to win award for second time
Minnesota United forward Christian Ramirez has earned the 2016 North American Soccer League (NASL) Golden Boot, which is the annual award that goes to the player who scores the most goals during the season.
Ramirez, 25, again showed why he has been one of the league's top goalscorers in the Modern Era. Ramirez scored 18 times during the campaign and moved his career total to 50 in league play. The 6-foot-2 forward has now earned the Golden Boot in two of his three years in the NASL, claiming the award with 20 goals in 2014.
On July 2, the forward netted his first professional hat trick in a 5-1 win over the Carolina RailHawks at NSC Stadium.
"I think that all of the hard work that I put in during the offseason really prepped me for the long journey that was this season with so many battles," Ramirez said.
The Santa Ana, Calif., native played in 31 of the Loons' 32 league games over the course of the season, starting in 30 of his appearances and logging 2,697 minutes of action. In addition to his 18 goals, Ramirez tallied four assists.
One of Ramirez's highlights of the season came just two minutes into the Spring Season when his half-volley looped over the head of Carolina goalkeeper Akira Fitzgerald and into the net for the first goal of the 2016 NASL season.
"To my teammates, thanks for all of the selfless assists and for putting me in situations to score goals," Ramirez added.
Previous Winners
2011: Etienne Barbara (Carolina RailHawks, 20 goals)
2012: Pablo Campos (San Antonio Scorpions, 21 goals)
2013: Brian Shriver (Carolina RailHawks, 15 goals)
2014: Christian Ramirez (Minnesota United, 20 goals)
2015: Stefano Pinho (Fort Lauderdale Strikers, 16 goals)