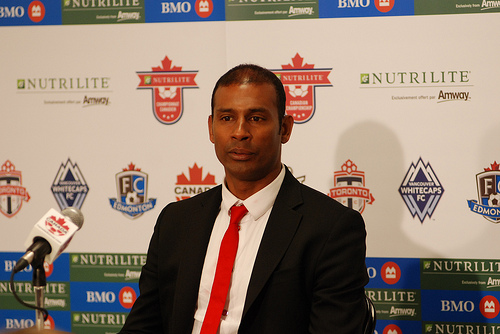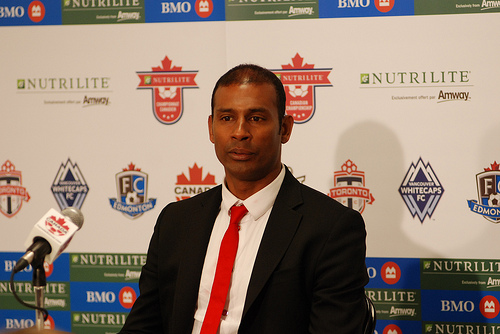 Aron Winter- Head Coach & Technical Director- Toronto FC
General thoughts on the game: If you watch the whole game, we played a very good game. We gave nothing away. There were maybe two opportunities for Dallas to score. I am very proud of the players' performance on the field. It is a great day for Toronto FC because it is the first time the club has qualified for the next round.
It all started yesterday. If you would have seen the guys, the players, the staff, everybody was completely focused on this game because of its importance.
Plata played very well, of course, but everybody played well. We created a lot of opportunities and gave nothing away. It is a good step for the future.
On if qualifying for the Championship Stage of the tournament makes up for missing playoffs: When we started off in January, our goal was to qualify for the playoffs. When I came, that was very difficult because we did not have a good roster. About three months ago we traded a lot of players to get better quality guys and get guys who really wanted to be a part of it. From that moment on you could see, even in training, the improvement of the players. Another goal of ours was to win the Nutrilite Canadian Championship, and by doing that we qualified for CONCACAF Champions League. If you watch all of the games we have played in CONCACAF, I think we have earned it and fought for it.
Danny Koevermans- Forward, Toronto FC
Overall reaction on the important victory…
This is the best, this is why you play soccer. It was a final for us, to be Dallas in an away game 3-0. In the first half they had a couple chances but I think we deserved to win this game and you see when we went ahead 1-0, we had a lot of space, and players like Plata are so dangerous and you see what can happen. It was a fantastic evening and I hope the people in Toronto enjoyed the game.
Thoughts on the team performance overall…
Everything was correct, and you could see what could happens. We got up 1-0 and with a good counter attack we made it 2-0. We did a great job and performance in all areas.
What this win means for the season…
This is the best, we couldn't make the playoffs but we have played well and tonight was a big game. This makes the season, especially the second part a positive and what would be even better is if we get a win on Saturday against New England.
Joao Plata- Forward, Toronto FC
Thoughts on the game…
Dallas is a difficult team, but we were focused and we came out and were ready and the first goal defintley got us on the right track to victory. We know Dallas is a strong team and we needed to come out focused and strong. We needed to make the right decisions and for us things went well and the result was in our favour.
What this means for the season…
Unfortunately, the MLS season didn't go as planned, however thanks to god, CONCACAF Champions League was still a chance for us and we were able to move on and hopefully continue to get results.
Schellas Hyndman- Head Coach, FC Dallas
Thoughts on the match…
They [Toronto FC] showed up to play tonight. They competed for every ball. They were very focused on getting a result. I think it might be because of the lack of success they had this season. This might be the one thing they were shooting for, and we didn't match their intensity. For us it's a real shame. I don't like to use the words 'we weren't prepared' or use the words 'we came out flat.' I just don't think we were as committed to this game as they were or as much as we needed to be.
On whether or not the team was prepared to play
I thought we had them motivated when they came out. We had one opportunity where Jackson had the header from Brek [Shea], and he missed the frame. We really didn't have a lot of quality chances except for the free kicks. They were just completely terrorizing us and winning a lot of balls in the midfield. And if you say we're tired, yeah, we looked tired. We haven't played any more games than they have. That's the reality. They've had as many games as we've had, and they didn't look tired tonight.
Did the absence of Jair Benitez and Fabian Castillo hurt the team?
This is part of what we live with. Jair [Benitez] has played every game for us, except when he has been suspended. He's not a player that's injured. [Fabian] Castillo picks up a silly red card in the 90+ minute. We keep talking about the emotional intelligence. I don't think the emotional intelligence had an effect tonight, but I definitely feel that we didn't help ourselves by not having our normal back four.
On Toronto's performance
I don't want to undervalue the great performance that Toronto had. If Toronto had had that kind of performance all season, they wouldn't be finishing the season up this weekend. I thought they came to play. I thought they played unselfishly. They bought into the system. They were physical. They did everything they needed to do.
Scoring Summary:
TOR – Danny Koevermans 28
TOR – Joao Plata 69
TOR – Joao Plata 81
Misconduct Summary:
TOR – Andy Iro (caution) 43
TOR – Nick Soolsma (caution) 58
DAL – Daniel Hernandez (caution) 68
TOR – Julian De Guzman (caution) 77
DAL – Ruben Luna (caution) 90
FC Dallas — Kevin Hartman, Jeremy Hall (Ruben Luna 69), Ugo Ihemelu, George John, Zach Loyd, Brek Shea (Bruno Guarda 87), Andrew Jacobson, Daniel Hernandez, Ricardo Villar (Daniel Cruz 46), Marvin Chavez, Jackson.
Substitutes Not Used: Chris Seitz, Jack Stewart, Bobby Warshaw, Victor Ulloa.
Toronto FC – Milos Kocic, Andy Iro, Doneil Henry, Ashtone Morgan, Julian De Guzman (Terry Dunfield 80), Joao Plata (Peri Marosevic 85), Ryan Johnston, Danny Koevermans (Nathan Sturgis 90+), Nick Soolsma, Ty Harden, Torsten Frings.
Substitutes Not Used: Stefan Frei, Mikael Yourassowsky, Gianluca Zavarise, Eddy Viator.
Referee: Roberto Garcia Referee's Assistants: Marvin Torrentera, Hector Delgadillo
4th Official: Francisco Chacon
Weather: Clear, 65 degrees