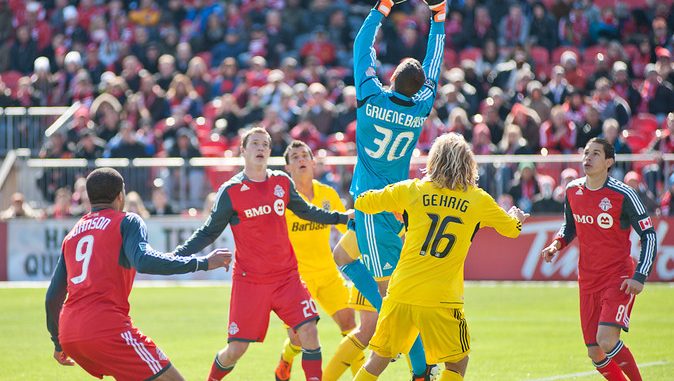 Reds Remain Winless and Fall to Last Place in MLS

In a game that Toronto FC dominated for large stretches, it was a cruel twist of fate that a bad second half bounce was the difference in a 1-0 loss to the Columbus Crew.
Toronto created numerous scoring chances but poor play in the final third and what Head Coach Aron Winter called a lack of "sharpness" when finishing cost his team the game. The reds remain winless in three league games being outscored 7-1. With Philadelphia drawing against Vancouver, TFC fall to the bottom of MLS standings and is the only team without a point this season.
"Disappointed. I think that we've played very well, we created a lot of chances," said Winter. "If you're going to compare it with Columbus Crew, they didn't really have a real chance, but they scored. But I think the way we're playing, yeah, we're missing a little bit of sharpness with the opportunities we get.
"I don't know if it's a lack of quality but I think maybe we were missing the sharpness, really, to score."
When the team's striker, Danny Koevermans, was asked about his coach's assessment he didn't quite agree and chalked the loss up to a case of bad luck.

"We didn't score, then you lose the game, it's as simple as that," said Koevermans. "You know, it's a word like sharpness, it's a simple word. Like now, we don't score, we're not sharp. That's not the thing.
"Everybody wants to score who's in a position to score. I was there today, of course I want to score. So what's the word "sharpness"? Maybe if it's a block and it goes over the keeper, deflected, then it's sharpness. It's just unlucky today. Worst case scenario, we didn't deserve this loss, but we have to keep our heads up."
The slow start is a cause for concern and could prove to be the difference late in the season between making the playoffs and clearing out its lockers for a sixth straight season. Considering the fact his team has played well, Winter is not worried and isn't about to hit the panic button just yet. He thinks the sharpness in front of goal will come eventually.
"It's coming. I'm not worried about it," Winter said. "We are demonstrating that we are playing very well, even today; not only today but also last week, we're missing some players. We're still playing well. We dominated the game, creating opportunities, and that's, for me, a very good thing."
Up in the Air

For the entire match Toronto dominated possession and controlled play in Columbus' end of the field. But the Crew's game plan was obvious – to play a smart road match by defending well and making counter attacks whenever the Reds would make a mistake.
Columbus nearly capitalized on a big mistake from referee Geoff Gamble late in the first half. He called defender Ty Harden for fouling Crew striker Olman Vargas deep inside the box and awarded a penalty. Replays showed that Harden did not make any contact when attempting a slide tackle and it looked as though Vargas had tripped over himself before falling down.
Milovan Mirosevic stepped up to the spot and fired left but Milos Kocic dove to his right and got a hand to the ball to keep the game scoreless. The save was redemption for TFC on what was obviously a bad call.
TFC did not make many errors in the match but a costly one in the 56th minute led to the game's only goal. A bad back pass up field was pounced on by the Crew and the team rushed the other way. TFC defender Logan Emory went at Bernardo Anor and attempted to knock the ball away but instead it continued forward and bounced past him. Anor suddenly had plenty of space and roofed a hard shot past Kocic to give Columbus a 1-0 lead.
TFC buzzed around the Crew net in the final minutes to press for the tying goal but Crew goalkeeper Andy Gruenebaum was never forced to make a big save as shots were either blocked, went high or rolled wide of the goal.

Instead of playing its usual ground game the Reds played several balls in the air, especially into the opposing box. Gruenebaum was very aggressive in the box and came out to challenge many 50/50 balls. Both Koevermans and Ryan Johnson had a few run-ins with Gruenebaum in the match.
Kocic watching the play from TFC's goal thought his team made a mistake by playing into the Crew's strengths.
"Columbus is probably the best team in the league in the air," said Kocic. "I think we should maybe play more on the ground and stretch them out, because they're not very quick in the back.
"It's like we played to their advantages, we didn't play to our advantages, on the ground. We kind of played in the air. I think that didn't help us."
Toronto is in the midst of playing five matches in two weeks and will regroup to once again shift its focus back to CONCACAF Champions League play. The team will travel to Mexico to play in the second leg of the semifinal against Santos Laguna on Wednesday night with the aggregate score tied at 1-1.
TFC played well in the first leg in front of a home crowd and nearly won the match, but settled for the draw. The game ended in a brawl and tensions will be high in the rematch. The scene now shifts to Estadio Corona in the Northern industrial town of Torreon and TFC will undoubtedly receive a rude welcome in what should be a hostile environment. Kickoff will be at 8 p.m. ET.
To follow me on twitter click HERE
Photos courtesy of John Lucero
Download or stream
the 500 Level podcast with co-hosts Aman Dhanoa and Ben Trattner as they discuss news, opinions, and views on Toronto sports from the Upper Deck. Leafs, Raptors, Jays, Argos, TFC – nothing is off limits. It's good to be a fan!