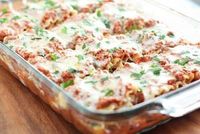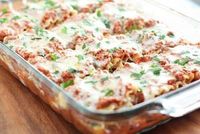 Mexican Lasagna Rollups
Ingredients
10 uncooked lasagna noodles
1 (16 ounce) jar salsa
1 pound ground beef
1 (1 ounce) packet taco seasoning mix
1 (16 ounce) package cottage cheese
1/2 cup grated Parmesan cheese
1 (15.5 ounce) jar prepared salsa con queso sauce
1 1/2 cups shredded Mexican cheese blend
Directions
Fill a large pot with lightly salted water and bring to a rolling boil. Once the water is boiling, stir in the lasagna noodles, about 3 or 4 at a time, and return to a boil. Cook the noodles uncovered, stirring occasionally, until the pasta has cooked through but is still firm to the bite, about 10 minutes per batch. Drain well in a colander set in the sink, and lay the cooked noodles flat on waxed paper or aluminum foil while you finish cooking the rest of the noodles.
Preheat oven to 375 degrees F (190 degrees C). Grease a 9×13-inch baking dish, and spread the salsa evenly over the bottom of the dish.
Place the ground beef in a skillet over medium heat, sprinkle with taco seasoning, and cook and stir the meat, breaking it up as it cooks, until the meat is browned and crumbly, about 10 minutes. Drain the fat, and place the meat in a large bowl.
Mix cottage cheese and Parmesan cheese into the meat. Place a cooked lasagna noodle out flat, and spread about 1/3 cup of the cheese and meat mixture along the length of the noodle. Roll up the noodle, and place the filled rolls, seam sides down, into the prepared baking dish. Spoon about 1 1/2 tablespoons of the queso sauce over each roll. Cover the dish with aluminum foil.
Bake in the preheated oven until the sauce is hot and bubbling, about 40 minutes. Uncover the dish, and spread the Mexican cheese blend over the rolls. Return to the oven, and bake until the cheese is melted, 8 to 10 more minutes.