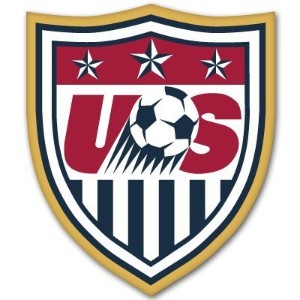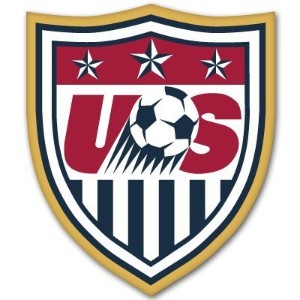 U.S. U-17 WNT SITS ONE WIN AWAY FROM WORLD CUP: The U.S. Under-17 Women's National Team stormed through the group stage at the 2012 CONCACAF U-17 Women's Championship to take the top spot in Group B. Now the U.S. players focus on perhaps the most important game of their young careers so far, a match-up with Group A runner-up Panama on Thursday, May 10 at 3:30 p.m. ET in the all-important semifinal stage where a win qualifies the U.S. for the 2012 FIFA U-17 Women's World Cup in Azerbaijan. A loss would relegate the team to the third-place match, where the winner of that game would earn the third and final CONCACAF berth to the World Cup. All the CONCACAF U-17 Women's Championship matches are being played on an artificial surface at Estadio Cementos Progreso, home to popular Guatemala professional side C.S.D. Comunicaciones.
GREEN, U.S. BLANK MEXICO: Mexico's traditional jersey color is green, but it likely saw way too much Green for their liking on May 7 in the Group B finale. U.S. forward Summer Green notched her second hat trick of the tournament to account for all the goals during the team's 3-0 victory at Estadio Cementos Progreso. Green has nine goals in the tournament through three games, already matching the U.S. record for a U-17 World Cup Qualifying stage set by forward Lindsey Horan at the 2010 CONCACAF U-17 Women's Championship in Costa Rica. Green will have two more games to eclipse Horan's mark starting in the semifinal against Panama. All three Green goals on Monday came in the first half – the first on a 17th-minute penalty kick, followed by 31st- and 36th-minute strikes in the run of play.
U.S. ROSTER BY POSITION
GOALKEEPERS (2): 1-Jane Campbell (Concorde Fire South; Kennesaw, Ga.), 18-Cassie Miller (Sereno FC; Cave Creek, Ariz.)
DEFENDERS (6): 3-Brittany Basinger (FC Virginia; Purcellville, Va.), 5-Maddie Bauer (Slammers FC; Newport Beach, Calif.), 16-Mandy Freeman (Lady Renegades SC; Royal Palm Beach, Fla.), 6-Gabbi Miranda (Colorado Rush; Highlands Ranch, Colo.), 2-Lizzy Raben (Colorado Rush; Greenwood, Colo.), 20-Morgan Reid (Chelsea Ladies; Cary, N.C.)
MIDFIELDERS (5): 10-Morgan Andrews (FC Stars of Mass.; Milford, N.H.), 12-Joanna Boyles (Chelsea Ladies; Raleigh, N.C), 14-Lauren Kaskie (Heat FC; Las Vegas, Nev.), 17-Sarah Robinson (MVLA Lightning; Los Altos, Calif.), 11-Morgan Stanton (Colorado Rush; Lakewood, Colo.)
FORWARDS (7): 9-Emily Bruder (Utah Avalanche; Sandy, Utah), 8-Summer Green (Michigan Hawks; Milford, Mich.), 13-Darian Jenkins (Sparta SC; Riverton, Utah), 4-Amber Munerlyn (So Cal Blues; Corona, Calif.), 19-Toni Payne (Concorde Fire; Birmingham, Ala.), 15-Margaret Purce (Freestate Soccer; Olney, Md.), 7-Andi Sullivan (Bethesda SC; Lorton, Va.)
U.S. ROSTER NOTES
Seven different U.S. players have scored the 18 goals for the U.S. team in this tournament: Summer Green (9), Midge Purce (3), Andi Sullivan (2), Joanna Boyles, Emily Bruder, Toni Payne and Sarah Robinson.
Nine different players have assists: Sara Robinson (3), Morgan Andrews (2), Summer Green (2), Gabbi Miranda (2), Joanna Boyles, Emily Bruder, Jane Campbell, Toni Payne and Midge Purce.
The USA has out-shot its opponents 93-10 over the three games.
USA VS. PANAMA SERIES
The U.S. and Panama have never faced each other at the U-17 level in the tournament.
Though the U.S. Women's teams rarely meet Panama from year to year, the U.S. U-20 Women recently posted a 6-0 win against Panama to win Group B of the CONCACAF U-20 Women's Championship on March 5 in Panama City. Four days later against Mexico, the U.S. U-20s clinched a spot in the 2012 FIFA U-20 Women's World Cup in Japan this August and September.
BY THE NUMBERS
3: Assists by Sarah Robinson to lead the U.S. U-17 WNT in World Cup Qualifying
9: Goals by Summer Green in World Cup Qualifying matches (ties Lindsey Horan's 2010 WCQ mark)
25: Number of U.S. U-17 players to see action in a game this year
IN FOCUS: PANAMA
Panamanian Football Federation (Federación Panameña de Fútbol)
Founded: 1937 (Joined FIFA in 1938)
Head Coach: Luis Tejada