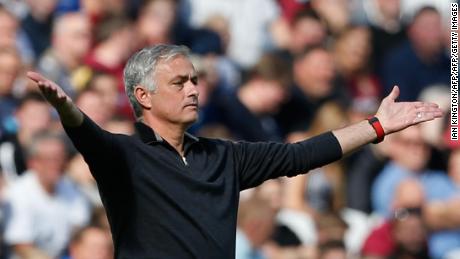 Manchester United manager Jose Mourinho believes there is "too much wickedness" in football but insists he can "cope with the manhunt" against him.
Alexis Sanchez scored a 90th-minute winner as his team came from 2-0 down to beat Newcastle, ending a four-game winless run.
Speculation over Mourinho's future has increased, but prior to kick-off he retained the support of the club.
"It is the first time I see man-hunting. I can cope with it," he said.
"I can live with it. Some of the boys, in spite of them not being the man that is hunted, they are not coping well with it," Mourinho, said.
There were boos at half-time as Rafael Benitez's winless Newcastle led, having scored twice in the opening 10 minutes at Old Trafford.
Mourinho, under growing pressure after United recorded their worst league start for 29 years, admitted on Friday that the current run was not good enough.
And reports on Friday suggested he could lose his job regardless of the result against Newcastle – although BBC Sport understands he still retains the backing of the board.
"As a friend of mine was saying to me this morning, if tomorrow it rains in London it is my fault," Mourinho said.
"If there are some difficulties with the agreements of Brexit, it is my fault.
"I have to be ready for all of this. I think a lot of wickedness and clear man-hunting in football is too much.
"It is my life. It is the life I love and since I was a kid I work for this."
Crowd response amazes Mourinho
At full-time, with the comeback complete, the home fans in the Old Trafford crowd were singing the manager's name.
The response, as United claimed a first win at home since the opening day of the season on 10 August, surprised Mourinho – although it was not, he says, one he necessarily wanted.
"At half-time we were losing 2-0 and the fans were magnificent to the team and that is fantastic," said Mourinho.
"I'm amazed by that response singing my name. I don't want that, and if I could tell them to not do it I would, because it is not about me, it is about the football club they love and the football club we represent with honour and dignity.
"In my football memories, I remember [as manager of Chelsea] I beat Liverpool at Anfield 4-0 and I was amazed the stadium was singing their song, but now I am in a situation where I'm losing 2-0 at home in a match everyone knows is important for us to win, and they were amazing.
"I am really grateful for that and my happiness about the victory is not for myself it is for the fans and the players."
'I didn't point a pistol at them'
Three goals in a thrilling final 20 minutes earned the former Real Madrid manager a 400th victory of his managerial career, but with his side languishing eighth in the Premier league that landmark will go largely unnoticed.
And after enduring a difficult start to the season, Mourinho pointed to Italian side AC Milan to provide context for his side's recent poor form.
"In the biggest clubs in the world there are periods with a lot of meat and periods with a lot of bones," said the Portuguese.
"If you look to history of AC Milan you don't think it is normal that they are where they are.
"These football clubs, they are not made only of just victories and just difficult moments, but always with pride. Not just victories, always pride.
"They [the board] gave me a contract until July 2020. I have a contract to 2020, I didn't point a pistol at them. They give me the contract because they wanted to give it me."