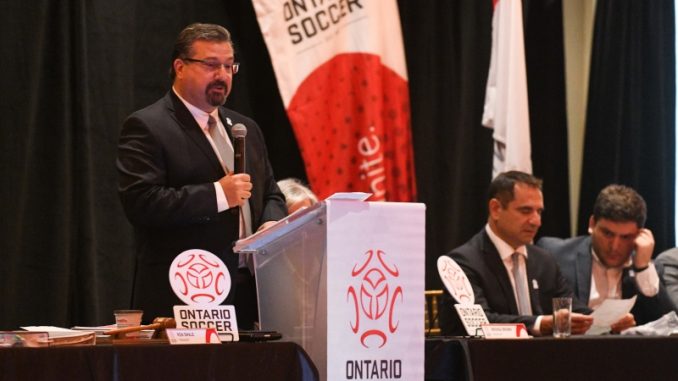 Ontario Soccer elects new Board of Directors
Ontario Soccer finalized a shift in governance that will modernize how the game is led in the province
Oct. 14, 2018
Vaughan, ON – Ontario Soccer has elected a new Board of Directors and with it put the final touches on a new modernized governance structure.
Under the new governance structure, the business of Ontario Soccer will now be conducted by a Board of Directors, composed of 12 elected individuals and one senior staff.
Previously the Board had been made up of 21 representatives from each District Association, as well as an elected executive of seven for a Board total of 28.
"Ontario Soccer is the engine that drives the game in this country and we have a responsibility to build on that legacy and carry soccer to new heights in this province," said Peter Augruso, the newly elected President of Ontario Soccer and Chairman of the Board of Directors. "I am grateful for the support of the membership in my election as President and look forward to leading this new board of skilled leaders."
Additionally, the membership of Ontario Soccer had previously voted to approve the By-law amendment to create a District President's Forum.
The Forum will now be composed of the President, or delegate representing each District Association in Ontario and will submit recommendations to the Ontario Soccer Board of Directors and the CEO on a number of soccer game-related matters.
"I'm proud of our outgoing Board of Directors for their commitment to the game and their collaborative efforts to take Ontario Soccer to this point. I thank them for their hard work and their continued efforts within the President's Forum," said Johnny Misley, Ontario Soccer Chief Executive Officer. "And I'm excited to begin work with this new streamlined Board of Directors, who bring a wealth of experience and professional skills from soccer, sport and business. Their insight and expertise will be instrumental in helping us move the game forward in this province."
The following were elected as the new Ontario Soccer Board of Directors:
PRESIDENT
Peter Augruso
VICE PRESIDENT
Brenda Brown
DESIGNATED DIRECTORS
1. David Miller – 3 year term
2. Gerry Gentile – 2 year term
3. Sergio Folino – 1 year term
INDEPENDENT DIRECTORS
1. Andrew Chan – 2 year term
2. Michael Szubelak – 1 year term
REGIONAL DIRECTORS
1. Central – John Tzanis
2. West – Vince Mazza
3. North – Rosiemaria North
4. South – Alice Strachan
5. East – Valerie Hughes
For more information on the 2018 Ontario Board of Director elections, visit OntarioSoccer.net.
About Ontario Soccer
Founded in 1901, Ontario Soccer is the largest provincial sports organization in Canada. Its members include 21 District Associations, more than 650 Clubs, 45 private academies, servicing over 24,000 teams with 403,000 registered players, 70,000 coaches and managers, and 9,500 match officials. Ontario Soccer develops and delivers exceptional and sustainable programs and services throughout Ontario with the mission of providing leadership and support for the advancement of soccer in collaboration and cooperation with our membership, partners and other stakeholders. Ontario Soccer also operates League1 Ontario, a provincial professional-amateur