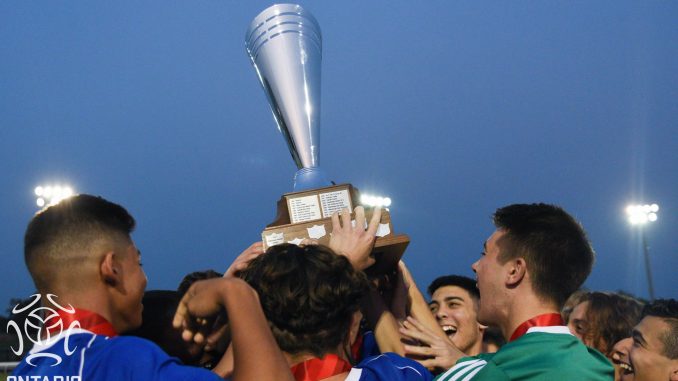 Woodbridge And Vaughan Book Spots In 2018 Championship Final
2018 League1 Championship winners will earn a berth in 2019 Canadian Championship
Vaughan, ON – It was an entertaining and drama-filled final round in the 2018 playoff group stage, as local rivals Vaughan Azzurri and Woodbridge Strikers staved off the competition and booked their spots in the 2018 Championship Final, to be played on October 20 (3 p.m.) at the Ontario Soccer Centre.
Vaughan Azzurri finished off their post-season group stage with a perfect record, going to London and downing the regular season champions in an exciting back-and-forth Group A affair.
Woodbridge Strikers nailed down their spot in the Championship Final with an emphatic defeat of fellow York Region side, Unionville Milliken, setting up a mouthwatering 2018 Championship Final that will pit local rivals, Woodbridge Strikers and Vaughan Azzurri, against one another.
Fellow Group B competitors, Sigma FC and Oakville Blue Devils, put on a phenomenal exhibition as they fought to overhaul Woodbridge for their Championship Final berth, with Sigma ultimately winning out after going two-goal behind in the first half. Still, it proved too little too late as a win from the Strikers later in the day sent them above Sigma and into the Final.
The 2018 League1 Ontario Men's Championship Final will take place this Saturday, October 20 (3 p.m.) at the Ontario Soccer Centre.