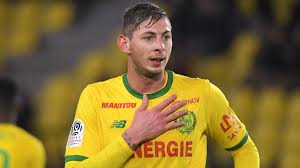 Argentine soccer player Emiliano Sala was aboard a small passenger plane that disappeared off the coast of Guernsey as he was flying to Wales to join Premier League club Cardiff.
An official involved in the air search in the Channels Islands said no survivors were expected to be found.
Guernsey police said "a number of floating objects have been seen in the water" however they have been unable to confirm whether any of the objects were from the missing plane, and that they have "found no signs of those on board."
The search was halted overnight because of strong winds, rough conditions and darkness . The search is expected to resume tomorrow with the help from maritime authorities in Britain and France.
The light aircraft disappeared from radar Monday night over the English Channel as it made the journey from Nantes to Cardiff. The 28-year-old Sala had spent the previous hours saying farewell to teammates at the French city's soccer team after Cardiff signed him for 50 million pounds a club-record fee last week.