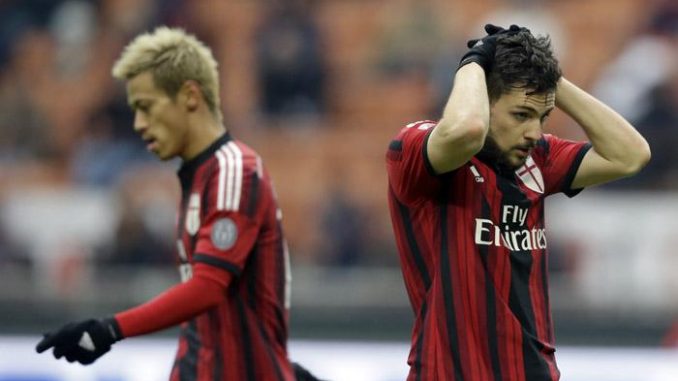 Serie A giants AC Milan have been banned from playing in next season's Uefa Europa League for breaking European soccer's Financial Fair Play (FFP) rules.
The Court of Arbitration for Sport (Cas) confirmed Milan's suspension from the competition after ruling in favour of European soccer governing body Uefa, which had accused the Italian club of violating spending regulations between 2015 and 2018.
A short statement issued by Cas read: 'AC Milan is excluded from participating in the Uefa club competitions of the sporting season as a consequence of the breach of its FFP break-even obligations during the 2015/2016/2017 and the 2016/2017/2018 monitoring periods.'
Under Uefa's financial rules, clubs cannot accrue losses of more than €30 million over three seasons. However, between 2015 and 2017, Milan spent around €250 million on player transfers, while it was reported in October that the club had suffered record losses of €126 million for the 2017/18 financial year.
Uefa initially hit Milan with a two-year ban from European club competition last summer but the Serie A outfit successfully appealed against that sanction.
The seven-time European champions had managed to convince Cas that their finances would improve under the ownership of American hedge fund Elliot, which assumed control of the club after former owner Li Yonghong missed a repayment deadline on loans he had taken to buy the team.
However, Milan were once again referred to Uefa's financial watchdog in April, with Cas ruling in favour of the governing body this time round.
Cas added that it will now invite Uefa's club financial control body 'to issue a procedural order acknowledging the outcome of the present arbitration(s) and terminating the proceedings relating to the 2016/2017/2018 monitoring period, which have become moot.'
Milan was due to play in the Europa League, European club soccer's secondary competition, after narrowly missing out on Champions League qualification to the advantage of cross-city rivals Inter, who finished one point above them in Serie A in fourth.
Milan's place in the Europa League is now likely to go to seventh-placed Torino, while AS Roma will go straight into the group stage of the competition.