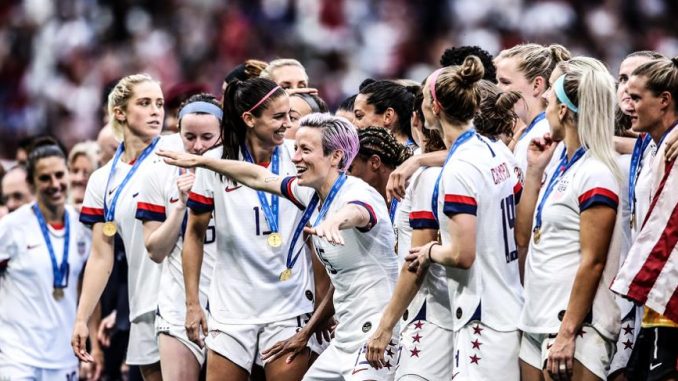 This article was last updated on April 16, 2022
US Soccer mediation breaks down
World Cup champions say they 'eagerly look forward to a jury trial' to resolve equal pay battle.
The equal pay dispute between the United States women's national team (USWNT) and US Soccer is set to be resolved in court after mediation talks between the Fifa Women's World Cup winners and their federation broke down.
The two parties confirmed in June that they had agreed to mediation talks in an attempt to resolve the issue and avoid a battle in federal court.
However, the 28 members of the USWNT will now press ahead with the gender discrimination lawsuit they filed in May after claiming that US Soccer showed no willingness during the talks to address its current pay structure.
An official statement from USWNT spokesperson, Molly Levinson, read: 'We entered this week's mediation with representatives of USSF full of hope. Today we must conclude these meetings sorely disappointed in the federation's determination to perpetuate fundamentally discriminatory workplace conditions and behaviour.
'It is clear that USSF, including its board of directors and president Carlos Cordeiro, fully intend to continue to compensate women players less than men. They will not succeed. We want all of our fans, sponsors, peers around the world, and women everywhere to know we are undaunted and will eagerly look forward to a jury trial.'
US Soccer has since responded with a statement of its own saying that it was the players who were unwilling to reach a resolution.
'We have said numerous times that our goal is to find a resolution, and during mediation, we had hoped we would be able to address the issues in a respectful manner and reach an agreement,' the statement said.
'Unfortunately, instead of allowing mediation to proceed in a considerate manner, plaintiffs' counsel took an aggressive and ultimately unproductive approach that follows months of presenting misleading information to the public in an effort to perpetuate confusion.
'We always know there is more we can do. We value our players and have continually shown that, by providing them with compensation and support that exceeds any other women's team in the world. Despite inflammatory statements from their spokesperson, which are intended to paint our actions inaccurately and unfairly, we are undaunted in our efforts to continue discussions in good faith.'
Relations between the USWNT and US Soccer were further fractured at the end of July when Cordeiro issued an open letter and accompanying fact sheet claiming the federation's female players were paid more than their male counterparts between 2010 and 2018. The USWNT labelled the financial analysis as 'utterly false'.
The USWNT's lawsuit, which is seeking equal pay and working conditions, claims that each player earns an average of about US$8,200 less per game than their male counterparts over the course of a 20-game international friendly calendar year.
Since filing the lawsuit, the USWNT have received a raft of public and corporate support, with consumer goods manufacturer Procter and Gamble becoming the first US Soccer sponsor to call for equal pay in July when it pledged to donate US$23,000 to each of the 23 players in the World Cup-winning squad.
You can publish this article on your website as long as you provide a link back to this page.