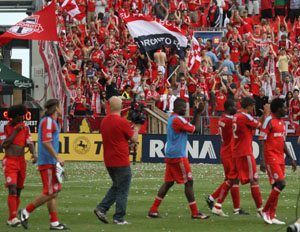 This article was last updated on May 19, 2022
Canada:

Oye! Times readers Get FREE $30 to spend on Amazon, Walmart…
USA:

Oye! Times readers Get FREE $30 to spend on Amazon, Walmart…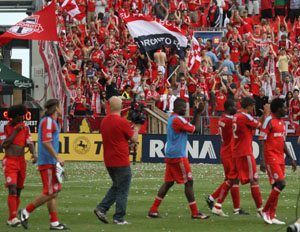 Toronto FC salute their fans in celebration
after their 2-1 victory over Chivas USA.
Amid all the traffic chaos that snarled downtown Toronto on Saturday, 20,648 fans made it to BMO Field, albeit many were late, to witness Toronto FC extend it's home unbeaten streak to ten games after a well deserved 2-1 victory over Chivas USA.
The Reds looked shaky in the opening minutes but soon settled down and dominated a terrific first half that were punctuated by goals from Nana Attakora, his first of the season, and Chad Barrett, who notched his sixth of the year.
Barrett nearly had a second, a short while later, but misfired as the ball rolled harmlessly out of play. That was one of many opportunities for Toronto in the half but the team just wasn't able to get that "killer" goal to put the game out of reach.
"The ball fell nicely to me, good pass by Santos and I just buried it," said Barrett when describing his goal. "I probably should have had two. I could have put the game away for good, that's something I needed to do for the team right before half."
"I think what we're lacking right now is that killer goal. We scored two goals in back-to-back games which is good, but if we get a chance to put teams away that's what we need to start doing and it takes a lot of pressure off us in the second half."
Coach Preki, who was coaching against his former team for the first time, was very impressed with how his team started the match, and more importantly, was happy with the three points.
"Great 3 points for us first of all, after a long week, long travel and an emotional game down in Honduras, I knew this could be the game that might be difficult for us."
"Apart from the 5-6 minutes from the start we played pretty well and had a lot of chances and I was honestly disappointed that we came half-time only 2-0 up…I was hoping we would score another one and kill the game."

Chivas Handed a Goal

Toronto FC keeper Stefan Frei can only
watch the penalty kick go past his legs as
Chivas scores to make it 2-1.
The momentum shifted in the second half when defender Adrian Cann was called for a hand ball just inside the box. The hand ball was purely accidental as Chivas forward Justin Braun kicked the ball while falling down and hit Cann on his left hand. The play unfolded right in front of referee Jorge Gonzalez who awarded Chivas with the penalty. Venezuelan Giancarlo Maldonado calmly stepped up to the spot and kicked it up the middle past Frei's outstretched legs to make it 2-1.
"I tried to clear the ball," said Cann. "I think he hit the ball and it hit my hand but at the same time I couldn't go anywhere the ball was coming at me…He called the penalty shot and you just got to accept it…I didn't think it was a penalty but what are you going to do."
From that moment on, Chivas pushed forward and nearly tied the game but goalkeeper Stefan Frei made great saves when called upon.
"Stefan had to make 2-3 really good saves," added Preki. "He was there when we needed him, in the past 5-6 games he really didn't have much to do but tonight when he was called to make a save he was there. He made pretty important saves for us."

Pivotal Match

Stefan Frei leaps into the air to
make one of his game-saving saves
in the second half.
With the victory TFC now have 26 points for third in the Eastern Conference and only one point behind the New York Red Bulls. Up next for Toronto are newly signed Thierry Henry and the Red Bulls in New York on Wednesday. It will be a pivotal match as both teams look to increase the distance between themselves and other teams behind them in the standings.
"It's a tough team with all the new players, but I'm very confident that we can do it," added Barrett.
"I really hope we go there and ruin their party. Everybody's expecting them to win – they're kind of like the new Miami Heat of our league. They can put all the stars and more on that team, I'll still take this team."

Notes:

Toronto FC (7-6-5) Stefan Frei, Dan Gargan, Nana Attakora, Nick Garcia, Adrian Cann, Dwayne De Rosario, Joseph Nane, Julian de Guzman, Jacob Peterson (Nick LaBrocca, 67'), Maicon Santos (Mista, 56'), Chad Barrett (Fuad Ibrahim, 78')
Subs not used: Jon Conway, Raivis Hscanovics, Maksim Usanov, O'Brian White

Chivas USA (5-10-3) Dan Kennedy, Mariano Trujillo (Osael Romero, 87'), Dario Delgado, Michael Umana, Ante Jazic, Rodolfo Espinoza (Jesus Padilla, 62'), Paula Nagamura, Ben Zemanski, Jonathan Bornstein, Giancarlo Maldonado, Justin Braun
Subs not used: Carlos Borja, Jorge Flores, Michael Lahoud, Guppy

Scoring Summary:
TOR: Nana Attakora (Dan Gargan) 21'
TOR: Chad Barrett (Maicon Santos, Jacob Peterson) 32'
CHV: Giancarlo Maldonado 65' (PK)

Misconduct Summary:
CHV: Ante Jazic (Reckless Tackle) 14'
TOR: Dan Gargan (Reckless Tackle) 17'
Referee: Jorge Gonzalez
Assistants: Greg Barkey, Corey Rockwell
4th Official: Geoff Gamble
Attendance: 20,648
Weather: Cloudy, 75 degrees
Time of Game: 1:52
To follow me on twitter click
HERE
You can publish this article on your website as long as you provide a link back to this page.