Serena won her fifth Wimbledon title Saturday by beating Agnieszka Radwanska of Poland 6-1, 5-7, 6-2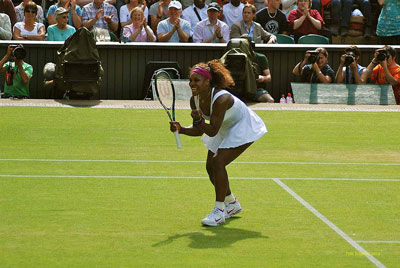 From the BBC– American Serena Williams, a winner in 2002, 2003, 2009 and 2010, eased through the opener with Radwanska.
Radwanska came back during the rain delay before the second set, and won the second.
"Williams broke twice in the decider to finally kill off Radwanska's comeback." (BBC)
For Serena Williams it his her 14th Grand Slam title and the first since she took a year off for injuries and health issues.
"I can't even describe it. I almost didn't make it a few years ago," Williams said. "I was in hospital but now I'm here again and it was so worth it. I'm so happy.
"Aggie played so well and that's why she's had such a great career and she's so young."
"Williams broke to love in the third game with a walloped return winner, but her nerves tightened and Radwanska raised her game just in time to avert a seemingly inevitable straight-sets win.
Radwanska forced break point for the first time in the match to level at 4-4 and the crowd threw their support behind her renaissance." BBC
Williams' "victory is the first time the title has been won by a woman over 30 since Martina Navratilova's triumph in 1990.
By Stephen Pate, NJN Network
See also Serena Williams Powers her way to 5th Wimbledon title
Creative Commons photographs courtesy of Peter Edgeler, Katherine Shann, Kate (Carine06),