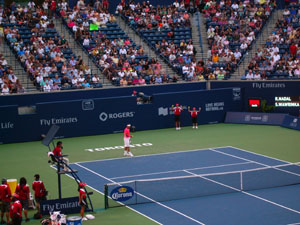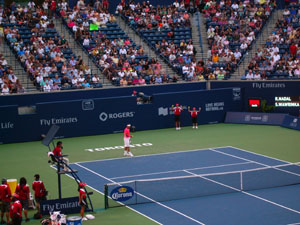 Rafael Nadal gets ready to serve
the ball early in the first set.
Rafael Nadal had some anxious moments on Wednesday night as he shook off the cobwebs in his first match since winning Wimbledon to outlast Stanislas Wawrinka 7-6 (14-12), 6-3 at the Rexall Centre.
The Spaniard fought hard for every point in the first set against a very game Wawrinka, who is ranked 24th in the world. The opening set lasted 93 minutes as both players pushed each other in what was an exciting and lengthy tiebreak, but, in the end, Nadal was able to come out on top 14-12.
The former top-ten Wawrinka started the match very well and was using his serves to gain points on Nadal, while the Spaniard struggled early on. There were several close calls and remarkable winners for both players, but just when it seemed one player had an advantage over the other, the momentum would suddenly swing the opposite way.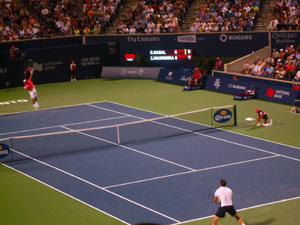 Rafael Nadal strikes his serve to
a waiting Stanislas Wawrinka during
their first set tiebreak.
One of the most memorable moments in the tiebreak was a terrific rally tied at 9-9. Wawrinka eventually hit the ball long and just over the line to give Nadal the advantage. Fans all around the stadium clapped in appreciation of the hard fought point.
So did Nadal get nervous at any moment during the tiebreak?
"Yeah, in every point," laughed Nadal, who has played a memorable tiebreak in Toronto once before against Frenchman Richard Gasquet.
"Yeah I played one here two years ago against Gasquet, I think the same 14-12. I lost. So never is fun to play tiebreaks like this because lots of pressure in every point, but if you win, gives you a lot of confidence."
Nadal cruised in the second set, winning 6-3, as he took his game to another level as Wawrinka simply wasn't able to keep up.
Overall, 'Rafa' was happy with his play and admitted that he isn't quite at the level he wants to be after such a lengthy layoff. Nadal hit several first serves into the net and made numerous unforced errors as he showed that it will take a few matches for him to return to his Wimbledon form.
"I was pretty happy," said Nadal. "Sure, I had the few mistakes in the tiebreak, one smash, one easy volley, backhand easy volley, one backhand in the important moment. But in general, I think I played well, so is not always easy after stop. I played well the first match and I beat against very tough opponent like Stanislas."
To follow me on twitter click
HERE