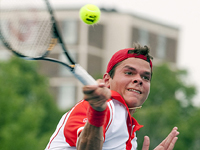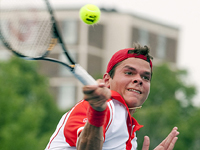 The Davis Cup by BNP Paribas Americas Zone Group I first round tie between Canada and Mexico is even at 1-1 after the first day of play at the Club Deportivo La Asuncion in Metepec, Mexico. Frank Dancevic (Niagara Falls, Ontario) dropped the opening rubber against Daniel Garza 2-6, 4-6, 6-2, 6-3, 6-4 but Milos Raonic (Thornhill, Ontario) came back to even the tie with a convincing 6-2, 6-2, 6-1 win over Manuel Sanchez.
Garza gave Mexico a 1-0 lead after Dancevic surrendered a two-set advantage in the first match of the weekend. Dancevic, ranked No. 202, came out strong, dictating play and forcing Garza, ranked No. 439, to move around the court and chase down balls. However, Garza started to play more aggressively and chipped away at the Canadian's confidence causing Dancevic to make numerous unforced errors and ultimately completely collapsing his game.
"This is Davis Cup and anything can happen," said Canada's captain Martin Laurendeau. "Rankings don't matter here. Garza started to feel really good and Frank gave him an opening and all of a sudden he was fighting his opponent, fighting the ball and fighting the crowd."
It was then up to Raonic to ensure Canada did not slip into a 2-0 hole on the first day. The budding superstar who has skyrocketed up to No. 37 in the world over the first two months of the season had no difficulty with Sanchez, ranked No. 546. Despite some concern that Raonic's game would not translate well onto clay courts, his serve remained his key weapon and he easily put Canada back into the tie with a straight sets win.
"I was really eager to get back on court after not playing a competitive match for a week and a half," said Raonic. "I feel really good and had a lot of confidence in my ability to come out here and play well. I believe in myself and the team believes in me and I'm looking forward to coming back out over the rest of the weekend and hopefully doing more of the same."
The best-of-five tie will now come down to two-out-of-three with the doubles match to be played on Saturday and reverse singles on Sunday. Raonic and Vasek Pospisil (Vernon, British Columbia) will take on Luis Diaz-Barriga and Miguel-Angel Reyes-Varela in doubles, while Sunday will see Raonic play Garza and Dancevic face-off against Sanchez in what could potentially be the deciding fifth rubber. The captains of both teams do have the ability to substitute their players up to an hour prior to the start of the match.
A win over Mexico will advance the Canadian squad to a second round match-up versus Ecuador in July while a loss would force them to play a relegation tie to keep their spot in Americas Zone Group I for 2012.
Play will continue with doubles action on Saturday, March 5 at 2 p.m. ET and the remaining two singles matches will be on Sunday, March 6 at 12:00 p.m. ET. Live coverage of the matches can be seen on Rogers Sportsnet or via live streaming on sportsnet.ca. Canadian doubles veteran and world No. 3 Daniel Nestor will be in studio on Saturday to provide commentary for the doubles match.