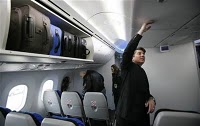 This article was last updated on April 16, 2022
Canada:

Oye! Times readers Get FREE $30 to spend on Amazon, Walmart…
USA:

Oye! Times readers Get FREE $30 to spend on Amazon, Walmart…

Travelling to Lagos is always an adventure, one full of unimaginable surprises! For instance, when we landed up at the Virgin check-in counter at Heathrow, we stood behind a woman who had checked in….wait for it……35 suitcases! Covering my face, all I could do was 'sigh' as I accepted my fate at the other end, that being a 2-hour wait to get our bags. A valuable travel-tip; when flying to or from Lagos, remember that the over-head luggage space is a very valuable commodity! Always try to get on-board as early as possible so that you can secure some space for your carry-on!
Still, that wasn't the unexpected event that inspired this post as we experienced an incident that belonged in the Twilight Zone. Driving to the grocery store, Mr.B and I couldn't move forward owing to some commotion surrounding a large Range Rover. It seems that the driver had smashed the side of the car in to a wall and the passengers were struggling to get out. It was then I noticed the Nigerian lady step out of the car in head-to-toe designer gear! From D&G Shades and a Hermes bag to 6 inch, Christian Louboutin stilettos! I turned to Mr.B and informed him that the shoes cost £3,500 ($5,600)! He predictably rolled his eyes and reversed to find a parking spot.
Disembarking from the car, I was still amazed by the Nigerian woman's style when i was quickly distracted by the growing crowd. In the center of it stood the stylish woman while a Nigerian man, in a striped shirt, lay on his knees. As he begged for forgiveness I could only imagine he was the driver. The woman proceeded to grab him by the collar and mumbled something. Suddenly, all I could see was the red blur of the red stiletto cutting through the air and heading towards the man's head. I realized she was actually trying to crack the driver's head open with her £3,500 shoe!!!!! Anyone call for a Blackanese Angel?
Stylish enough to wear anywhere, durable enough to crack a skull – Now that's a Christian Louboutin commercial!
Only in Nigeria!
Marriage Tip 45:
A Stiletto, no matter how expensive, is always a weapon!
Welcome to our adventurous marriage!
Born in Africa, Chandru grew up between Nigeria, India and the UK. With a Masters in International Business from the University of Westminster, he moved to New York where he worked as a Business Development Manager for three years. In 2002, he returned to Nigeria where he currently resides and runs a trading company. Chandru has been writing for Beyond Sindh (
www.beyondsindh.com
) since 2004 and has published numerous articles in the quarterly publication. His story entitled 'The Love Letter' won the Mirage Book short story contest and was published in an anthology titled Inner Voices in January 2009. His short story 'Zero' is scheduled to be published in the anthology Indian Voices towards the end of 2010.
In December 2009, Chandru's first novel, 'The Journey of Om' was published in India by Cedar Books.
You can publish this article on your website as long as you provide a link back to this page.