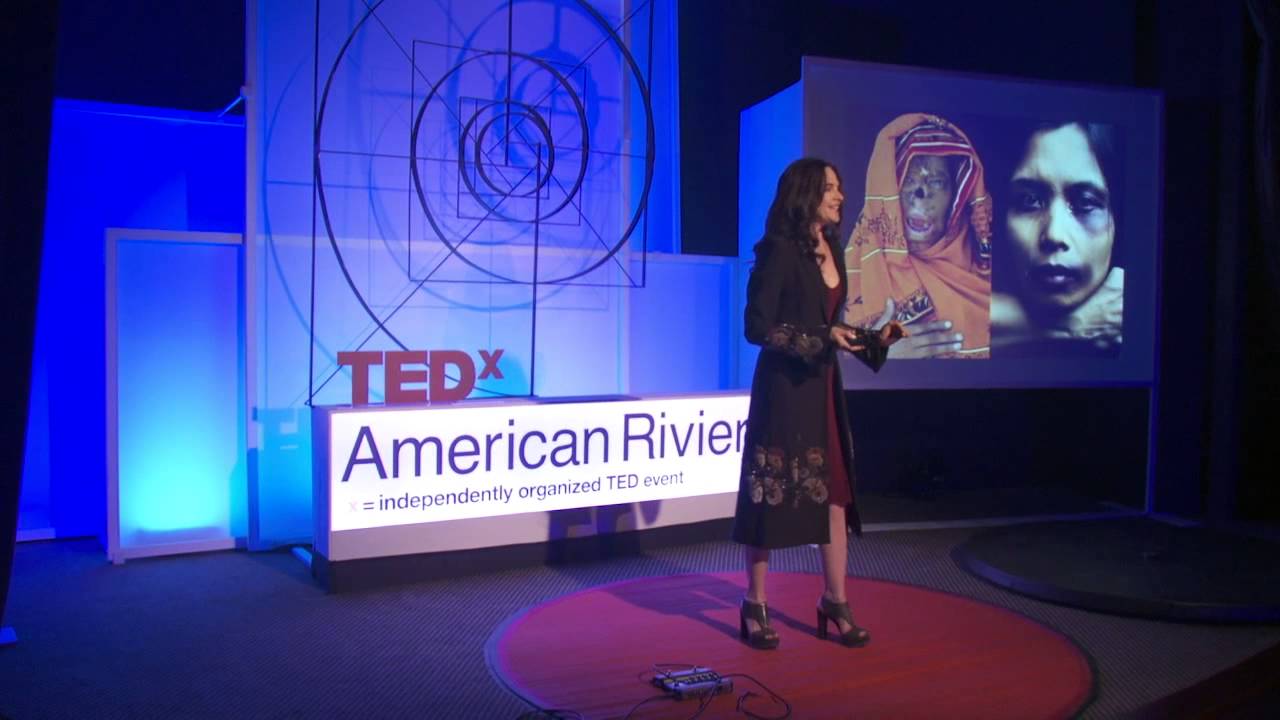 This article was last updated on April 16, 2022
Canada:

Oye! Times readers Get FREE $30 to spend on Amazon, Walmart…
USA:

Oye! Times readers Get FREE $30 to spend on Amazon, Walmart…

You must watch this video!
In the following talk at TED, Sheila Kelley shows the Yin Yang symbol and describes how each of us, male and female, have the potential for both Yin feminine and Yang masculine. But in what she calls "The Yin Effect", we live in a world which cuts out a piece of the Yin feminine from women that part which deals with their sexuality. How? Ms. Kelley talks of the negativity towards female sexuality and goes on to recount a personal and poignant story of when she was 7 years old. She and two neighbour boys, on a hot summer day, all took of their tops and laid down in the cool grass. The mother of the boys yelled out the window to the 7 year old Ms. Kelley to put her top back on, that she was a naughty girl and that she should be ashamed of herself. Mom then sent the 7 year old girl home. And so it starts the suppression of female sexuality.
Does a fish know it's living in a bowl? Do we truly understand the society we live in? Do we actually know what's right and what's wrong? This talk by Sheila Kelley is incredible. This should be a must-see for both women and men. As Ms. Kelley goes on to point out, from the simple admonishment of when she was 7 years old, to a woman having to keep her knees together and paying close attention to how she dresses and the threat of being labelled with such terms as whore or slut, the collective we does everything it can to suppress a woman's sexuality. We are so mixed up in this situation like the fish in the bowl; we do not understand what's going on around us.
Published on Dec 18, 2012 by TEDxTalks (running time: 21 minutes)
Let's Get Naked: Sheila Kelley at TEDxAmericanRiviera
There exists in every woman an Erotic Creature. When Sheila Kelley discovered this sleeping giant, her life changed irrevocably. She had stumbled upon what women were missing and launched it into a worldwide sensation, ushering in the 4th wave of feminism by teaching women to own their sexuality. Let's Get Naked is about exposing the truth and the Erotic Creature, both of which rest just beneath the surface.

Final Word
I believe that today's society has vilified sex. I believe that we collectively are so confused about this issue, we no longer have the foggiest idea of which end is up. The American culture celebrates violence and treats sex as something dirty when it should be the other way around.
A TV network censored a sequence of John Steinbeck's The Red Pony, which showed a mare giving birth, but broadcast the rather hideous sequence from The Godfather showing a beheaded horse.
– Youth, Sex and the Media, CyberCollege
On top of it, we collectively suppress the sexuality of women as something terrible. We want it, but we hate it. We desire it, but we push it away. What we fail to understand, we condemn.
I could go on; anybody could go on for thousands of words, heck, tens of thousands of words. Unfortunately, righting the wrongs, changing the course of humanity isn't going to happen overnight and it certainly isn't going to happen in anything I write. But if I could give anybody pause to think about things, their own live, the lives of all of us, then maybe some good will come out of it; maybe some seed will take root.
I will end with with telling quote taken from Ms. Kelley's presentation. It should give all of us, men and women, a reason to rethink our status quo. We can't continue as we are. We shouldn't continue as we are. We are failing to understand life and enjoy it to its fullest.
"Woman is life and man is the servant of life. The male's job is to protect the women."
-Joseph Campbell, The Power of Myth
Click
HERE
to read more from William Belle
References
Wikipedia: Sheila Kelley (American actress)
Sheila Kelley (born October 9, 1963) is an American television actress. She is best known for her roles as Gwen Taylor on L.A. Law and as Dr. Charlotte "Charley" Bennett Hayes on Sisters.
Following her role as a stripper in the film "Dancing at the Blue Iguana," in which she performed a seductive strip routine, she became a fan of pole dancing. Kelley has since become noted for her "S Factor" national exercise studios:(LA, San Francisco, New York, Chicago and Houston) and her book, "S Factor: Strip Workouts for Every Woman," and DVDs,. Sheila's copyrighted feminine fitness program incorporates Pilates, yoga, stretching and uniquely designed pole dance routines which develop tone, muscle, fluidity of movement and confidence. She also publishes a monthly editorial which addresses women's issues available at www.sfactor.com.
official web site: Sheila Kelley
Global femme leader Sheila Kelley is a passionate voice for the advancement of women in the world. Her personal mission is to elevate feminine culture so that it is more in balance with male-dominated culture. Through her women's fitness company Sheila Kelley S Factor™, Sheila is redefining "striptease" and "pole dancing" into an artistry of female empowerment for women. Through her Redefining Sexy campaign, she is redefining "sexy" by inspiring women to believe in their natural beauty.
Twitter: Sheila Kelley @thesheilakelley
Actress, Author, Speaker, Global Femme Leader #RedefiningSexy, Originator of Feminine and Pole Fitness, Founder of Sheila Kelley S Factor
official web site: S Factor
Founded in 2000, S Factor is a fitness technique that teaches women the language of their bodies through fluid feminine movement. The ultimate revelation of S for any woman, is the awakening and cultivation of her own soulfully sexy Erotic Creature. When integrated into a woman's daily life, this Erotic Creature propels a woman forward like rocket fuel, towards whatever desire she wants to attain. All of this just from enlivening the feminine body through movement? Yes.
Originally recognized as the first and only pole dancing and striptease workout in the world, Sheila Kelley's S Factor single handedly introduced the industry of "sexy fitness" to the world stage. Since then, S Factor has evolved into a highly unique, feminine empowerment fitness brand that offers books, DVDs, retreats, workshops, clothing, shoes, and fitness and journey classes at studios throughout the nation.
YouTube: Sheila Kelley S Factor Sexy Pole Dance on Oprah!
Sheila shows you how to move around the pole under the beat of the music.
Google video search: "Sheila Kelley"
Wikipedia: Joseph Campbell
Joseph John Campbell (March 26, 1904 – October 30, 1987) was an American mythologist, writer and lecturer, best known for his work in comparative mythology and comparative religion. His work is vast, covering many aspects of the human experience. His philosophy is often summarized by his phrase: "Follow your bliss."
Wikipedia: The Power of Myth
The Power of Myth is a book and six-part television documentary originally broadcast on PBS in 1988 as Joseph Campbell and the Power of Myth. The documentary comprises six one-hour conversations between mythologist Joseph Campbell (1904–1987) and journalist Bill Moyers.
Google Books: The Power of Myth, page 108
Campbell: Well, the woman is life and the man is the servant of life.
FYI: I found above that Campbell did in fact say "Woman is life and man is the servant of life" but I did not find that he also said "The male's job is to protect the women." We must take Ms. Kelley's word on this.
You can publish this article on your website as long as you provide a link back to this page.