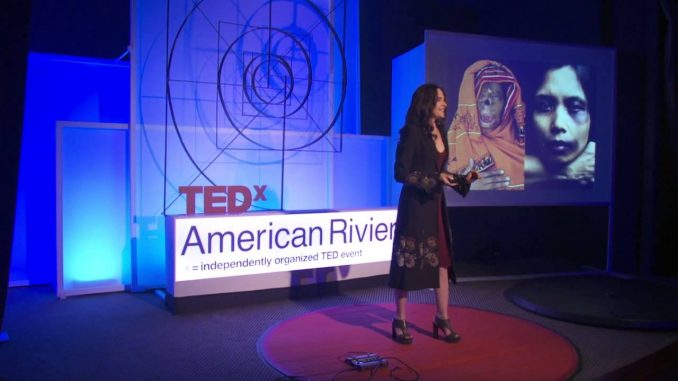 You can publish this article on your website as long as you provide a link back to this page.
This article was last updated on April 16, 2022

You must watch this video!
In the following talk at TED, Sheila Kelley shows the Yin Yang symbol and describes how each of us, male and female, have the potential for both Yin feminine and Yang masculine. But in what she calls "The Yin Effect", we live in a world which cuts out a piece of the Yin feminine from women that part which deals with their sexuality. How? Ms. Kelley talks of the negativity towards female sexuality and goes on to recount a personal and poignant story of when she was 7 years old. She and two neighbour boys, on a hot summer day, all took of their tops and laid down in the cool grass. The mother of the boys yelled out the window to the 7 year old Ms. Kelley to put her top back on, that she was a naughty girl and that she should be ashamed of herself. Mom then sent the 7 year old girl home. And so it starts the suppression of female sexuality.
Does a fish know it's living in a bowl? Do we truly understand the society we live in? Do we actually know what's right and what's wrong? This talk by Sheila Kelley is incredible. This should be a must-see for both women and men. As Ms. Kelley goes on to point out, from the simple admonishment of when she was 7 years old, to a woman having to keep her knees together and paying close attention to how she dresses and the threat of being labelled with such terms as whore or slut, the collective we does everything it can to suppress a woman's sexuality. We are so mixed up in this situation like the fish in the bowl; we do not understand what's going on around us.
Published on Dec 18, 2012 by TEDxTalks (running time: 21 minutes)
Let's Get Naked: Sheila Kelley at TEDxAmericanRiviera
There exists in every woman an Erotic Creature. When Sheila Kelley discovered this sleeping giant, her life changed irrevocably. She had stumbled upon what women were missing and launched it into a worldwide sensation, ushering in the 4th wave of feminism by teaching women to own their sexuality. Let's Get Naked is about exposing the truth and the Erotic Creature, both of which rest just beneath the surface.